How to raze the polluting fashion industry to the ground
This summer's Arnhem fashion biennale focuses on one thing: making the current fashion industry more sustainable and caring. But where do you start? If you ask fashion professor Daniëlle Bruggeman, Linen Project-initiator and head of the Fashion Design master Pascale Gatzen, and master student Critical Fashion Practices Wei-Chi Su, it's simple: in solidarity. In this interview, all three give their vision on this theme.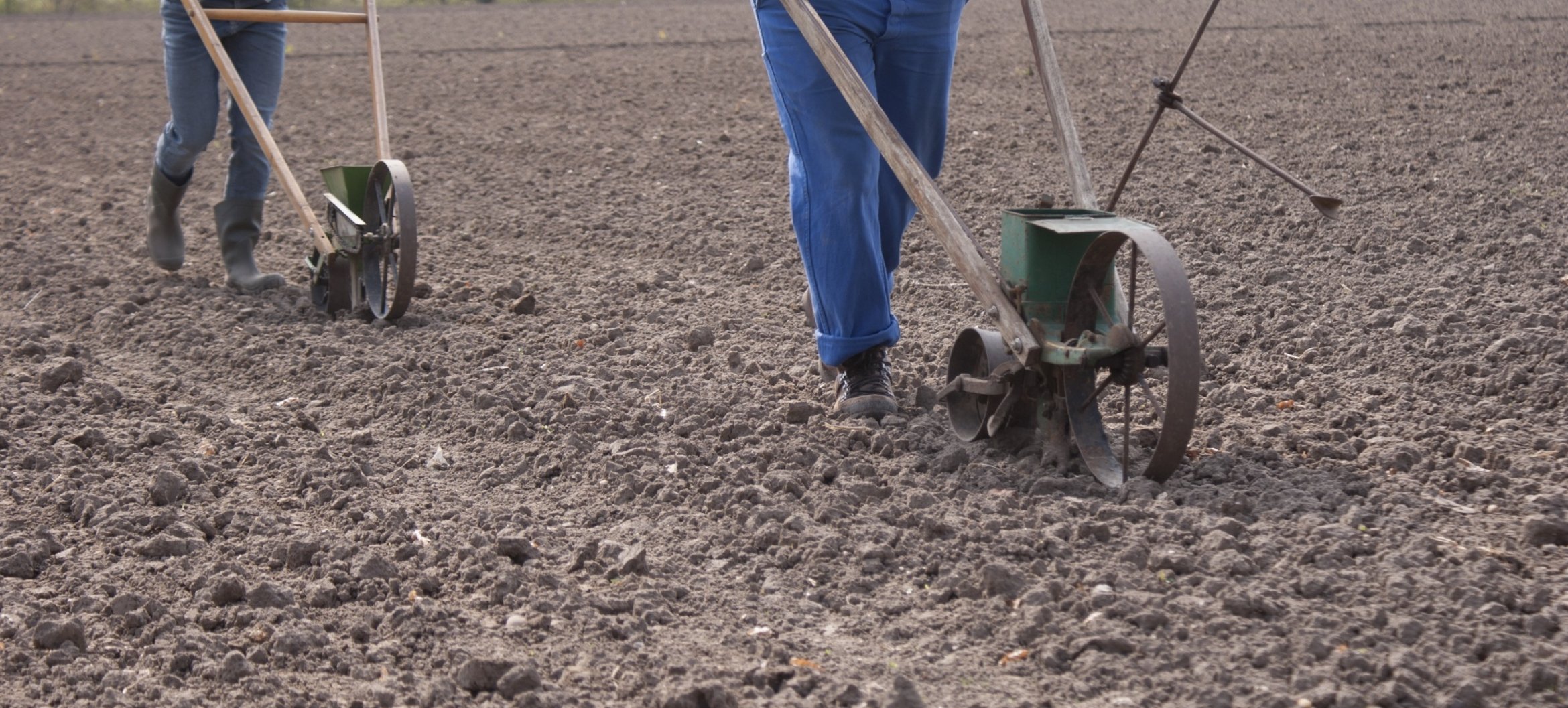 Under the theme 'Ways of caring', during this years State of Fashion biennale, makers, artists and designers are looking for alternatives for the traditional fashion industry. Today's industry is much too led by exploitation and pollution, despite the world needing sustainable alternatives more than ever. So, in this article, a selection from the research and education at ArtEZ that is ending the ego tripping of the fashion industry via fashion design and critical reflection.
Pascale Gatzen, head of Master Fashion Design
The fashion revolution in a flaxseed
Raze the fashion industry and economy to the ground. Literally. If it were up to Pascale Gatzen, it starts with a more sustainable production chain in fashion at ground level. Together with Crafts Council Nederland, in 2018 she founded the Linen Project. Their objective: revive the local flax cultivation and linen production. In the Linen Project, farmers, textile manufacturers and linen enthusiasts come together to grow local flax and weave linen fabrics, from seed to final product. Linen is made from flax fibres. Flax is a sustainable crop with a rich history in the Netherlands. There is also the 'Shared Stewardship', in which researchers and students commit to the Linen Project for an entire year.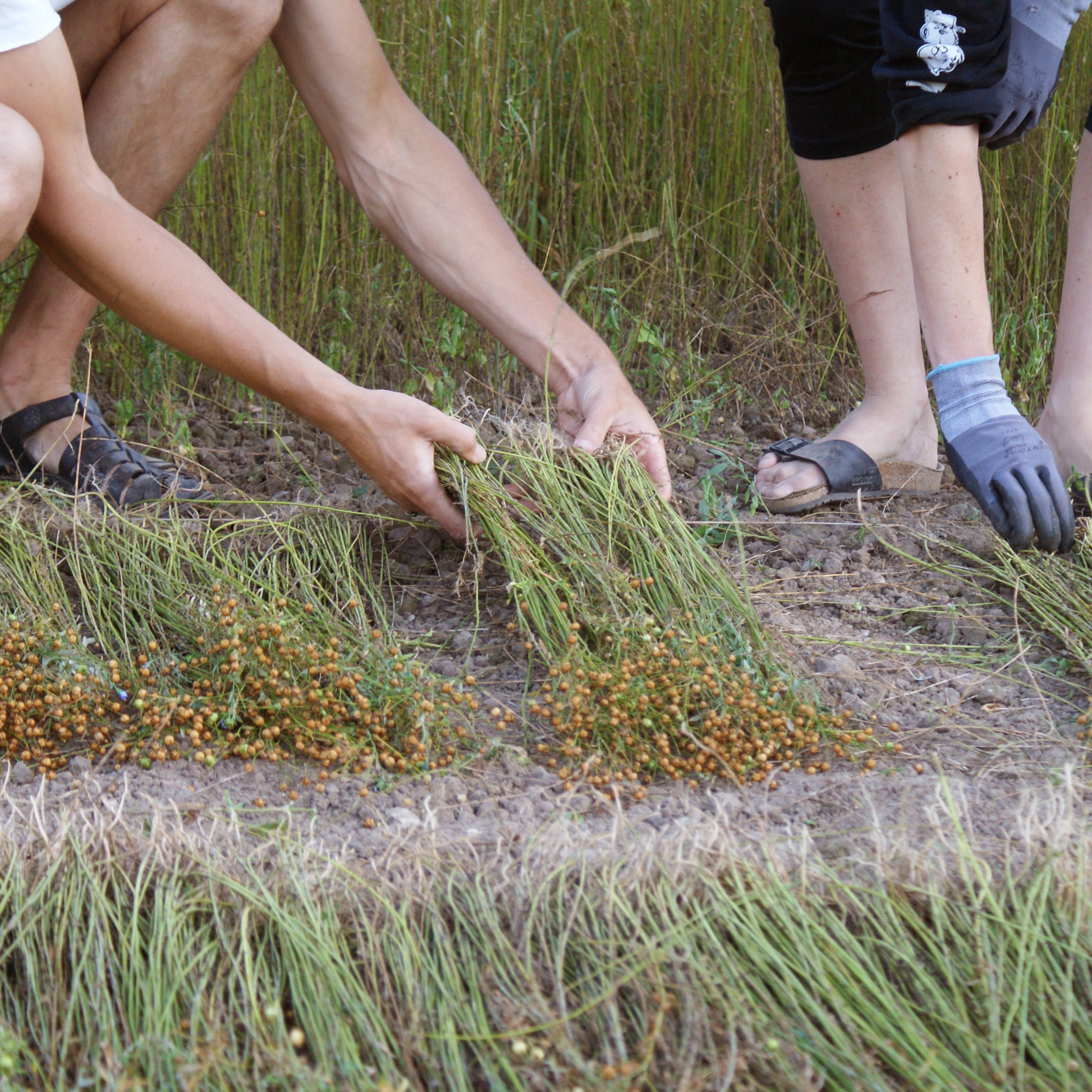 After being harvested, the flax is dried and pulled apart

A caring economy is a cashless economy
The people working on the Shared Stewardship initiative of the Linen Project are jointly responsible: for the risks and returns, the seeds, the plants, the production, each other. They do this voluntarily, with no money in circulation. An important addition for Pascale. "In the Linen Project, we want people to experience what it's like to be part of an alternative economy, based on solidarity and togetherness. So, we don't make any financial profit in the Linen Project. We create value in a different way, namely in welfare and togetherness." For Pascale, participation in this is essential. "Just through participating and experiencing it yourself, you can experience what it's like to work in a system based on solidarity with each other and nature, and you can experience how much power we have as people. Because believe me: once you have control, you really experience what people are capable of achieving together!"
Once you take control, you really experience what people are capable of achieving together!"
Solidarity with people and nature
Pascale applauds the fact that 'Ways of Caring' theme is the theme of this year's fashion biennale. Pascale, proudly: "The Linen project is all about solidarity and caring, with each other and nature. We are therefore totally in line with this year's theme, and I'm delighted to see so much attention for the importance of solidarity - or lack of - in the fashion industry."
On 8, 9 and 10 July, the Linen Project is organising an exhibition about the Linen Project and all its different aspects at Kortestraat 27-2 in Arnhem.
Follow and join the Linen Project
Daniëlle Bruggeman, professorship Fashion
Towards solidarity-based fashion systems
Within her professorship Daniëlle studies alternative approaches to the current industrial fashion system and together with State of Fashion she organises an international conference, 'Ways of Caring - Practicing Solidarity'. During this conference, participants search for alternative fashion systems and for more solidary forms of making and wearing clothes. "The Linen Project is a wonderful example of such an alternative approach," says Daniëlle. "We see this kind of project more and more, and that's a great movement in a new critical fashion discourse: a desire for more solidarity with each other, nature."
Covid as catalyst for change
One of the driving forces behind this 'solidarity shift' is Covid, says Daniëlle. "At the very start of Covid, big Western fashion houses cancelled their orders with the factories. Very many people in those factories lost their jobs or were working for bizarrely low salaries, if they earned anything at all. That brought about calls for solidarity with these workers: from NGOs battling for a living wage for workers, researchers and people in the fashion industry," Daniëlle explains. "Many people in my discipline subsequently started to wonder: what is solidarity actually? And how can we, as researchers but also consumers, show solidarity with these factory workers? This was an important reason to do more research on solidarity, and ultimately to make the 'Practicing Solidarity' conference really about those questions,"
We see a new critical fashion discourse emerging: a desire for more solidarity with each other and nature
Wei-Chi Su, Master's student Critical Fashion Practices
How to decolonise fashion
Like many others, Wei-Chi Su, graduating master student in Critical Fashion Practices, responded to the open call of the Mode Biennale. Wei-Chi's response was honoured, and now she and two other designers, Ateliê Vivo and Danayi Madondo, have done four months' research into how we can decolonise knowledge production - both inside and outside the fashion industry. The result of their research is now at display in the Eusebiuschurch in Arnhem. "The dominant Western narrative in fashion continually claims the West has fashion and the non-West does not. Our aesthetics and how we perceive the world are limited by the modern and colonial order. In my work, I want to challenge that Western thinking, and decolonise the fashion industry" explains Wei-Chi.
Fashion for me is about the way you relate to your environment. It's a feeling, an experience, and a way to relate to your history and culture
Unwearable fashion
For Wei-Chi, fashion is therefore about much more than just a nice garment. "Fashion for me is about the way you relate to your environment. It's a feeling, an experience, and a way to relate to your history and culture." Many of Wei-Chi's designs are therefore not wearable, but abstract sculptures, audio installations or performances, involving the spectator through the different senses and getting them thinking. For Wei-Chi, choosing the master in Critical Fashion Practices was an obvious one. Because the focus in this master is on the challenges of dominant perspectives on fashion. Wei-Chi's vision of fashion and her objective to decolonise fashion totally reflects the vision of the master.
Knowledge sharing without end
The design created by Wei-Chi together with Ateliê and Danyi is called Does it have an end? and is is a huge piece of fabric, made of various knitting, embroidery and crochet techniques. Wei-Chi: "It's a kind of eternal work in progress, and the idea is that visitors contribute by crocheting, knitting or embroidering. Because we all have our own skills or crafts: one person may be able to knit, another has learned an embroidery technique from her grandmother."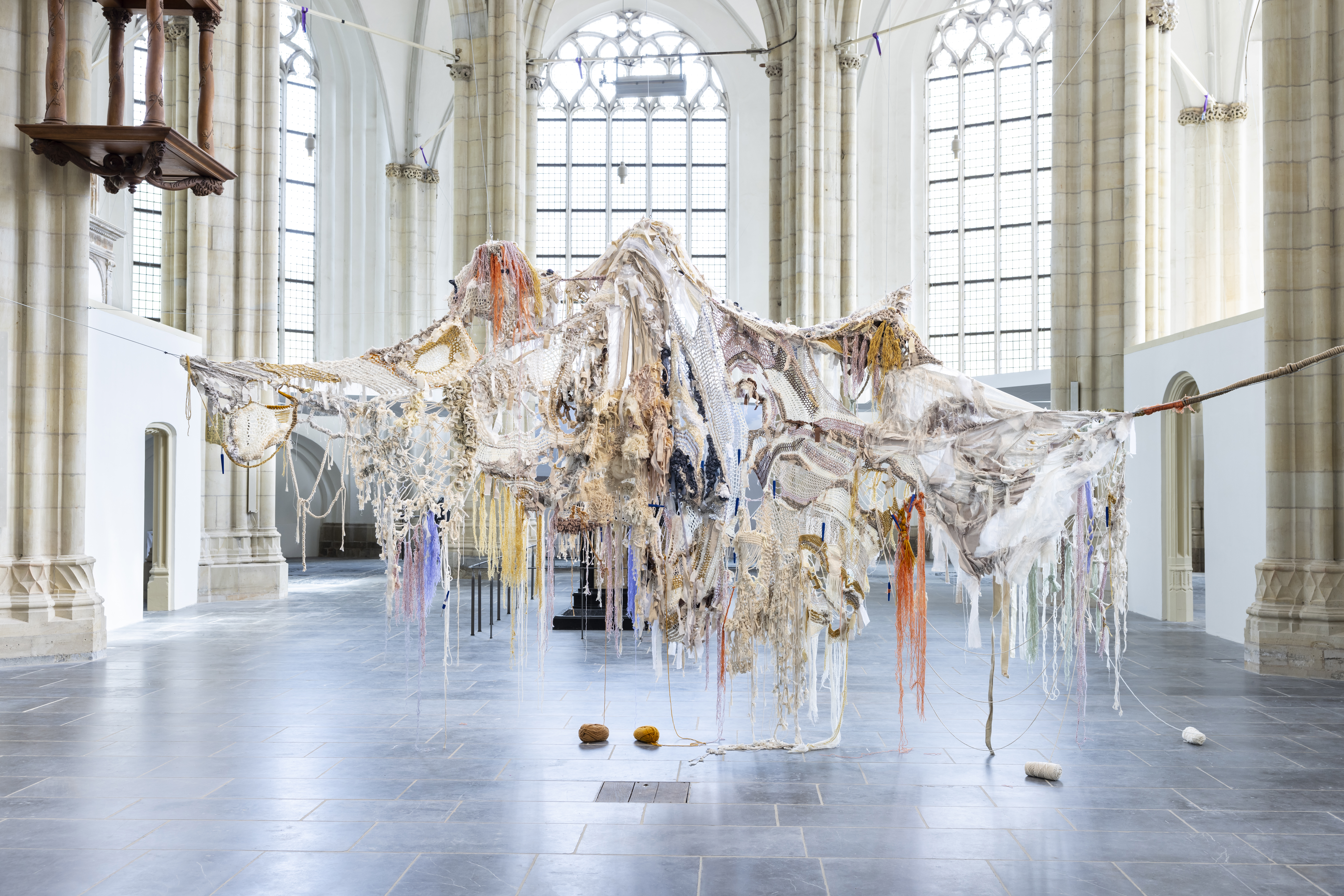 Does it have an end (2022) by Wei-Chi Su, Ateliê Vivo and Danayi Madondo. Photo by: Eva Broekema
The visitor is invited to talk about these crafts, techniques and their origin while they knit or embroider. "In this way, our work is an invitation to share knowledge in a new way: one that is based on equality and solidarity, and whereby knowledge is shared in the creation process and not in the final product. Does have an end? is ultimately a visual representation of a diversity of different crafts, cultures and knowledge."
Would you like to contribute to Does it ever end? The work by Wei-Chi, Ateliê and Danyi is in the Eusebiuskerk until 10 July.
More information on Wei-Chi Su's work
Does it have an end? in the Eusebiuschurch