The dance artist as a sceptic: Sofia Norman has learned to question everything
Sofia Norman, a third year bachelor Dance Artist student, has found her own creative voice through movement in the bachelor Dance Artist. Her finals performance embodied her new philosophy: question everything. "This programme has taught me to question what I thought I knew about being a good dancer and use dance as my craft."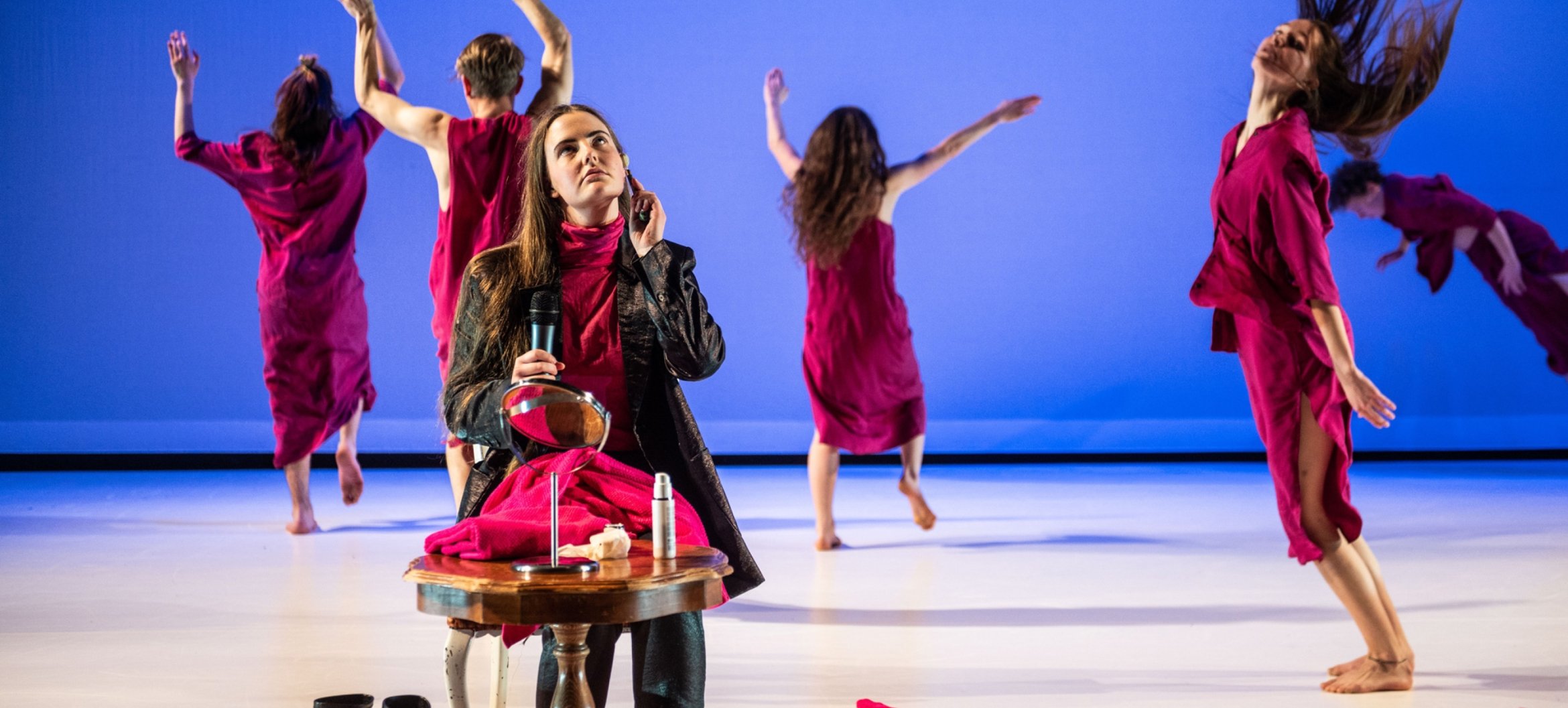 Dual focus
Sofia, originally from Sweden, felt a natural click with the course from the beginning because of its unique equal focus on choreography and dance technique. Sofia: "I wanted something that would teach me how to be a dancer but also give me the freedom to be an artist. I've learned how to use dance as my craft here. I now have the tools to reflect my own ideas through the medium of dance, instead of following how I'm told to move."
Lessons learned during personal performances
Through the holistic approach in the Dance Artist curriculum, Sofia has learned how to question everything. Sofia: "For the longest time, I was searching for the people that would give me the information needed to make me a 'good' dancer. But there is no 'right' way to do it; in fact, there is no truth, in a way. What works for another body might not work for yours. I learned this during the personal performances we have to create in the first and second years. Instruction and feedback are valid opinions, but not expressions of how good your art is. You should question yourself, question everything you've been taught in how to approach your expression. I think that is the core to my practice now."
"We are All Dead on the Surface"
Sofia added that this approach makes her excited for the future, because "it means I can continue my practice for a very long time. I will never be done questioning." This sceptical approach is also what led Sofia to create her finals performance, a collaboration with other Dance Artist students called 'We are All Dead on the Surface', given on 31 March 2023 as part of the Dance Artist 'Professional Creations' finals showcase.
Sofia's main inspiration for the performance came from a YouTube video that slowly zoomed in on human skin up to 10,000 times. The video's narration, done in a nature documentary style, struck her with how much was happening on this mysterious landscape that exists on our bodies.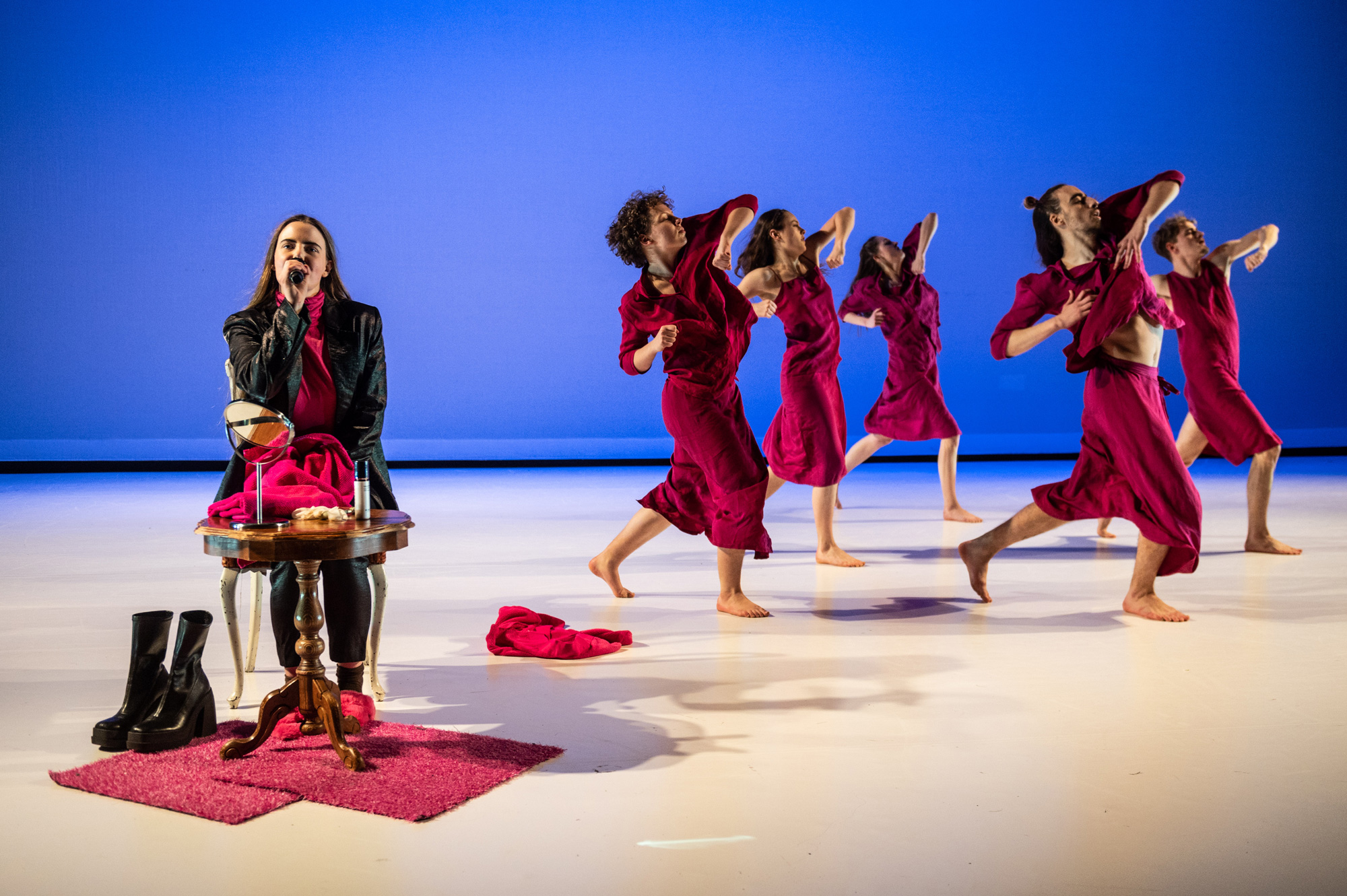 Making the mundane alien
Sofia: "I became interested in our relationship to our own skin, which led me to investigate skincare. In the performance, a narrator performs a skincare routine and discusses her actions with the audience, while several dancers around her embody the practices she is discussing in movement. The dancers are what's happening inside the skin, how the cells are reacting to the processes the narrator outside it is performing. I was intrigued, and still am, by making the mundane seem alien or unfamiliar, and I wanted to question how relaxing the self-care narrative we are sold actually is."
Additionally, Sofia's creation questioned the notion of a lifespan. The performance itself constantly moves between life and death, with the hectic cell dancers alive yet dying on the micro level and the narrator, still and centred, rejuvenating her skin on the human-eye level. "Just like us", Sofia remarked, "we have both life and death on us at all times, we are constantly dying and regenerating."
Third year student, yet already active
Sofia's creation, along with a few other pieces, are performed in Theater Ins Blau in Leiden, Lux Theater in Nijmegen and Stadstheater in Arnhem. These performances are part of the Dance Artist course's initiative to improve the networking opportunities and visibility of its developing professional students.
We're lucky that the Dance Artist course already gets us involved in the community. It's really nice to be able to step out of ArtEZ while still being in school."