Entrepreneur of the Month: Liesbeth Piena
Fine Art, Enschede
Every month, the ArtEZ Business Centre and the courses together select a student or alumnus as Entrepreneur of the Month. Their stories give you an idea of what to expect, based on current topics from the professional field. Is there a secret to cultural success? Do you have to excel in your art or is it about selling yourself? Is it a matter of luck, wisdom, hard work or a good strategy?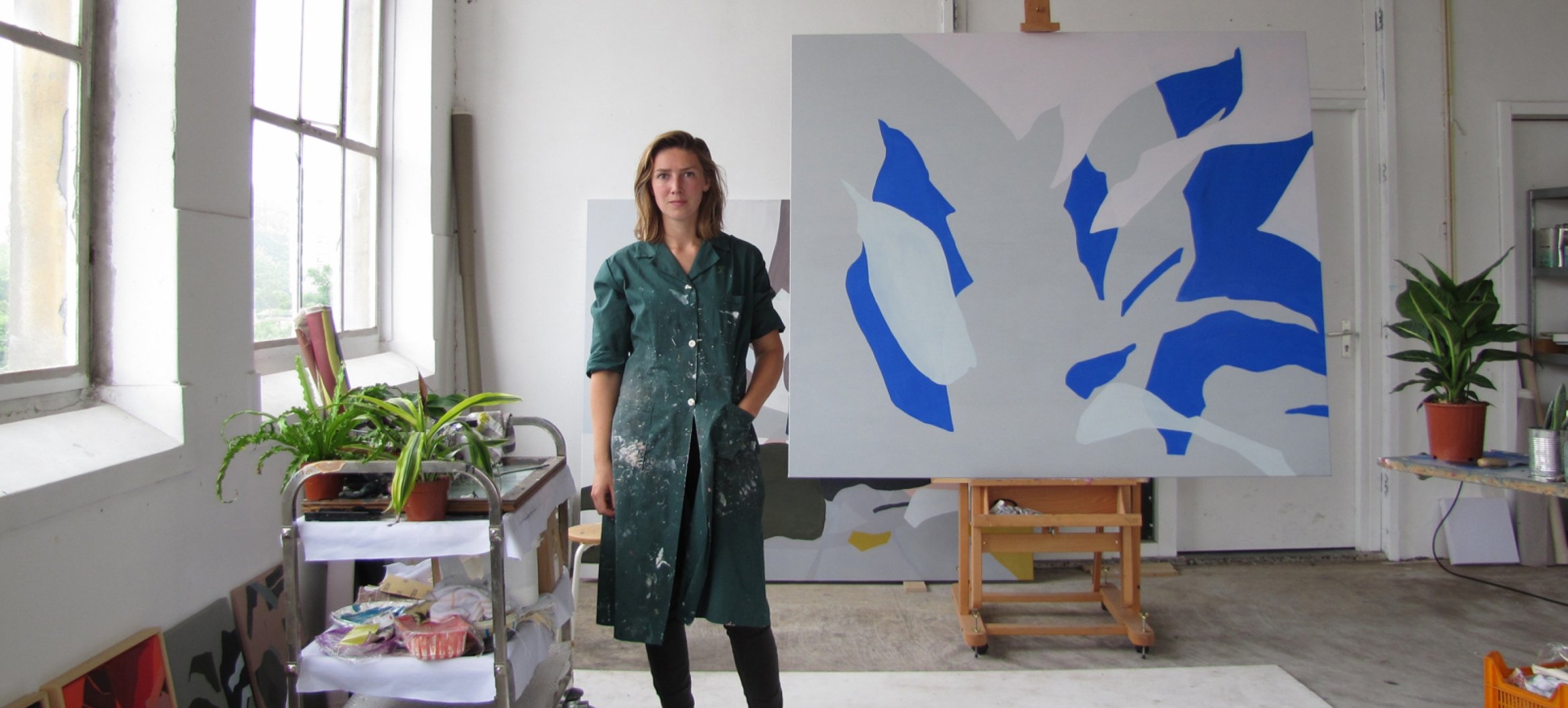 I graduated in 2018 from the Fine Art Painting program at AKI/ArtEZ Enschede. My graduation work was awarded the Heartfund (2018), I was granted a workplace at a studio in Hengelo, and I also won the Sluijters Prijs award (2019). Winning those awards left me in a stable position to pursue my artistic career. The studio gave me the space and quiet to keep working right after graduating from the Academy. And thanks to the Sluijters Prijs exposition at the KunstRAI Art Amsterdam, I was able to meet a lot of people and sell my work to art collections.
The year after my graduation, I got to know the art world and exhibited my work as much as possible. I was lucky and I worked hard, but I definitely also made some tactical choices. So far, my concentration and focus mostly went towards my creative process and making new work. I went along with whatever happened to me, but I never felt much like an entrepreneur. That's something that's only starting now.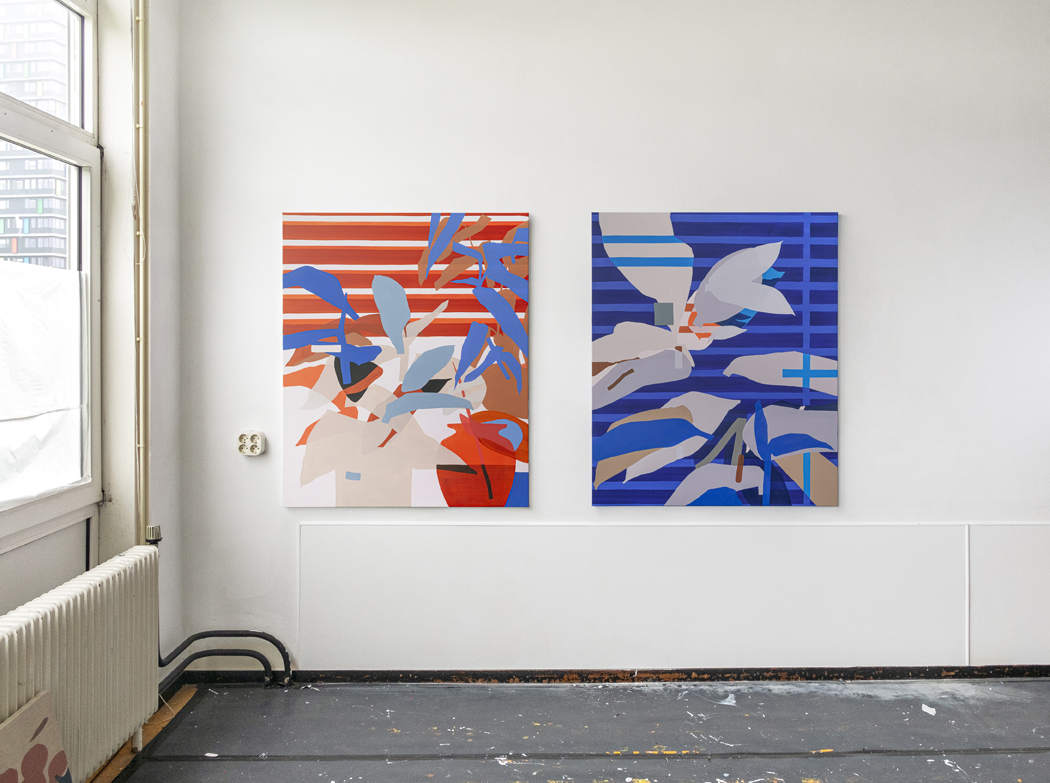 Graphic Design
My choice to start painting wasn't a self-evident one. I was interested in many different programs. In the end, I started a Graphic Design program after my preparatory course in Arnhem. I was especially interested in the visual arts. It is there that I first learned to paint for real: on a large canvas, using different materials. My eye was also strongly influenced by a course I took on the grammar of images. As the Graphic Design program's focus gradually shifted more towards concept, design research and code—subjects that interested me less—I chose to switch to Fine Art Painting in my third year.
Disciplined work, an analytical gaze and a focus on detail are some of the skills I took along from the Graphic Design program. My paintings are often called graphic: I tend towards clear forms and lines with strong contrasts. What I paint is inspired by nature but abstracted and reduced to essential forms. That graphic perfectionism, my attention to literal millimeters, is something that stayed with me.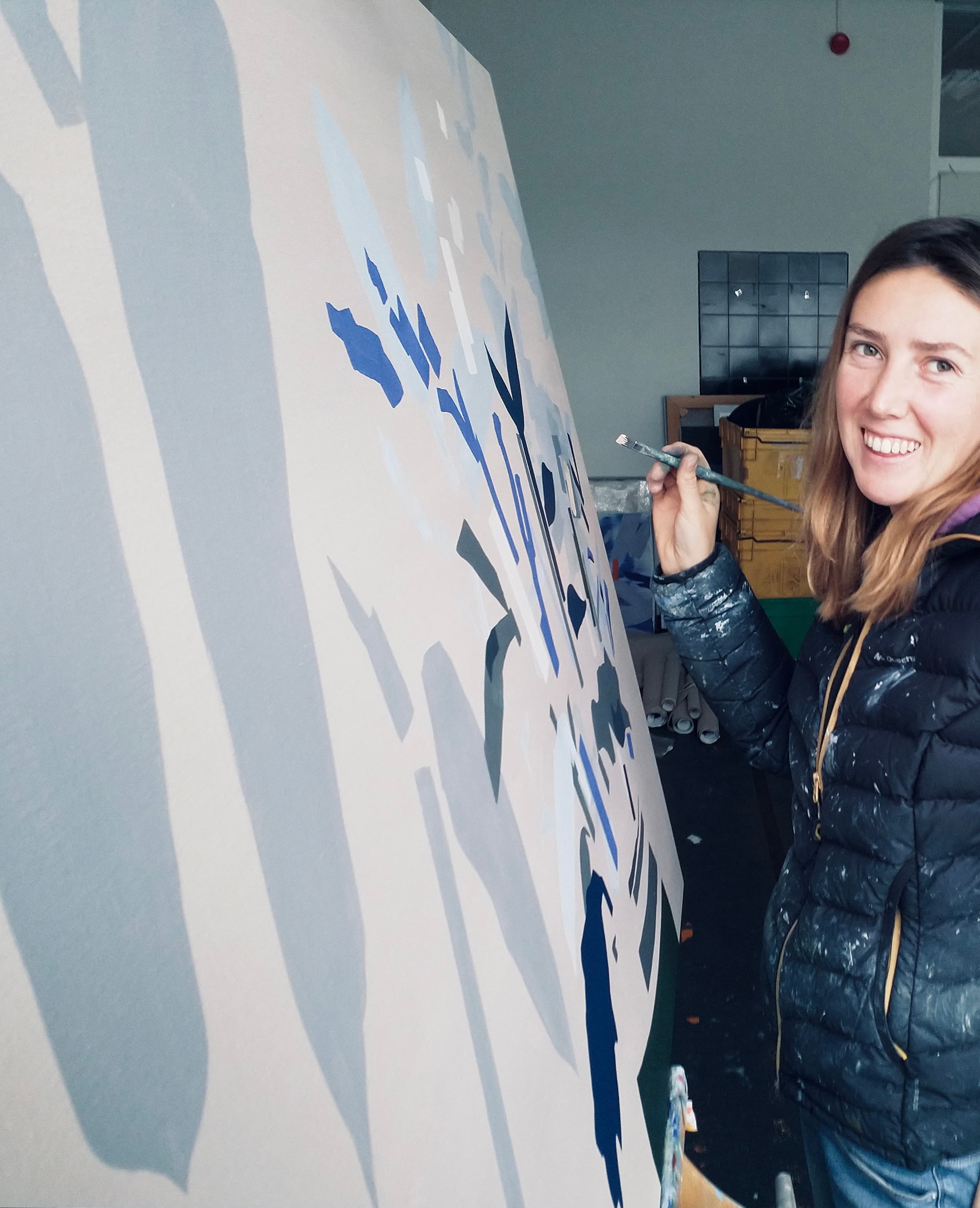 Do everything as well as you can
Before I graduated from my Painting program, I had no idea what I was going to do a few months later. After spending an entire year focused on the final exam, my fellow graduates and I talked among ourselves of the 'black hole', and I mostly wanted to go travel for a while and do nothing. In the end, I made a different choice; people can have a certain 'interest' in recent Academy graduates, and I was lucky enough to be the subject of that. I was invited to show my paintings at some expositions, and I knew that the odds of being invited again the next year were small.
A lot of things followed from the graduation exposition: I met the organizers there for most of the other shows that came afterwards. That first contact, when people can see your work in real life, is incredibly important to help you take the next steps. It also matters that you have 'your affairs in order'. That you're approachable, people can find you online, you take yourself seriously. At the time, I wasn't so aware of this, but those things give people the impression that you're motivated and organized. That makes them trust you as a person and an artist.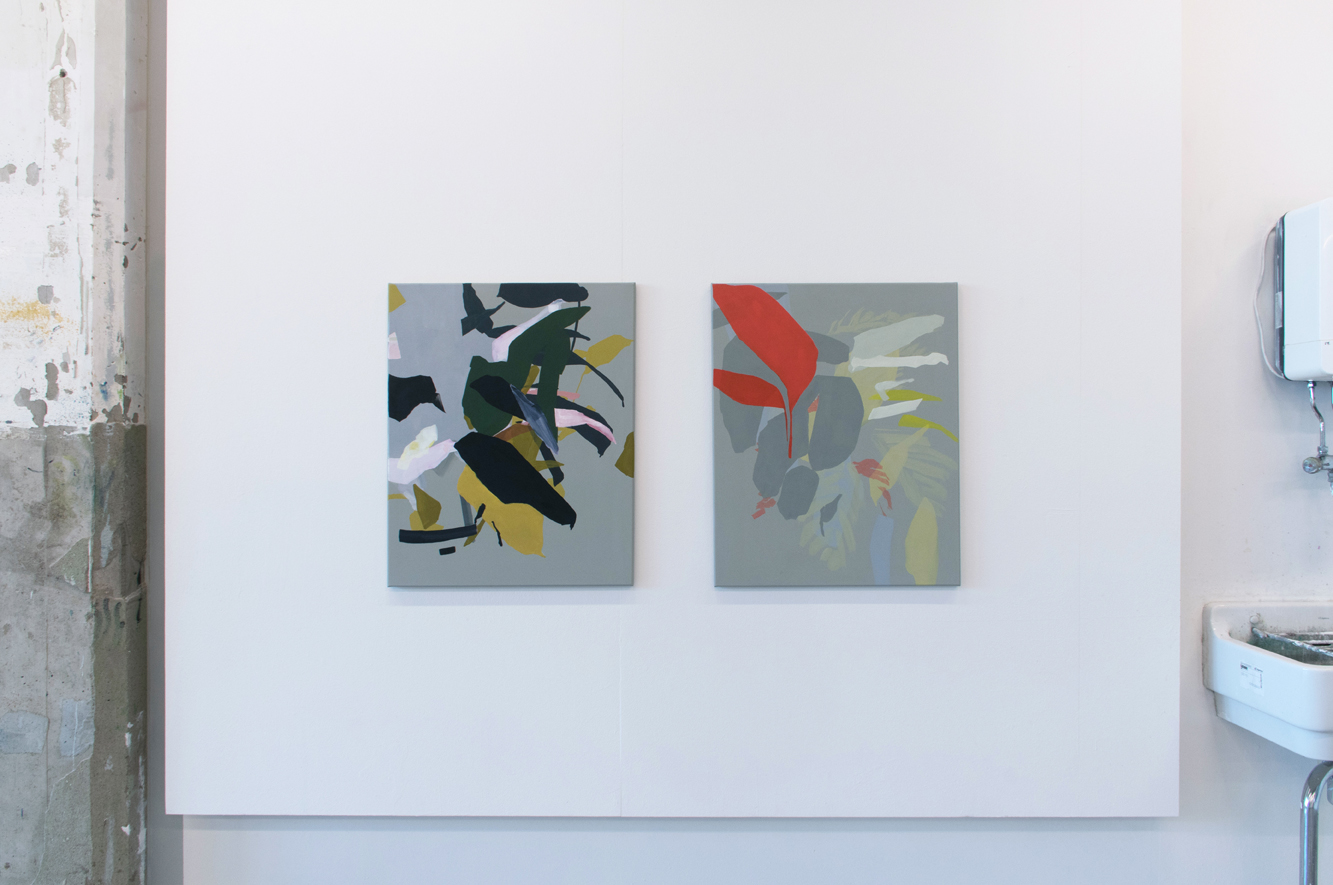 Direction and position
When the ball starts rolling, your career starts to take shape, but it also means you'll move quickly in one particular direction. I'm really happy that people value my work and I was recently surprised with the Sieger White Award. That award consists of a book publication and a solo exposition, which is a big honor and incredibly fun to work on. While it's great to see my paintings recognized, I also think my work could be expressed well in other materials, like textile, weaving, ceramics or as a mural. There will be a lot of visual similarities, but I also think it would be fun to work on location or collaborate with someone, rather than spending all day by myself in my studio. I miss the luxury of the Academy and its different studios and workplaces; it takes much more effort and money now to use those kinds of facilities. As a result of all these practicalities that I have to deal with, it's easy for time and concentration to slip away. The days, weeks and months fly by. I do some painting, I do my chores, but I don't get around to the big picture, which is so important in the long term.
A conversation with a coach taught me to look at myself with an outsider's gaze. I'm now a "young, talented awardee," hence "attractive". It's strange to say that and realize that; my own self-image is always humbler.
A conversation with a coach taught me to look at myself with an outsider's gaze. I'm now a "young, talented awardee," hence "attractive". It's strange to say that and realize that; my own self-image is always humbler. Still, it gives me that little push I need to approach people for commissions or collaborations. That way, I can hopefully find a good balance between studio work and collaborations, gain more control of my income and, in doing so, work on a long-term sustainable art practice.
2021
Next year will be an exciting one. Over the last year, a lot of important events and art exchanges where my paintings would have been presented were cancelled due to the COVID measures. I hope these can be organized again soon!
Because the coming months are so uncertain, I'm focusing on September. That's when the book for the Sieger White Award will be presented, alongside a solo exhibition at Mini Gallery in Amsterdam. I see this as my big moment to make a splash. I want to show a lot of new work at the exhibition, as well as in the book. I'll have to work hard in the coming months to finish all those paintings in time and have them photographed, so they can be included in the design.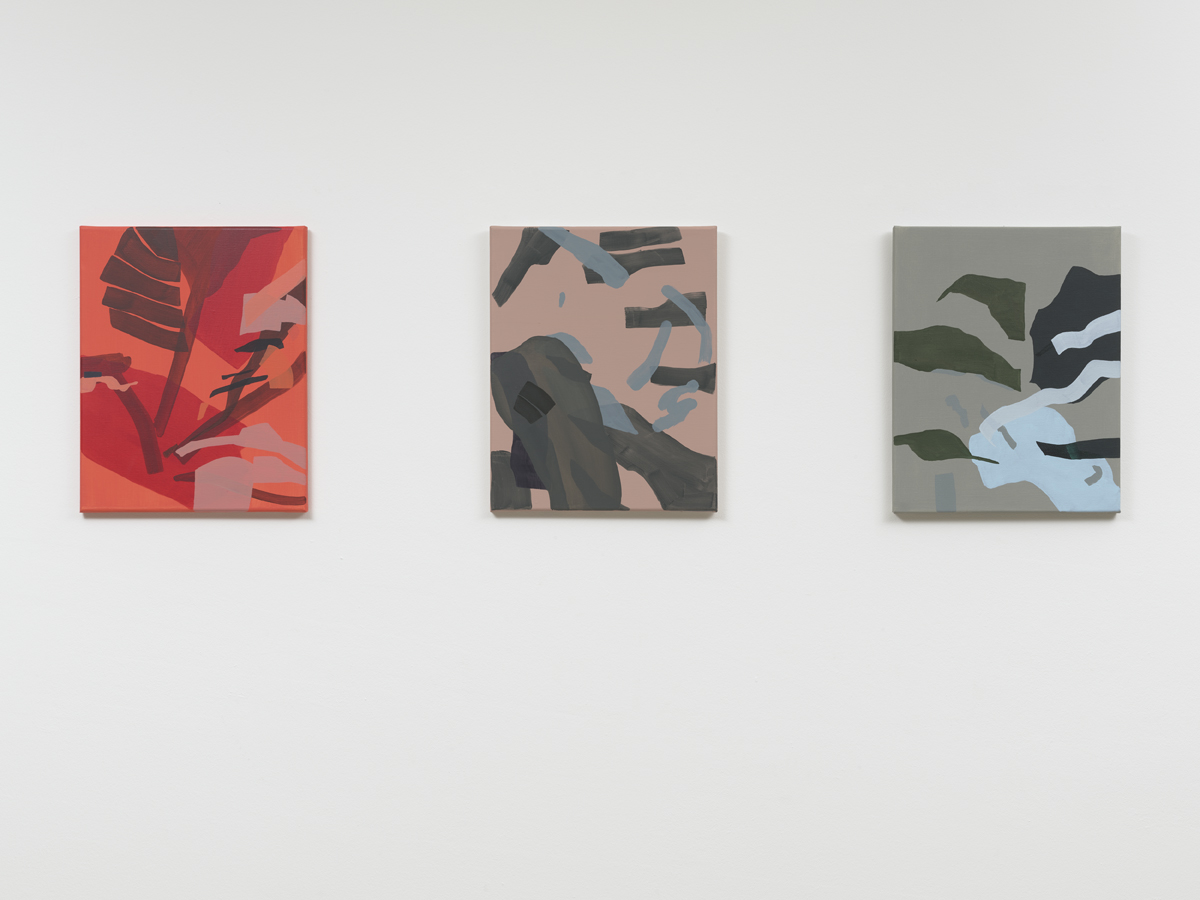 I find it even more challenging to position myself as an entrepreneur. I'm aiming for a broader practice, working with different materials, doing more commissions outside my own studio. To realize those plans, I'll have to put a lot of energy into organization. I have to make those plans explicit and approach people who could help me realize them. I also have to get the financial side in order, for example by applying for subsidies. At the same time, I'm thinking about the longer-term future and keeping an eye on artists' residencies I could attend a year from now.
Keeping focus is the most difficult part of being an artist, to me. There are so many distractions and different priorities. The next few months, the most important thing for me is to finish a big new series of paintings before the deadline of the book. Paintings that are better than my last work - after all, artists always want to outdo themselves. Fortunately, I work quite well under pressure and that perspective helps me work in a concentrated way.
Follow Liesbeth at:
liesbethpiena.nl
Instagram
Linkedin
Recent interview Minigalerie