This course uses your personal ambition as an important starting point. You will get room to develop your ideas and you will be responsible for your own learning process. Our coaches and lecturers will support you in your choices.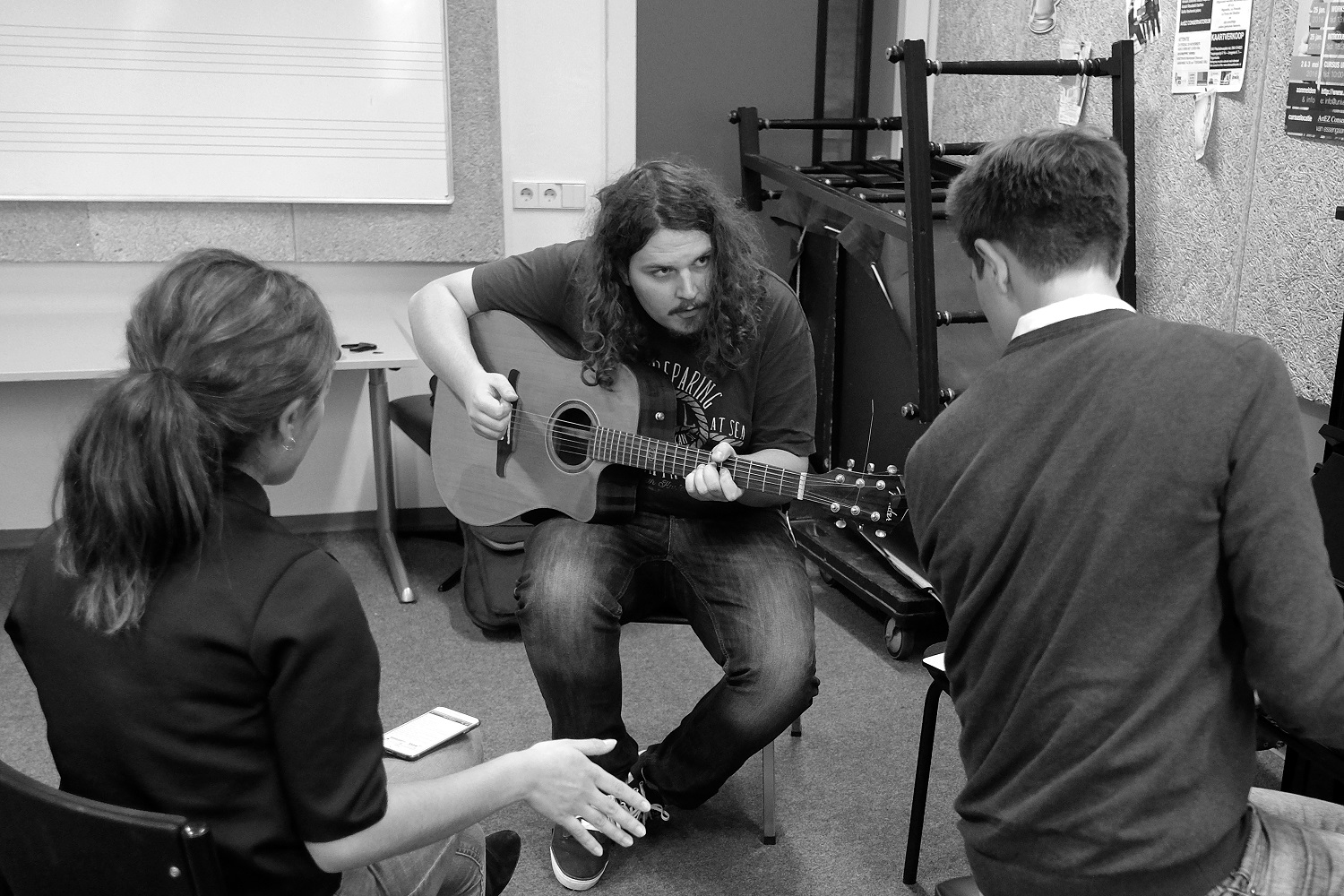 The Music Therapy course has four clusters: music, music theory, music therapy and internships. In addition, in each of the years you will participate in various projects.
Music therapy: the first year
You will be introduced to the music therapy profession and all the related competencies and skills. In this profession, music is your main instrument. You will therefore follow many music lessons and, because the ArtEZ Music Therapy course is part of the Academy of Music, these lessons will help you reach your highest level. Technology is also considered an indispensable instrument and therefore also included in the curriculum. During your first year, you will be introduced to the basic conceptual and therapeutic principles of music therapy.
Tip! If you already want to start building a strong CV in your first year, you can apply for admission to the Honours Programme. You will then receive an additional certificate when you graduate and have more career advancement opportunities!

Second year: deepening and own point of view
In the second year, you will further develop and master the basic competencies and self-reflection skills, as well as your musical, music theory, and music therapy skills.
Third year: professional practice
In addition to deepening your musical development, the third year is focused on learning to master the competencies in music therapy practice. From September to June, you will do an internship for three days a week. During the internship, you will develop an insight into the music therapy profession through at least one target group. You will learn to use your acquired knowledge and (musical) skills and to work in teams, and you will strengthen your therapeutic attitude.
During supervision, you will learn to reflect on your professional performance as a music therapist in dealing with clients, colleagues practising specialist therapies and other treatment disciplines.

You will have the opportunity to study abroad for a few months in the third or fourth year. For many students this is particularly valuable.

Fourth year: specialisation and graduation
Having gained broad knowledge and discovered where your strengths and interests lie, in the fourth year you will specialise in a particular field through one of the following graduation pathways:
Neurological music therapy
Music therapist in mental health care
Orthopedagogical music therapist
Tailored specialisation
The elective programme consists of three main components:
Internship: as a music therapist working in an institution specialised in your chosen field. If you choose the tailored specialisation, you can arrange your own internship project abroad or spend some time studying at a partner institute within Europe. We have projects in Suriname, Argentina, Israel, Brazil, Finland and Indonesia.
Training: courses such as methodology, peer review, coaching and music therapy in preparation for developing your graduation product, your professionalisation and your own methodological approach.
A final product: from your private interest or research question you produce a proprietary method, website, songs or compositions, or innovative product.
In addition to this specific graduation profile, you will follow classes in musical and music theory subjects in the final phase of the course.
ArtEZ finals
All graduation students of the Music Therapy course will present their graduation work during the ArtEZ finals. A visit to one of the graduation presentations is a must if you are thinking about taking the Music Therapy course.