Do you like to go the extra mile, are you curious and do you want to be intellectually challenged? If so, the ArtEZ Honours Lab is for you. The Honours Lab offers various tracks throughout the year that you can follow alongside to your regular study course curriculum. These are diverse, in-depth courses in which you will engage with current theories, practices and forms of research.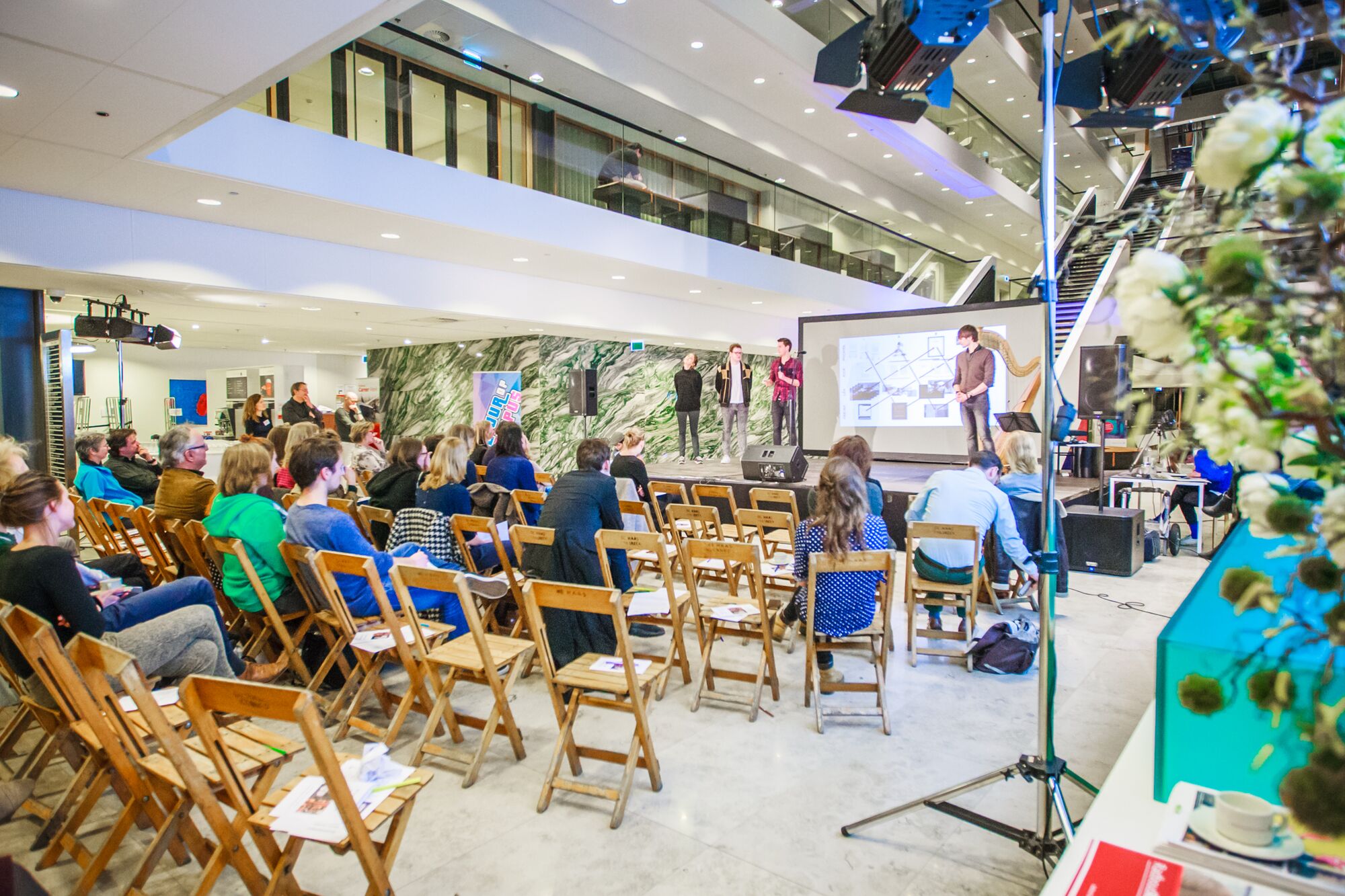 What you will be doing
Deepen your artistic and other research skills in a multidisciplinary environment, choosing from a diverse range of challenging tracks (in English). In the Honours Lab, you will work with fellow students from all years and from other courses – immersing yourself in theoretical and practice-related topics and critical dialogue. Follow one or more tracks in addition to your regular course, spread flexibly over your studies, and earn certificates that you can use for follow-up courses.
With the tracks of the Honours Lab you will venture off the beaten track of your study course. You will challenge yourself intellectually and broaden your horizons. How? By entering into a dialogue with others (usually once a week), asking critical questions, exchanging ideas and looking for new insights and perspectives together. The course includes relevant texts and discussions, but also guest lectures, workshops and excursions. The assignments you will be given are aimed at conducting (artistic) research.
Curious about what a day in the Honours Lab is like? Read this article that recently appeared in Vox magazine, the independent magazine of Radboud University. Here, students from RE:PLACE, one of the tracks of the honours lab, share their experience and motivation.
I feel that through exploring and discussing a variety of viewpoints over the past six months, I have come to better understand my own perception and understanding of the world.
Tracks
The tracks of the Honours Lab combine theoretical depth and artistic practice. You'll work with fellow students from different years and courses: students from ArtEZ, but also from Radboud University Nijmegen, for example. We investigate arts discilines together in a multidisciplinary environment, based on contemporary art practice and the contemporary art discourse. Where do concepts and opinions meet? Do the arts speak the same language?
For each track you wish to follow, you must write a short letter of motivation. The contents of your letter and the composition of the group will determine wheter you are admitted or not.
Some examples of current and previous tracks:
Matters of witches, plants and potions inquires and discusses new materialist and material feminist take on the relation of women to what is defined as nature. Historically, women's bodies served as a metaphor to not only understand nature but also to provide means and arguments for its control. Simultaneously, through comparison of women bodies to that what is defined as natural, the exploitation, biopolitical control and management of bodies has been possible.

In this track, we will discuss philosophical and cultural presuppositions that allowed for witch hunt, biopiracy and colonial exploitation. Through discussing how prioritization of certain epistemologies lead to shame and silencing of women's knowledges, their healing practices, we will experiment with that what boils under the surface of many regimes of identification and medicalisation. As a disruption, instead of affirming the scientific gaze, we will embrace the spaces of knowledges from the margins, where bodies identified as female were usually confined, namely kitchen, crop fields and their flower and herb gardens. Through gossiping, cooking and wandering while getting our hands occupied with many potions, we will wave new spells. In this program, theoretical investigation will be thus accompanied by material engagements and experimentation with living bodies; and while researching, we will follow our mothers' tales.

This track covers various concepts concerning the role and position of the artist today, the meaning and origin of the concept of autonomy and the way in which artists can critically relate to society at an ecological, economic and political level.

This is a practice-oriented research lab in collaboration with Radboud University Nijmegen, about creating sustainable impact in times of climate crisis. One of the ways of creating healthier relationships with our planet and ourselves is to take care of the places and communities we live in. How do we transform our education system so that it is better able to cope with the ecological challenges of today and tomorrow? Vox magazine wrote an article about RE:PLACE, in which they interviewed students about their experience and motivation.

This track invites you to feel, discover and question. We approach theoretical reflections as they are experienced in and through the body. We explore, share and experience how bodies are represented, classified, judged, regulated, sexualised and much more - and what we can do about that. Feel your way through the unplanned, the unexpected and the improvised.

In the 21st century, the term 'hybrid' seems to have gained a new relevance. We are surrounded by them in our daily lives: things that are (or seem) incompatible, yet are closely intertwined. For example test-tube babies, artificial intelligence, genetically modified food and augmented reality apps. Contemporary art has also seen an abundance of hybrid practices in recent decades. Together, we will identify current hybrids and familiarise ourselves with several key concepts regarding the deep irony that underlies them.

Chris Grabham, student Mapping Hybrids track, tells about his experiences. "I feel that through exploring and discussing a variety of viewpoints over the past six months, I have come to better understand my own perception and understanding of the world. I have also realised that this personal philosophy is very apparent in my artistic practice. I have discovered an inherent love of structure, order and even 'rule of law' in some cases, which allows me to assemble my creative endeavours, existence and reality in the way that pleases me the most. I will take many of the 'real-life' 'hybrids' we have encountered during this course with me into my later life and studies, including (from the course) the "multi-species" organism that I am - with bacteria co-existing within my own stomach!"
Registration and certificate for completed track(s)
The tracks of the Honours Lab are expressed in ECTS (2.5 or 5 or 7.5 ECTS) to indicate their size. These credits do not count towards your current course, but are valid after you graduate. If you have successfully completed an Honours track, it will be recorded in the student monitoring system (Osiris). If you have obtained a total of 30 ECTS, you will receive a certificate with your diploma in addition to the registration of the Honours tracks. Taking Honours tracks may be advantageous if you wish to gain admission to a follow-up course at a university or university of applied sciences.
Werkplaats theorie
Are you enthusiastic about Honours Lab? Werkplaats Theorie might also be interesting for you. Werkplaats Theorie is a workplace that strives to reduce the divide between theory (making) and creative work (making). It is a multidisciplinary place where you as a student can go with all kinds of questions, just like the other workplaces.
Practical
In order to avoid clashing with regular courses, the tracks mainly take place in the evenings and weekends. The tracks are offered in Arnhem, Zwolle and Enschede.
The Honours Lab is led and organised by the Theory in the Arts lectureship, which has close links to the other ArtEZ lectureships and external partners such as Radboud University Nijmegen.
If you would ou like to know more about the Honours Lab or have any questions, please contact us via e-mail: honourslab@artez.nl.
Completing the Honours Lab track Where is the Artist? has had an enormous impact on my way of thinking and approaching dance and art. I found the Honours Lab a great addition to my studies. The track fed me with a lot of ideas and challenged the way I thought. It helped me develop a critical, yet open mind and has contributed to my choreographical knowledge and art making.