Musical competences (15 EC)
During the Master's course, you will develop advanced musical knowledge and skills related to the professional practice of music therapy. The focus lies on the concept of (per)forming identity. Related subjects include music (therapeutic) improvisation and music technology. An important part of this process is the music therapy counseling, in which you explore and learn about yourself musically. Furthermore, you will be able to choose to develop a 'Community music therapy' project yourself. These projects offer the opportunity to improve leadership skills, as well as your musical competences.
Advanced music therapy skills (25 EC)
You will develop advanced evidence-based music therapy skills to be applied with different and complex clinical populations. The music therapy subjects include the neuroscientific foundations of music therapy, neurologic music therapy (NMT), cognitive behavioral music therapy and advanced music therapy approaches. You will be encouraged and guided to develop or deepen into your own music therapy method or process. For this, a supervised internship or work experience during your study is a condition. Through our programme, you will be able to follow the training and fellowship in neurologic music therapy offered Academy of Neurologic Music Therapy.
Research skills (20 EC)
A fundamental pillar of our MMT programme is the development of research skills. It is through research that you will contribute not only to the professional field of music therapy, but also to the field of health-related disciplines in general, with evidence for the effectiveness of music therapy treatment and innovative approaches in music therapy. Developing research skills and personalized tutorship are important components of our curriculum. Subjects, such as: evidence-based practice, research designs and data analysis, will support you in developing your individual research project in an area of personal interest.
Curriculum
The curriculum is designed around profiles that can be developed and deepened throughout the programme:
Innovative thinking: the programme offers you the opportunity to explore, create, re-create and advance music-based interventions and music therapeutic techniques. For instance, through music technology, you will be able to explore and innovate clinical approaches. Further, collaborative interdisciplinary experiences with other fields of the Arts can be integrated in art-based research and evidence-based clinical approaches.
Adaptive expertise: specific but flexible knowledge, the capacity to adapt to the clients' needs and envision the development of the field are crucial skills to the music therapist, who seeks to specialize and deepen his clinical and research expertise to solve a problem in one specific clinical area, approach, population or research query.
Community building: music and music therapy are powerful in building, empowering and strengthening communities. The resiliency and sustainability of community-building projects, equity and (cultural) diversity are the core themes of subjects related to leadership skills and community building.
Our curriculum includes the following courses:
Music: music technology, advanced musical and improvisational skills; counseling and selfcare for the music therapist; community building.
Music therapy: advanced music therapy approaches; cognitive-behavioral music therapy; neurologic music therapy, evidence-based music therapy and neuroscientific foundations of music therapy.
Research: research design and analysis and research tutoring.
There are also two elective courses, in which you will be able to develop your personal and professional skills with an independent project related to clinical approaches or community building.
Moreover, every year, national and international guest are invited to the ArtEZ music therapy community to provide master classes or conferences, in which you will be welcome to join.
To conclude your degree-course, you will develop and conduct an original research study, in which learned course outcomes from the program will be integrated with your professional experience and development. With this research you will make a unique, original and creative contribution to the field of music therapy and to society. Along this process, specialized supervision and tutoring will be provided and you will have the opportunity to share your work with the open community at ArtEZ and beyond.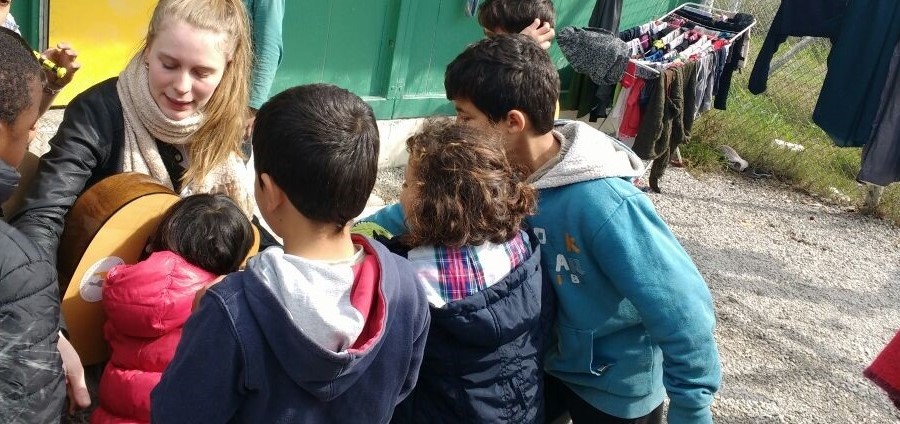 Since the beginning of 2018, ArtEZ Music Therapy started a co-operation with Connect by Music, an organisation that organises music projects for refugees (mainly child refugees) in the camps on Lesvos. The addition of music therapists to the existing permanent staff of Greek professional music teachers, creates the possibility to offer even more tailored support to the children. On some of the locations, Connect by Music only works with music therapists. The results after several sessions are really remarkable. Children are able to open themselves up again and connect with each other. By now music therapists from the Netherlands, Belgium and Germany, have joined the Connect by Music team on temporarily basis. Past period several students and alumni of ArtEZ Music Therapy were active at Lesvos. Read about the experiences of Lore Smits on Connect by Music