The ArtEZ Master Performance Practices is an assembly point: as a home base, it brings together performance studies, performance practices and dance studies – but also social sciences, politics, psychoanalysis, and philosophy. As the hub where they all intersect, the programme supports you in enhancing artistic practices and reflective analysis, looking beyond borders of different disciplines.
What do you learn at Performance Practices?
The Master Performance Practices offers its practitioners the space to synthesise and expand upon their fields of research through individual study and collaborative projects and workshops. As a practitioner you learn to challenge and expand the notions of performance, of how embodied actions create social meaning. Starting from your own practice as research and drawing from different disciplines, you apply and mould theory and practice through diverse means such as studio experimentation and conceptual refinement.
You gain a critical and in-depth understanding of the transformations and challenges of the body in – and of – performance. In two years, you build up an advanced portfolio and you develop skills of critical evaluation, synthesizing new ideas, curating artistic practices and managing people and resources in challenging and complex situations. A strategic mission of the Master Performance Practices is the development and expansion of the notion of 'student as producer' to enable you as a student to become an independent artist-researchers and at the same time to build a multivocal and fluid production powerhouse.
Resilience
In the Master Performance Practices we further resilience – meaning the capacity for adaptation to adversity – in all members of the community. In your independent artistic projects, you learn how to assess risk, manage hazards and act swiftly when conditions change. The Performance Practices programme fosters collective engagement as a way of building communities that debate and define ecological and social features of the system within which they operate and manage to design appropriate measure of action. We do this by looking closer to improvisation and collaboration, two processes that are quintessential to performance making. Improvisation is considered here in three domains: improvisation in anticipation, in attention and in response. The capacities to anticipate, stay alert and react to unforeseen events are a paramount force that enables flexible and creative solution-oriented disposition.
Photographers: Fenia Kotsopoulou, Marije van der Berg | Makers and Performers: Alexandra Tsotanidou, Lucia Kramárová, Sophia Kondylia, Daniel Voorthuis, Taru Miettinen, Fernanda Gonzáles Morales, Maria-João Falcão, Penelope Morout, Mariela Nestora, Conrad Useldinger
Five specialisations: design your own programme
Choosing your own route, you will be sharing modules and actively working together with students of the other tracks, working towards de-disciplining your field. All specialisation modules are designed and organised in consultation with our students and are newly created each academic year, making sure the programme keeps in line with the developments in the field. The curriculum is designed to allow for a thoughtful progression, integration and consistency of those skills needed for an ethically and ecologically geared artistic research within the required competencies and learning objectives that come with our status as a fully accredited master's degree. All students need to follow 75 credits of core modules and 45 credits of their specialisation modules.
Group sessions are organised in eight residential periods of three to five weeks spread throughout the two years. In between residential periods, students work autonomously on their own research projects with the support of one-to-one tutorials, online group meetings, and peer feedback. For more information about the schedule and the delivery mode, please download the pdf.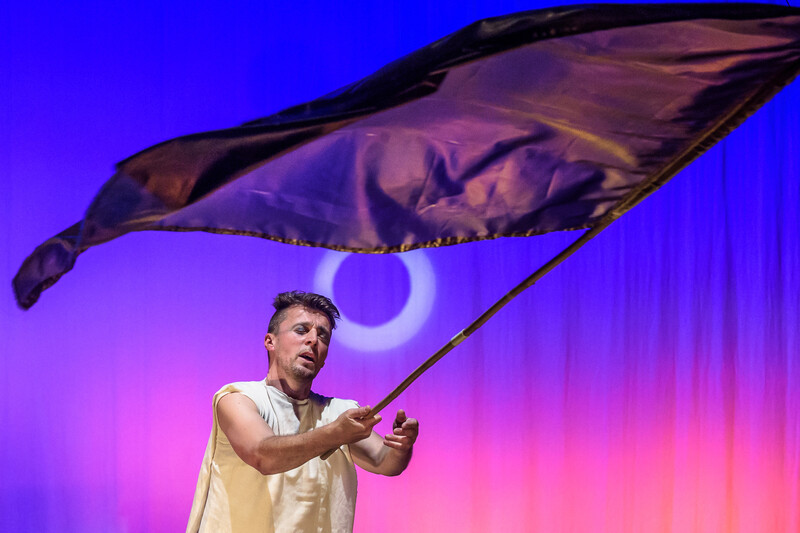 Research field trips and residential periods
During the programme, you take part in international conferences and residencies. In the first year, you discover studio practice and experimentation in France. The following year, you visit the Teatro Pergola (National Theatre) in Florence to research Ecologies of Performance in Italy, together with local artists and students of the Orazio Costa Adacemy. It is also possible to take a three-month Erasmus+ internship abroad at the place of your own choice.
Internationally, the ArtEZ Master Performance Practices has Erasmus bilateral agreements with, for example, HZT Berlin (SODA), Teak Helsinki, and Academy of Dramatic Arts Zagreb.
Performances and assessments
Critical reflection, contextualization and practice-as-research are at the heart of all Performance Practices master's specialisations. Performance outputs are presented in every residential period with a culmination of a performance festival towards the end of the academic year. Assessment modes may be connected to studio based work and critical reflection and examination of your own work and that of others. You will be assessed through their artefacts, formal written papers, documentation and lecture-demonstrations. Also, your ongoing progress and engagement throughout the modules will be considered.
Network of connections
During the course, you enter close dialogue with a team of experienced lecturers and inspiring guests from an international network in the performing arts. Guest artists and practitioners are invited to share their practices, providing critical insights. In addition to working independently, you work together with fellow students: to examine and develop both seminal and personal making and approaches towards facilitation, to analyse texts, and to produce performances, presentations, documentation, and essays. In critical communities you debate and define ecological and social features of the system within which you operate. By joining forces and combining resources, a level of access, mobility, and growth is realised that would not otherwise be available to each artist alone.
Being away, coming back, meeting the same people and also having the responsibility of being there – my peers being there for me, and my teachers supporting this environment and this space, somehow helped me develop my research questions.