"Studying fine art is not a choice, but an inner necessity"
BEAR in Arnhem is a unique art course. The course was founded in 2013 based on an unshakeable belief that the power of art lies in imagination, experiment and the coexistence of different perspectives. Today's art is as complex and diverse as the world we live in. In this world, art stands out because it does not conform to the prevailing models, but questions and researches them. At the same time, art connects with the world: it is part of it, comments on it and intervenes in it.

In a short time BEAR has achieved a position among the most progressive Fine Art bachelor programmes. We are greatly appreciated for our involvement in social issues and for the progressive forms of education that form the core of the BEAR model.
Never touch the ground
PRISCILA FERNANDES, HEAD OF DEPARTMENT
Mariel Smit Fine Art (BEAR) - ArtEZ Finals 2017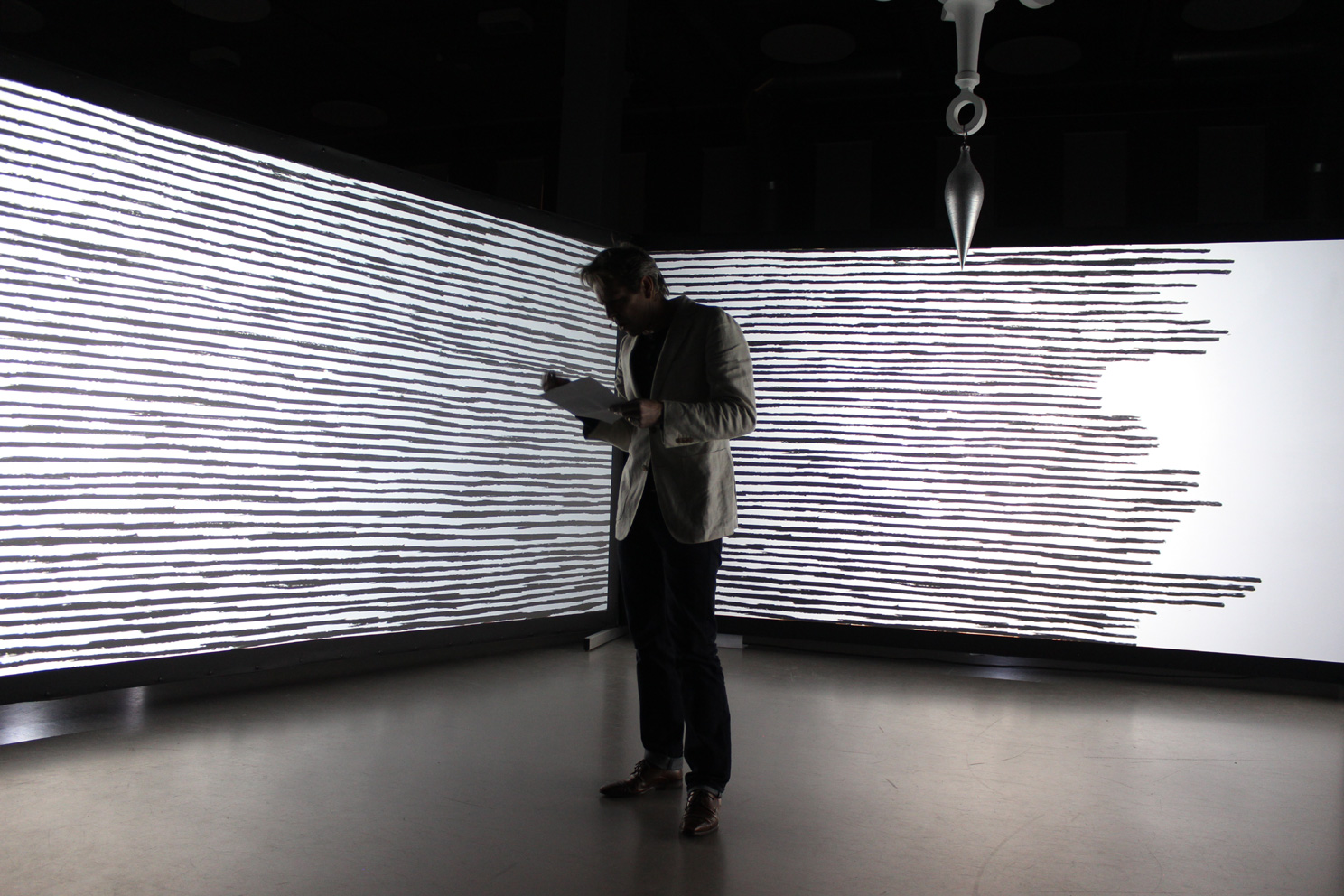 'De kracht van Oost' (Robbie Cornelissen en Dirk van Weelden (text)
Study trips
A wide range of travels, sights and experiences are necessary for an artist. That is why we organise various excursions and study trips. At times this involves the entire program (Venice, Vienna, Cologne) and at other times, only the tutor, theory or project groups (New York, Brussels, Amsterdam). Workweeks will be organised in special locations in Germany or Spain, for example. A study trip that includes a professional experience, may also serve as an internship. Shorter excursions will mainly take place during project weeks, such as a trip to the Hortus Botanicus.
Study trip Fine Art (BEAR) Documenta Kassel 2017

Study trip Fine Art (BEAR) Berlijn 2017

Ruhr treinnale the bearians 2016
Structure of the course
Principles of the Bachelor of BEAR Fine Art: Base for Experiment, Art and Research in Arnhem:
Our education aims to develop you into a visual artist with a personal profile, who occupies their own artistic place in art and society.
Our education is provided in the context of contemporary artistic discourse and contemporary practice.
We enable you to study the value of a wide range of materials, media, techniques and approaches for your own development as a visual artist.
We familiarise you with different positions in art history, cultural history, art theory, media theory and philosophy. You learn to talk and write about your own work and that of others, and about the place and importance of artistic research in your work.
Throughout the course there is continuous interaction between the personally driven experiment and the common discussion.
We question you all the time; both on your output and on your reflection as well as on the social context.
We expect you to share your work with others and adopt a social, open attitude.
You are taught by artists, theorists and curators who incorporate their own projects and work into the course.
We encourage you to be critically aware of the context in which you work.
The tutorial group in which you study offers a safe and familiar environment in which you develop yourself in connection with others. Each tutorial group has its own tutor. This is your personal mentor from the first year of the bachelor through to graduation. The tutor asks questions, supports, connects and guides the group process. The tutorial groups consist of students of all years.

All our tutors are artists with a strong position in the (international) field. Each tutor represents a particular area or approach in fine art. At the same time, the tutor also offers you the appropriate guidance if you have a different approach in mind. But there is more: to broaden your development, you can choose from different projects, theory workshops, supervisors and technical courses in each semester. Furthermore, an important role is cut out for guest teachers, who will visit you regularly in your studio, giving you plenty of room to develop in any direction you wish.

More about tutorial groups and tutors

The first year is an adventure. You will never touch the ground. And you certainly will not have time to rest. The first year is full of activities. You visit museums, galleries, artist's studios. You lose gravity, stumble, fall and get up. You experiment, exchange, laugh, cry and sing. You create a lot of work in as many different media as time permits. You learn the basics of important philosophical ideas. You never do the same thing twice.

The programme starts with an intensive and extensive basic programme that immerses you in creating and thinking in the visual arts from the outset. You discover your personal talents and gain insight into the conceptions of art that you have unconsciously mastered. This is often the first step in developing your own way of working and forming your own visual language.

The theme lessons are at the heart of the first-year programme. Every quarter the focus is on a different theme, which is approached from different angles. Each day is supervised by one or more teachers and a workshop leader who work closely together to deepen the understanding of the different perspectives on a theme. You explore all kinds of means and techniques: from drawing and painting to photography, working audiovisually and digitally.

The beauty of art is that it can surprise, challenge and inspire. From the second to the fourth year, you are constantly and consciously developing your understanding of what art is and what its place in the world is. In your tutorial group, in projects and through exhibitions and presentations you continuously shape and reshape your relationship with art, all the while pursuing your own unique path. From the second year, you work based on your own drive and initiative. However, this does not mean that you are on your own. On the contrary: your tutorial group, BEAR and ArtEZ accompany you throughout your journey.

At BEAR, making and thinking go hand in hand. We see theory as an intrinsic part of contemporary art. During the course you connect the theory with your own artistic research.

First year
What is art? What does an artist do? What is the position of artists in society? What are the views on aesthetics? How can we define timeframes and (style) periods? What does history teach us about subjects such as art, non-Western thought, ecology, institutional inequality, anthropocentrism and much more, and how can this lead to reconsidering our thinking? You start unravelling these questions as early as the first year. You do this in the ThINK course and during an excursion/boat camp in Italy.

In the first year you can also apply for the Honours Programme as a supplement to the theoretical programme of your bachelor course.

Second to fourth year
In your second and third year, you can choose from eight different theory blocks, enabling you to study aspects of art theory, history, psychology, sociology, political science and philosophy. A number of these theory classes can also be taken in Dutch. In the third and fourth year, theory goes hand in hand with your own artistic research. You will receive weekly support in your studio from your theory teachers, nourishing the works you create in the studio and helping you prepare for your graduation.

To learn the technical skills that match your personal study plan, you can use a large number of specialised, state of the art workshops and labs. There you can not only experiment and create your own work, but also take short courses led by competent experts. In the workshops you will meet students from all kinds of ArtEZ courses.

In the first academic year, exploration and use of the workshops are linked to the theme lessons. You will take lessons in graphic techniques, plastics, woodwork, metalwork, audio-visual techniques and photography.

The Academy of Art and Design at ArtEZ in Arnhem has computer, ceramics, audiovisual, graphic, digital and photographic workshops and workshops for spatial work. We also have workshops where you can work with plastics, metal, wood, paint and colour, animation and bookbinding. In addition, you can make moulds, mould, blow glass and the like. In our drawing lab you can practise creating drawing models. ArtEZ also has its own exhibition space and a multimedia library.


Mariel Smit Fine Art (BEAR), student in atelier

We challenge you to develop beyond your own preferences and interests, by different means such as projects. These confront you with questions you might not otherwise have asked yourself. During projects you work together with students with other interests and share your experiences with each other.

In the first year you participate in two interdisciplinary projects with students from other art disciplines of ArtEZ. You can also go on an excursion/boot camp to Cittadellarte in Italy. These projects often lay the foundation for lasting connections and a further blending of knowledge and skills in the coming years.

In the second and third year of Fine Art in Arnhem, you can choose from four different projects in each semester. Each project lasts six weeks and is supervised by guest artists from various backgrounds and disciplines. The projects deal with current issues in contemporary art. Some projects focus on a particular discipline, others are more theoretical in nature. A project is concluded with a project festival, in which you present your work to each other.

At BEAR we find it essential to challenge you to look beyond your own preferences and interests. The projects confront you with questions you might otherwise not have asked yourself.

Artists who coordinated the projects include: Edward Clydesdale Thomson, Maja Bekan, Jay Tan, Witte Hulzen en Sander Breure, Martijn Tellinga, Dan Walwin, Jeremy Day, Janneke van der Putten and Cittadellarte.

Project Pleasure Island - BEAR Fine Art with other disciplines

Internships help you get to know practice, push back your boundaries and grow personally. They are also important for building a network and forming a future perspective.

All students do internships; in the second, third or fourth year. During the internship you gain experience outside the walls of the academy, allowing you to get to know an art practice from the inside out and become acquainted with the diversity of professional practice.

Check here where you can do an internship

In addition, we encourage you to make use of open calls, competitions, residencies and other opportunities outside the academy.

The third and fourth year include the How to Connect programme. The aim of this programme is to stimulate entrepreneurship, without loss of autonomy, as an extension of artistry. By entrepreneurship we mean all the activities that you develop in order to have a good profile as an artist and to occupy a position of your own.

How to Connect supports you in entering the field and building an independent, economically viable professional practice. You develop a strategy based on your own abilities. You learn how to underpin your own work and position as an artist and how to explore your own field, opportunities and possibilities.

You graduate on your own work and research. All fourth-year students of the Bachelor of Base for Experiment, Art and Research (BEAR) exhibit their work during the ArtEZ finals in Arnhem. In organising this event they are helped by first-year students.

View the work of our graduates on:

our finals-website

on Instagram

on Facebook





Lectures and debates
In addition to the theory classes, you can attend a lecture or debate almost every week, held by tutors, scientists, gallery owners or curators from all over the world. The programme focuses on fine art and the place of art and culture in society, introducing you to the ideas and work of a wide range of artists and other professionals.
The lectures and debates are open to everyone, including those who have not yet enrolled on the Bachelor of BEAR Fine Art in Arnhem. The lectures are broadcast live online. The links can be found in our Instagram and Facebook accounts.
People who have already given lectures include: Jay Tan, Mirjam Westen, Zachary Formwalt, Nat Muller, Korrie Besems, Prof. Johan Wagemans, Cornel Bierens, Prof. Wil Roebroeks, Nadine Botha, Zhana Ivanova, Alexandra Navratil, Mercedes Azpilicueta, Mounira Al Solh, Kate Cooper, Chto Delat, Jonas Staal, Beatrice Catanzaro and Jeanne van Heeswijk.

An interstellar Future'



One hour's walk door Miek Zwamborn
Study in Arnhem
Arnhem stands for green, creativity and enterpreneurship. As a student city, it literally offers space for many different initiatives.

More aboute studying in Arnhem