Bachelor BEAR Fine Art Fine Art
Base for Experiment, Art and Research in Arnhem
Head of Fine Art: Priscila Fernandes en Edward Clydesdale Thomson
If you have any questions, please mail to our coordinator Maritt Kuipers, Ma.Kuipers@ArtEZ.nl or call +31 (0)26 353 56 15 of +31 (0)26 353 56 00.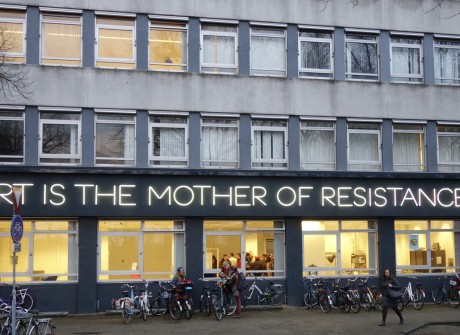 Oude Kraan Arnhem - location of BEAR Fine Art
Contact ArtEZ Academy of Art and Design Arnhem
Acting Director: Sharon Gesthuizen
Onderlangs 9, 6812 CE Arnhem
Postbus 49, 6800 AA Arnhem
ArtDesign.Arnhem@ArtEZ.nl
Directions from Google Maps
ArtEZ Academy of Art & Design Arnhem is about a 10-minute walk from the trainstation.
Parking in the vicinity of Onderlangs 9 is only permitted at the parking spaces marked with a P. Also see www.parkerenindestad.nl.
Would you like to taste the atmosphere at the academy? Take a look at it in this video!