Doing (Artistic) Research
Doing (Artistic) Research is a (pilot) programme collectively offered and curated by ArtEZ lecturers, researchers, alumni and students. In lectures, workshops and exhibitions, students can learn about various aspects of (artistic) research outside their own studies. On this page, you will find more info and the programme.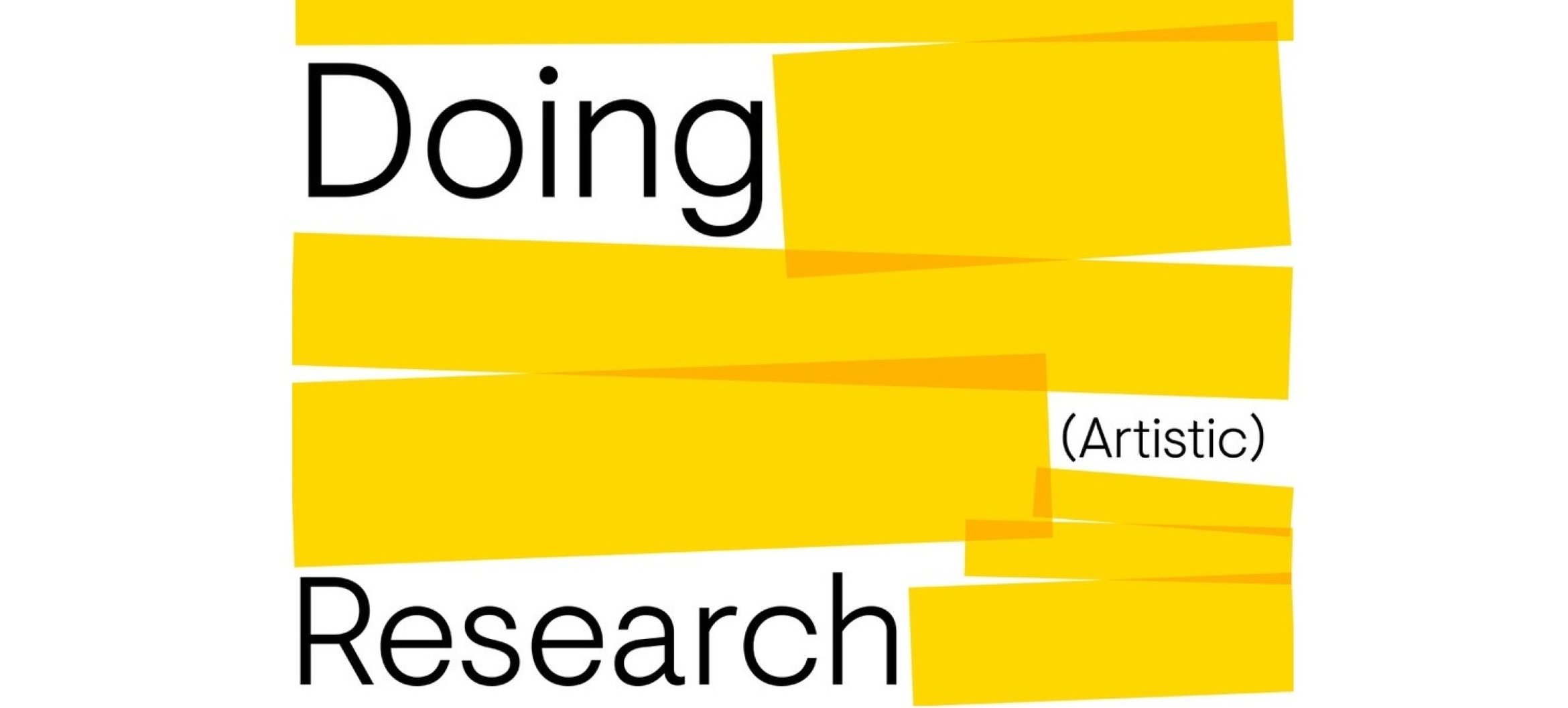 What is (artistic) research?
In (artistic) research, artwork and research coincide. Each (artistic) study therefore develops its own research method. The word 'artistic' is deliberately in brackets because the artistic is also determined in the research itself and is not a predetermined concept either. There is no such thing as a fixed method for doing (artistic) research; there is not just one way, there are countless. And you have to find them and we would like to help you with that.
Doing (Artistic) Research does so by organising various activities to get in touch with other students, alumni, lecturers and researchers and to share knowledge and experiences about research (e.g. about your own research questions). Furthermore, you can learn about research carried out by other students, artists and researchers; in doing so, you will also experience that doing research always has a public aspect because research exists by the grace of an environment that can provide feedback and assess or help shape the value of the research. (Artistic) research is not something you do alone.
The events of Doing Artistic Research showed that artistic research isn't stuffy or distant, but can be personal, informal, and very much alive."
About us
Doing (Artistic) Research is a collective effort of Werkplaats Theorie, Honours Lab, Studium Generale ArtEZ, Mediatheek, APRIA and ArtEZ Press. In short: all departments dealing with artistic research and expressing it in different ways. In Doing (Artistic) Research, the Mediatheek provides the location, archives and books, the Studium Generale dedicates itself to translating complex ideas into stimulating lectures or workshops, the Workshop Theory focuses on individual coaching and exchanges with alumni, and the Honours Lab offers in-depth educational tracks that connect student, theory and art practice. Finally, APRIA provides a platform to disseminate (artistic) research through its website.
Programme
Doing (Artistic) Research organises activities throughout the year. The programme is still under construction, so the events you see below are just the tip of the iceberg. So keep a close eye on this page
Every year, APRIA, ArtEZ's platform for artistic research, collaborates with the Master of Education in Arts programme to publish a selection of research by its students. This year, textile designer and art educator Suzanne Dikker produced an essay that looked at ways we can reconnect with our environment, considering the connecting power of traditional manufacturing processes alongside the potential of digitization and virtualization.

At this event, Suzanne will share her research in conversation with two other practitioners from Education in the Arts: Yuliya Globa and Anne Rouwmaat. Yuliya is a teacher within the Bachelor Dance in Education at ArtEZ who works with inclusive dance in theatre as an interdisciplinary choreographer & movement teacher. Anne is a high school theatre teacher whose research focuses on the emotional wellbeing of young people after corona.

Where: Media Library Arnhem
When: 4 October, 16:00
Language: ENG
Admission: free, no registration required

Once a year APRIA, ArtEZ's platform for artistic research, launches an Open Call and ArtEZ students, teachers and researchers are invited to participate. Last year it was Ways of Knowing where we investigated the ways in which one acquires knowledge. Martine van Lubeek (BEAR alumnus, 2022) shared her research on APRIA. How did she tackle her research questions? How did she choose to present her artistic research on APRIA? Is publishing on APRIA something for you too?

Martine's research investigated the River Rhine as a site of knowledge. Her work invites us to think of the river as part of the hydrocommons and consider how acts of listening offer a tool through which we can explore our entanglements with other worlds.

Martine worked with methods of embodied listening in her research. At the event, Deep Listener® practitioner and researcher Sharon Stewart will interview Martine about her work, and together they will share this research method in a short exercise with participants. Sharon and Martine will also talk about how to participate in an Open Call on APRIA and what is required to do so.

Where: Mediatheek Arnhem
When: 4 October, 16:00
Language: ENG
Admission: free, no registration required

As a creator of creative work, you do research. Sometimes the research you do in and for your work and the research about which books are written seem far apart. To show how these expressions of research are closer together than you might think, the Mediatheek and the Werkplaats Theorie have partnered into a collaboration in which artistic research by students will be exhibited. The exhibits are in the media library and show how creative work and research are related in a small ecosystem.