Besides artistic development, much of the course focuses on developing the student's creative and associative ability. By playing with ideas, you give rein to your imagination and associative ability, enabling you to create genuine and authentic images and stories.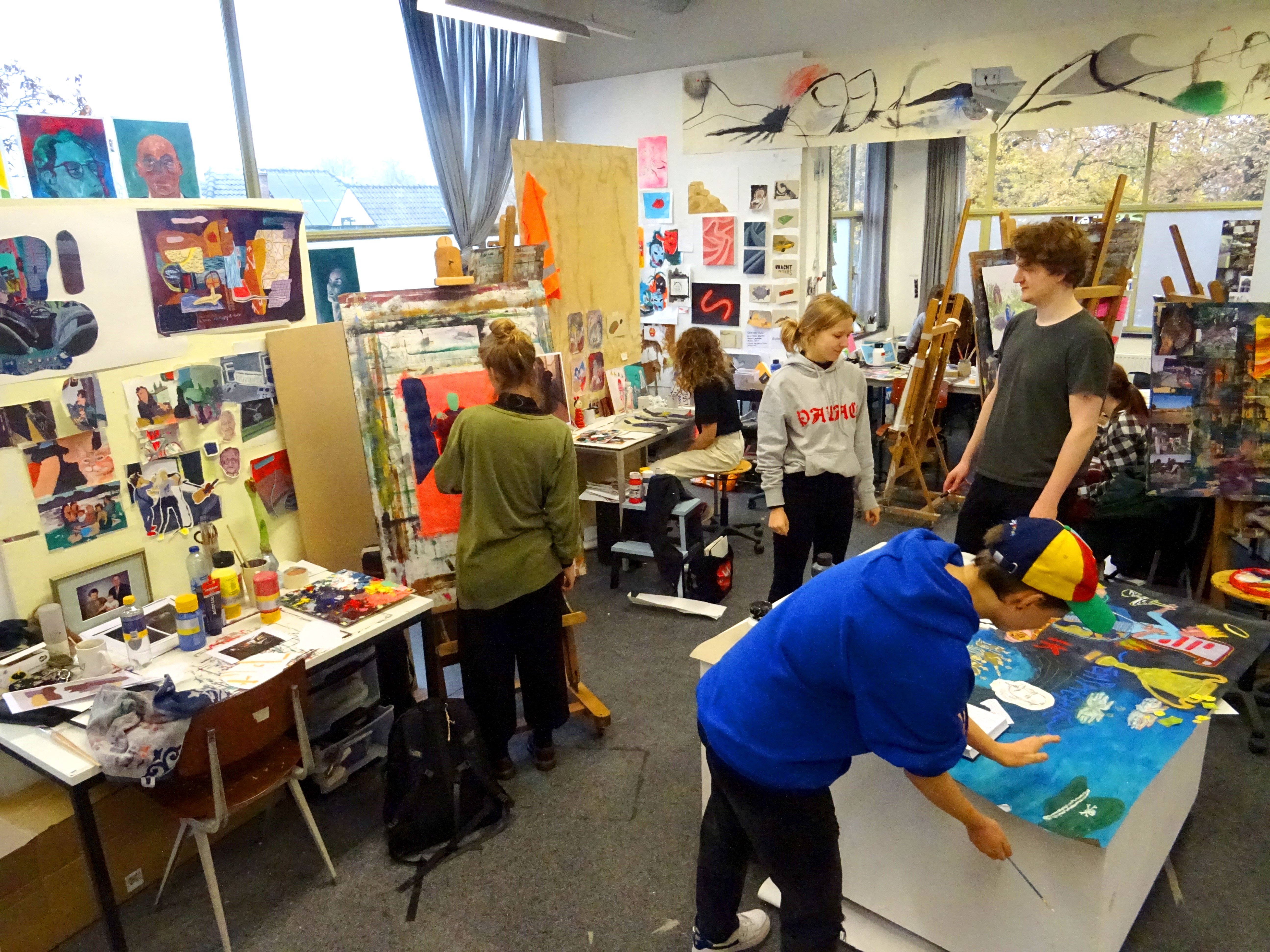 Curriculum
The course takes four academic years. These are divided into eight semesters. Each academic year has its own character which contributes to the cohesion of the education in that year. In each academic year, your Individual Research is key. In the first year, you have lessons in illustration editorial, illustration story, illustration new media, visual research, observation classes and typography.
In the second and third years, the subjects are offered via two or three-week projects. These alternate with Individual Research weeks, in which you have time for your own research. Through the art history and philosophy subjects, a theoretical basis is laid which supports your positioning with respect to your work and the professional field.
As the course progresses, you are increasingly confronted with professional practice and you explore your individual position as an illustrator in relation to the work field and society.
Course structure
During the four-year Illustration Design course in Zwolle, we train illustrators to be well-versed in all aspects of illustration: from story to form, from message to medium and from nascent idea to concrete reality.
In the first year, you explore the profession and there is a lot of scope for image, form and material research. As such, you learn several technical principles of illustration. You are also encouraged to play with subjects, to experiment and push your own boundaries. The programme focuses on freeing you from any preconceptions or assumptions about illustration. Students should have an open, enquiring and reflective attitude. During the first year, you realise what studying at an art academy means. From your own fascinations and preferences, you take your first steps in the Individual Investigation.

In the second year, playful research is also key. There is a lot of scope for image, form and material research, whilst the development of your own imagery and content becomes increasingly important. You work on developing stories. These may be your own stories based on personal inspiration, or existing stories and situations derived from practice.

In the second year, you are increasingly encouraged to make connections between the projects, the theory lessons and your Individual Investigation. You are encouraged to involve the various teachers in this and to discuss the possibility of combining and deepening various projects in the Individual Investigation.

The basis laid in the first and second years is deepened in the third year. In the third year, you are given more and more opportunity to shape your own study. The focus here is on developing and deepening your own work and acquiring insights into where that work is positioned in relation to the practice, the market and society. At this stage of the course, Individual Investigation is a process in which, in principle, all the knowledge acquired in the different projects and courses come together. It thus develops into a unique and most authentic possible interpretation or specialisation in the field of illustration.

In principle, the work created in the framework of Individual Investigation in semester six lays the basis for the graduation project planned in semesters seven and eight. At the end of the semester, you write an initial version of your positioning as a conclusion of the Individual Investigation. This is a growth document in which you describe what direction you want your work to take, how this relates to your future positioning in the field of illustration and how you will shape your internship which starts at the end of the summer recess.

In the graduation year, the positioning which you write at the end of the third year forms the basis for all study components: the internship (which you started in the summer), the free work you will be doing (the Individual Investigation), the content of the dissertation, the work you present during the presentations and the research into presentation/ profiling during the final examination exhibition. There are no more scheduled classes. You work independently in the studio and arrange meetings with supervisors and/or (guest) teachers. Sometimes the teaching team gives you a specific assignment, but mostly you organise your course yourself and decide what direction you give to your work.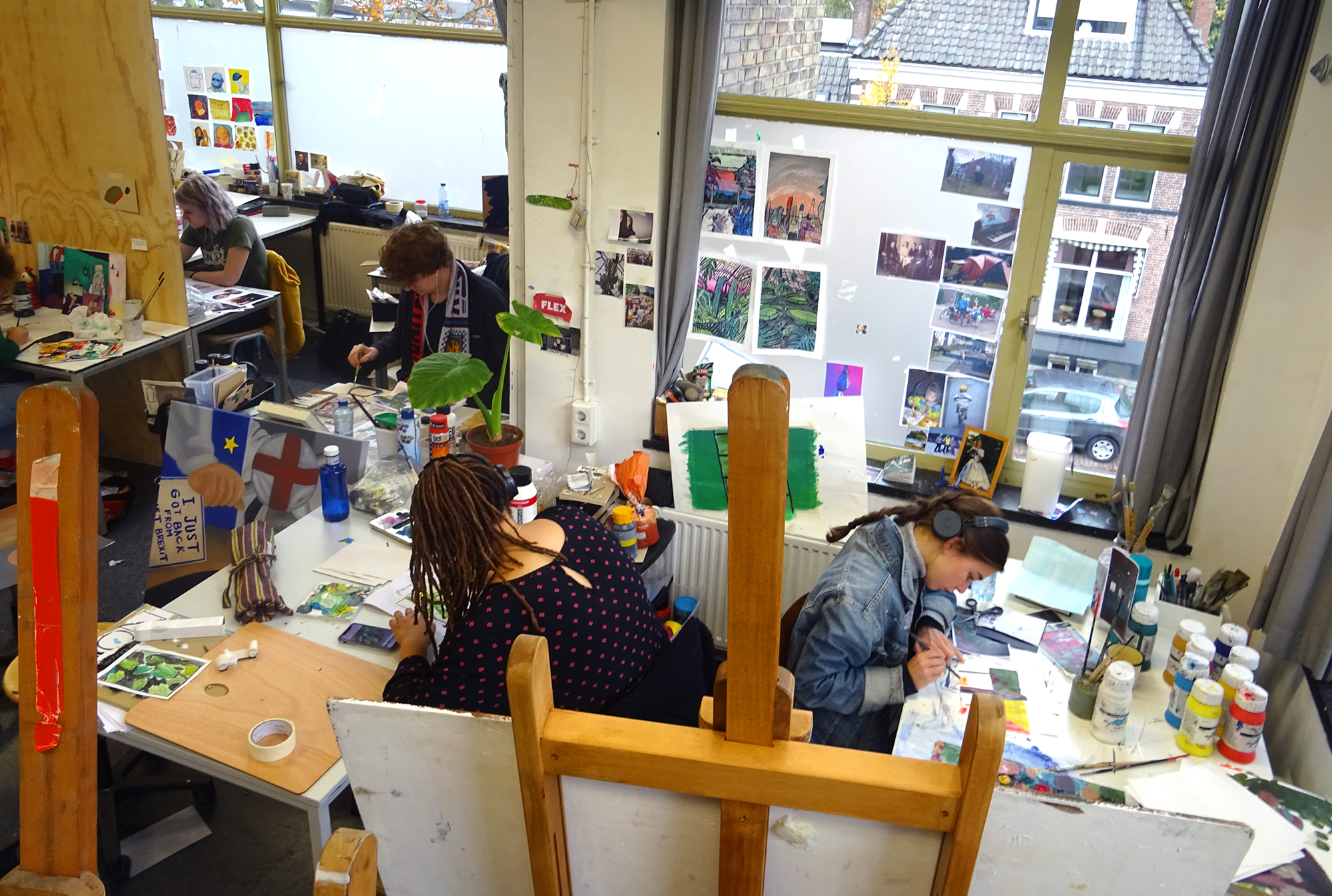 ArtEZ finals
All Bachelor Design students do a final examination and exhibit their work during the ArtEZ finals. We would recommend visiting one of the final presentations if you are considering doing the Illustration Design course.
Individual Research
A key part of the Illustration Design course is the Individual Research. It aims to provide you with insight into the profession and your own talents, fascinations and (media) preferences.

We want to see you independently set up and continue your (artistic) investigation. In doing so, you make a connection between the insights and skills that you acquire in the individual subject and theory lessons. Where possible, all the teachers supervise Individual Research.

The Individual Research project trains you to be an enterprising illustrator with a personal identity and a valuable place in society.
During the course, all the insights you have acquired come together and you look at yourself, your work and your environment with new eyes. You profile yourself as an illustrator with your own identity, your own authentic imagery, vision and motives. The Individual Research eventually results in the exam. In your graduation project, internship and dissertation, you show who you are, what you make and what you stand for.

You explore how your work finds a way to the audience and how work adds value for your environment. You are given plenty of scope to explore the boundaries of the subject. Whilst studying, you discover whether you can best express yourself as the author of your own work or whether you operate better by working on commission or in collaboration. Status or success does not determine the direction of the course. Looking for quality and substance of the work is key. Through this approach, your work can be meaningful. In various ways, in different forms of media and in every possible place, your work will stimulate the viewer's imagination and motivate them to think, act, play, participate and imagine.

Your work and your story form the basis for a fruitful career as illustrator. In addition, the contemporary illustrator is expected to be highly independent and take personal responsibility in the professional practice to generate their own work.

In the Individual Research, you are therefore given more and more opportunity to shape your own study. That is not for everyone. But by dealing with the related freedom and the essential personal initiative, you develop an attitude to work which you can also use after your studies as an enterprising illustrator. To provide inspiration, we organise talks and guest lectures by talented former students focusing on 'life after the academy'.
Study Trips
During your course, you go on various study trips. On our Facebook page, you will find photos and short reports. In the first year, all students from the various arts courses in Zwolle visit Berlin. In this intensive week, you visit different museums, exhibitions and presentations. A special 'Illustration' day is also organised.
During October, no classes are organised, but in the second and third years you travel. You plan your travel yourself: you decide where you go, what you will do and study, how (long) you will travel and with whom.
You are responsible for organising your travel. During the travel project, you investigate, reflect, philosophise, talk, raw, observe... in short, you travel. Your route might take you to art academies, spiritual, architectonic and landscape highlights and interesting artists. In all these places, there is scope and time to share knowledge, insights, attitudes, skills and experience. But there is also time to lounge around, dream, imagine, gaze at the stars or... do absolutely nothing.
You record the stories that you encounter on the way, you create work, collect material. And as the storyteller, you illustrate them and present them to those at home. All students can be followed on our travel project website.
Want to know more? Take a look at our students' travel projects.