Every year, the Higher Vocational Education Guide investigates the quality of secondary vocational (MBO), higher professional education (HBO), academic (WO) and master's programmes. It is known as the only truly independent consumer guide that assesses and compares the quality of all courses.
If a course is rated as being of top quality, it is entitled to describe itself as a Top Course.
How does the Guide reach a verdict?
The Higher Vocational Education Guide uses various sources:
The National Student Survey
The National Student Survey is a student satisfaction survey. It is published annually by Studiekeuze123. The Studiekeuze123 foundation was established by students, higher education institutions and the Ministry of Education, Culture and Science to collect and disseminate objective information about the available choice of courses. If you are studying at ArtEZ, you can take part in this survey
Dutch-Flemish Accreditation Organisation (NVAO)
NVAO is the organisation authorised to give HBO and WO courses in the Netherlands a stamp of approval for quality. Normally, this takes place every six years.
The Dutch Association of Universities (VSNU) and the Netherlands Association of Universities of Applied Sciences
The assessors also look at the number of students who quit their studies prematurely. Because what good is a good course if you don't make it to the finish line? For this purpose, they use data supplied by the Dutch Association of UniversitiesVSNU and the Netherlands Association of Universities of Applied Sciences.
ROA
The consultancy ROA tracks the progress of graduates in the labour market.
Quality marks
Courses and educational institutions that are judged to be the best in the Higher Vocational Education Guide are awarded a special quality mark and the designation Top Course. When you see this mark beside the name of a course, you know that the education is of high quality.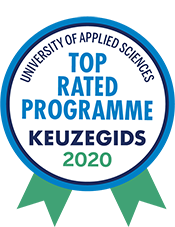 Very good versus cum laude
It is worth emphasising that a quality mark represents a cum laude. Even courses without this signifier can be rated good or very good.


Find here the score of the bachelor studies 2020

Find here the score of the bachelor studies in 2020