Navigating Music Technology: handbook on the promising digital future of music therapy
An innovative handbook on music therapy that students can really get started with: that is what Carola Werger, Marijke Groothuis and Artur Jaschke felt was needed in our rapidly digitising society. That is why the three researchers and lecturers wrote Navigating Music Technology – a theoretical framework and practical guide with the central question: how can new technological developments be used effectively in the day-to-day practice of music therapy? The book is available via ArtEZ Press.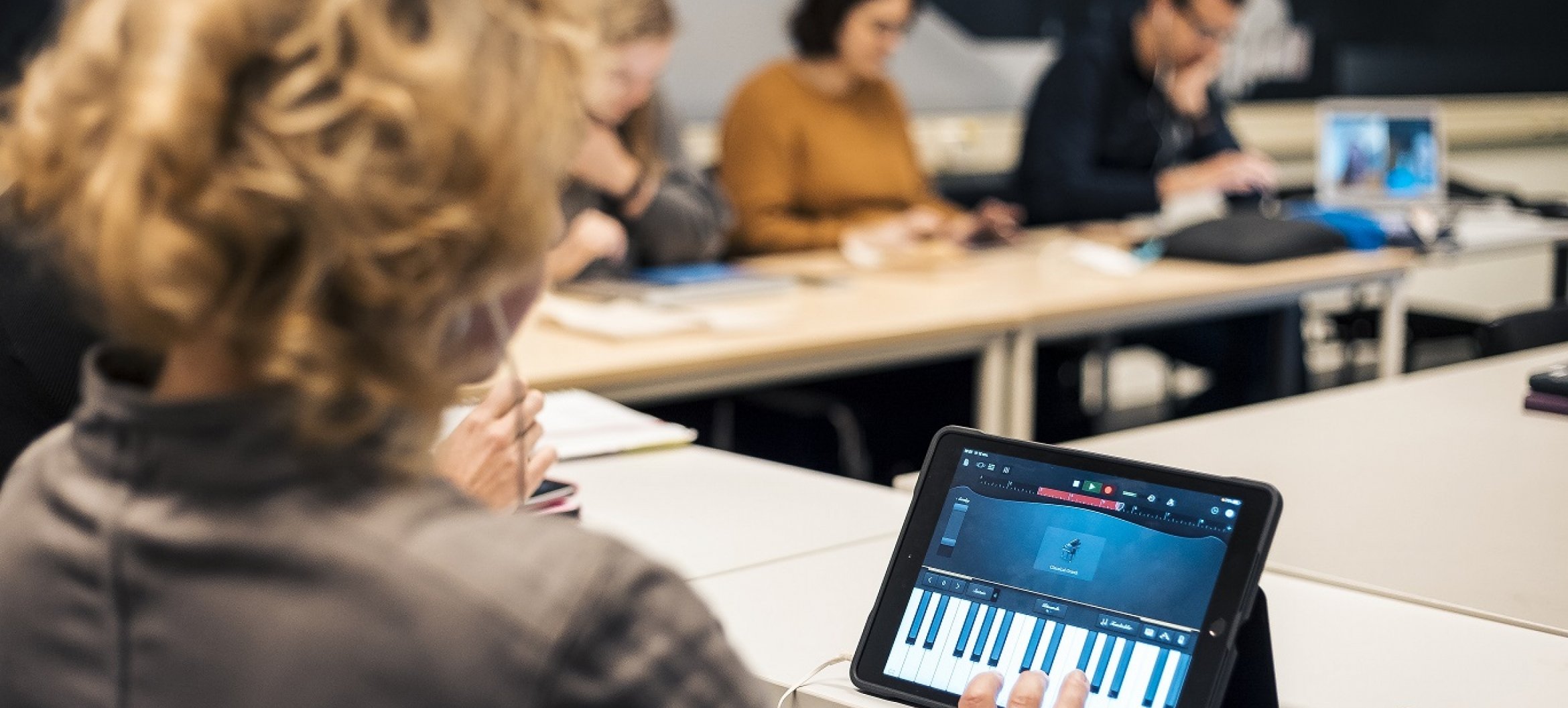 "We all notice that society is digitising more and more," says Artur Jaschke, professor of Music-Based Therapies and Interventions at ArtEZ. "There is hardly anyone left who doesn't have a smartphone: we view and listen to videos, photos and music digitally. The future of our clients is a digital future. As a music therapist, you can eventually no longer get away with just a guitar – you need a guitar and a tablet. That way you can facilitate much more."
Applying new techniques in practice
In Navigating Music Technology you will learn that facilitation can be done in many ways. The handbook provides the theoretical framework for practical approaches and includes information on methods. But in addition, it is directly practicable, as a guideline in clinical practice and education. The basic premise is that music therapists must first feel at home with music technology, and then be able to use it to help their clients.
Carola, Marijke and Artur have focused on the future of music therapy, covering several examples of how new techniques and innovations can be applied. For example, as a reader, you will learn how to use computer programs to mimic musical instruments, without having to know how to play them.
Such novelties open up a wide range of possibilities for music therapists – and especially professionals-to-be. Because it is precisely students who play a crucial role when it comes to the future of the subject, Artur believes. "We can go along with change as researchers and lecturers, but it's even more important to include the people who are learning the craft. Research findings are interesting, but of little significance without the bridge to education. We must not only see new techniques and opportunities, but actually use them to eliminate the risk of a fear of a future where technology takes over human work. That's also why we chose to write a handbook you can really get started with."
Symphonies on your smartphone
Navigating Music Technology fits perfectly into the current zeitgeist as a practically applicable handbook, Artur explains. "If you look at young makers, you see a clear development: entire tracks, entire pieces of music are being created on phones. I think it was Hans Zimmer who said that you don't need to go into the studio to make music: all you need is a creative mind, a good idea and a smartphone – and then you can make the best music in the world! Society is changing, and music therapy is changing with it. The future is now."
About the authors
Carola Werger is a music therapist, music educator, senior lecturer and head of the bachelor Music Therapy at ArtEZ in Enschede. With an additional Master's in Learning and Innovation (MLI), her main interest lies in innovating curricular educational concepts.
Marijke Groothuis is a senior lecturer at ArtEZ in Enschede, connected to both the bachelor and the master of Music Therapy. She also works in special needs education, providing music therapy and music education to children age 4 to 18 with physical and mental disabilities and chronic illnesses.
Artur Jaschke is professor of Music-Based Therapies and Interventions at ArtEZ and works at the department of Music Therapy in Enschede. He is also connected to the The University Medical Center (UMC) in Groningen.
Order the book
You can order Navigating Music Technology via the ArtEZ Press webshop. The book is also available in the ArtEZ library.