ArtEZ is partnering with art exhibition Sonsbeek 20-24 this summer. It is the twelfth edition of the most prestigious exposition for art in public space in the Netherlands. ArtEZ is involved with projects in which the work of students will eventually be exhibited at a later date.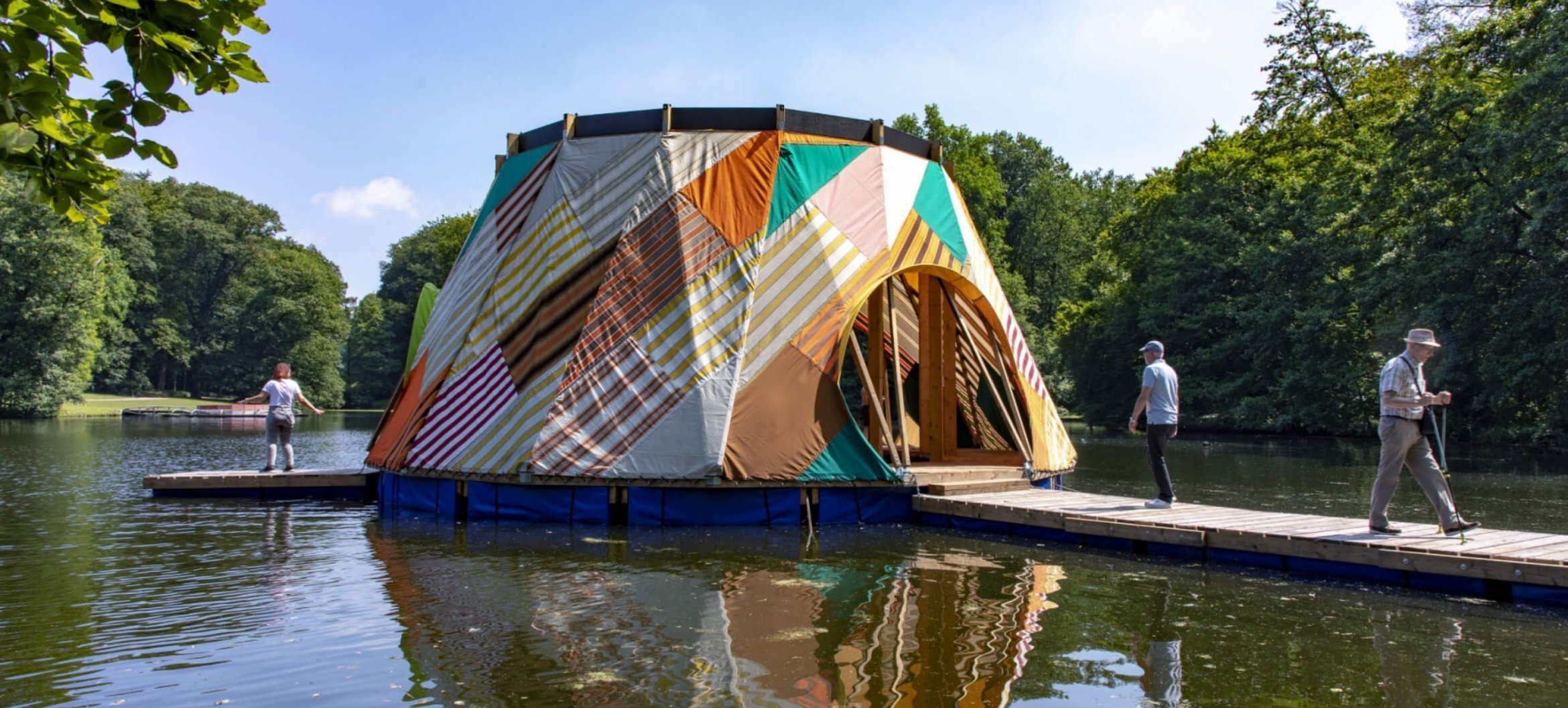 The collaboration with the master's course DAI Art Praxis facilitates parts of the education program. Besides, DAI organises several symposia with sonsbeek20-24, two of which already took place: Roaming Assembly#28 presents Sonsbeek Council#2 Infectious Waves – on power and radio and Roaming Assembly# 27 presents Sonsbeek Council #1 Force Times Distance - On Labour and its Sonic Ecologies. The third symposium will be on the 28th and 29th of August: Roaming Assembly#29 / Council#3~ SEXWORK IS HONEST WORK~ an ongoing invocation curated by sonsbeek 20-24 and Olu Oguibe commisioned by, and in collaboration with the DAI. Prior to it, DAI and sonsbeek20-24 will present their AEROPONIC ACTS: public presentations by students, with responses by Olu Oguibe and others. Head of the department, Gabriëlle Schleijpen, was actively involved in sonsbeek 20-24 in Arnhem as a board member and member of the jury.
The Master's program Werkplaats Typografie created the website (Michelle Lin), the corporate identity (Frédérique Gagnon), Campagne '21 (Lydienne Albertoe and Mariavittoria Campodonico), the Reader (Leon Lukas Plum), the wayfinding, signage and visitor guides (Egle Petraskaite and Yan Zhihan ) and the catalog (Marcus Wachter).
Several projects are happening with the BEAR Fine Art bachelor's course in which work of students, now but also in September and later onwards, is exhibited as a form of residency. Internships and future projects will also take place after summer.
Thanks to the interdisciplinary program of all teacher training courses, discussions are ongoing with curators to create free and interdisciplinary work.
Art throughout Arnhem
More than 250 national and international artists are showing their work during Sonsbeek 20-24 in Arnhem. The program is by artistic director Bonaventure Ndikung, with the help of curators Antonia Alampi, Amal Alhaag, Zippora Elders and Aude Mgba. Studium Generale collaborated with Aude Mgba on the project My learning is affected by the condition of my life.
Sound plays a central part during this edition, as does labor and equality. The exhibition also takes a critical look at the colonial past, in which slaves had neither voice nor identity.
New this year is that it is a sixteen kilometer long exposition at thirteen indoor and outdoor locations. The art manifestation runs from the Eusebius Church in the center of Arnhem via the Sonsbeek and Zypendaal parks to the Kröller-Müller Museum in the Veluwe. Five different routes are connecting the entire exhibition.
International praise
The Sonsbeek exhibition exists since 1949 and was one of the first international art manifestations in the world. It was an attempt to give Arnhem, which had suffered a lot during the Second World War, new allure. As one of the first international art projects after the Venice Biennale (1895), the Whitney Biennale (1932) and prior to Documenta (1955), Sonsbeek has gained an international reputation as a pioneering exhibition for art in public space.
Sonsbeek 20-24 runs from 2nd of July until 29th of August 2021. The entire program can be found on www.sonsbeek20-24.org.