Music Therapy Knowledge Centre
Music Therapy Knowledge Centre
The Music Therapy Knowledge Centre has been set up to introduce Bachelor's students to the professional practice. This is done through a practice office where students can sign up for practical assignments.
Collaboration with Professorship of Music Therapy
The practice office receives questions from the professional practice on a weekly basis. Where possible, we link these questions to research assignments for Bachelor's students in Music Therapy. To this end, we collaborate with the Professorship of Music Therapy.
Music therapy in practice
Through the practice office, the Music Therapy course aims to bring students in touch with the professional field and to introduce them to research skills. This helps them to explore the options in the profession. Some students choose to immediately start working as a music therapist after graduation. Others want to develop their research skills further, opting for a Master's in Music Therapy, for example.
Music therapy for premature babies
Case study: Anne-Greet Ravensbergen, ArtEZ Music Therapy student, plays soothing tunes to new-born babies in the maternity ward at the University Medical Centre in Groningen.
This trial with music therapy has been running for two years. The approach has had success in the US, but in Groningen the babies are even younger.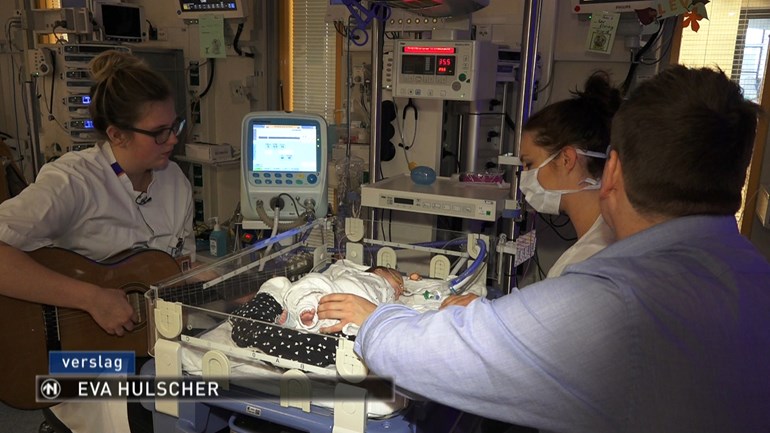 Publication: Music and Exercise in Dementia
The book 'Music and Exercise in Dementia' ('Muziek en bewegen bij dementie') is in part based on work done by our Bachelor's students as part of internship and research assignments.
This book explains how you can use simple resources to make more contact with people who have dementia. It includes plenty of tips and useful examples for care givers, including informal carers, and occupational therapists. Music, exercise and more meaningful contacts make a direct contribution to a better quality of life.
Music and Exercise in Dementia (Muziek en Bewegen bij Dementie).
Back to Music Therapy bachelor course