Performance and curatorship are at the core of the course: not just when it comes to your own practice, but also regarding the world around you. At the Jazz & Pop master's programme, you learn not only to perfectly control your instrument and to refine your technical and musical skills, but also to identify and seize new opportunities. You discover how to connect with different groups of people, how to optimise collaboration and how to shape your own profession as a musician, giving it durable significance and legitimacy.
Perform, curate, investigate
The Master Jazz & Pop at ArtEZ in Zwolle provides a stimulating environment in which you learn to draw up and try out your ideas. Of course, you will be fine-tuning your skills, being on stage a lot, but at the same time you are urged to challenge yourself: by being curious, experimenting, asking questions and conducting research. You are challenged to let go of certainties and seek out your own motivations, and you do so always from a self-reflective point of view. The course helps you to develop not only your talents and skills, but also your vision: the artistic and social workings of your vision, with which you can take the lead in a rapidly changing work field.
As a Jazz & Pop master's student, you will learn to design new performance practices and to take on an entrepreneurial role within them. You organise concerts according to your own vision: placing your work and cooperation with others within a larger research trajectory. You develop the skills and know-how for putting together a programme from the specific concerns of a musician, as opposed to those of a manager. You learn to curate from artistry. Getting to know the field enables you to be creative in it and to find new pathways – to take the lead and to open doors.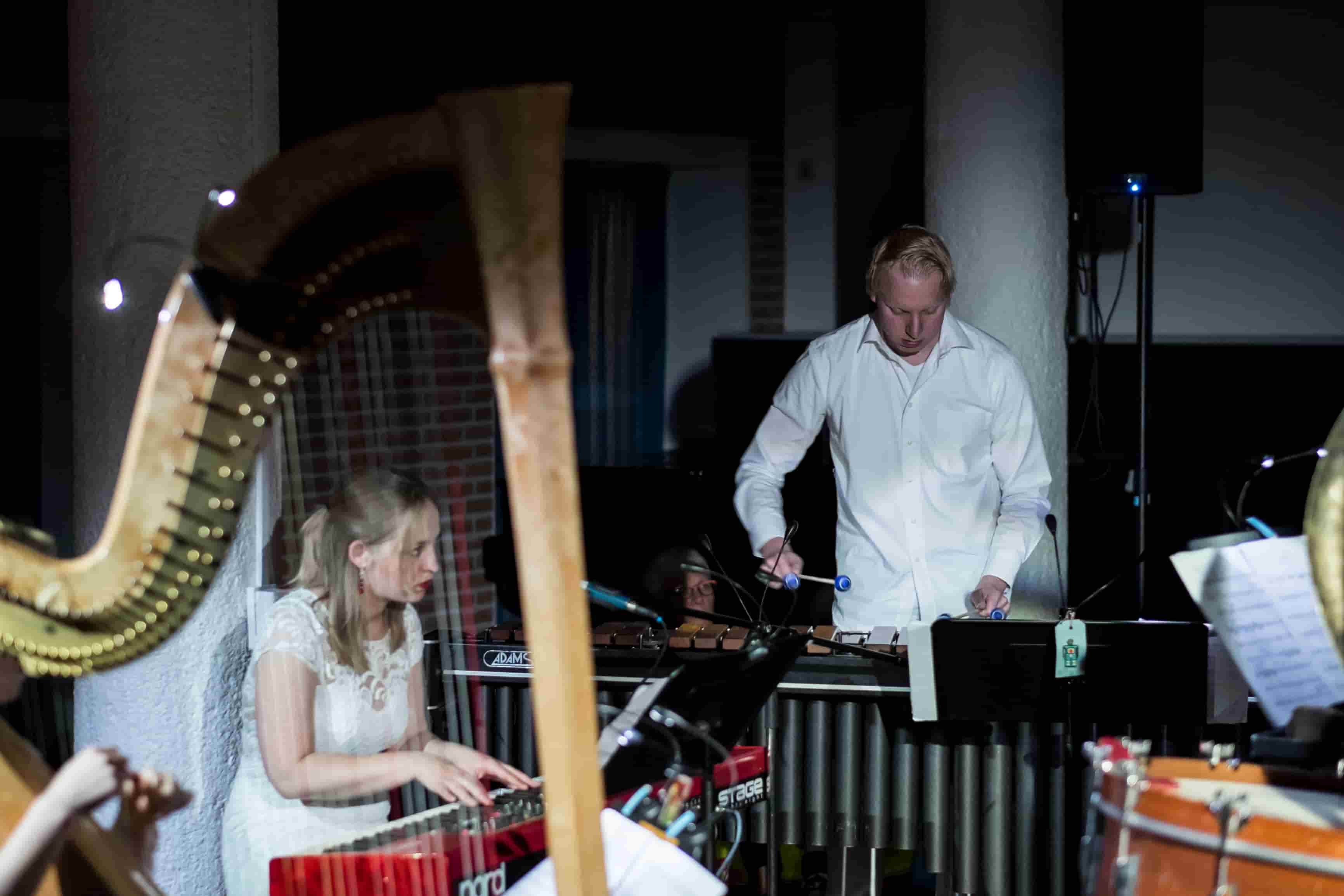 Research
In order to prepare for an unknown future, it is crucial to keep developing your knowledge and abilities. Therefore, research is at the core of the master's programme. Integrating research into your own practice allows you to contribute to a whole new language within the field of music. In the first year, you get thoroughly acquainted with research during Performance Lab. During the second year of the master's, you focus on your own research topic.
At the Master Jazz & Pop at ArtEZ, conducting research is about being able to translate that what you do into a broader context; to be able to reflect on your own path. You can explain the choices you make, and cast a light on the alternatives. The fruits of your research may take on different forms: text, for example, but they may also be a podcast, video or audio work.
Curriculum
The Jazz & Pop master's course in Zwolle consists of an individual route with main subject lessons, a collective programme with master's students Classical Music and a joint module with all the Master of Music students. As a master's student you draw up your own personal study plan. This plan will become the interface through which you give shape and direction to your study activities. The two-year Jazz & Pop programme is flexible, multifaceted, and interdisciplinary. You combine your individual route with joint learning, while focussing on performing and curating in the Performance Lab. Your research is closely connected to the acquisition of practice-based experience.
In the first year of the Master Jazz & Pop, you focus on deepening your knowledge and developing your skills. During the second year you build a portfolio based on your own route and research theme, and you get the opportunity to work with an external coach. The master's is completed by a master proof: a final concert in which the results of your research are incorporated in a creative and playful way, in front of a jury of professionals from a diverse range of fields.
(30 ECTS first year, 42 ECTS second year)

In the individual route you follow your own main subject lessons, immersing yourself within your own discipline, deepening your musical knowledge and instrumental skills. We challenge you to take responsibility for your own study process and development: with the framework of the course as a guideline, you are free to look for creative solutions and to experiment.

Year 1

During the first year of the Master Jazz & Pop, the individual route consists of:

main subject lessons (24 ECTS).
collaborative musicianship (4 ECTS) (working with a répétiteur and/or coaching in ensemble;
free space (2 ECTS first year, 4 ECTS second year), to be filled in by yourself.

Year 2

During the second year of the Jazz & Pop master's course, individual research is added to your individual route and more free space is available.

(24 ECTS first year, 14 ECTS second year)

Every Tuesday you gain practical experience inside the Performance Lab. The Lab is a joint environment in which you work on stage presence, theatricality, marketing, writing, and concept development together with your fellow master students from Classical Music. You visit and discuss each other's concerts and projects while learning from and with each other. The programme consists of three or four blocks and is concluded with a series of concerts.

In the context of Performance Lab, (inter)national professionals who left their traces in the field, visit the programme in order to work together on projects and assignments. They inspire you to broaden your view on performing, which can entail so much more than simply making beautiful music. Performance is about connecting with current events, about personality, about communicating with a public and about building new audiences. Inside the Performance Lab, you are encouraged to unite the traditional and the novel, to integrate the known into the yet unknown.

In both the first and the second year of the course, a Residency Project is part of the Performance Lab. In this Residency Project you learn from and work with a renowned artistic company, for instance the Dutch Chamber Choir in 2020/2021 and Holland Baroque in 2019/2020.

(6 ECTS first year, 4 ECTS second year)

In addition to the individual route and the collective Performance Lab, you work together with all other music master students in Connecting the Dots. This programme consists of a project week, workshops and the joint concept of 'Meet the Masters'. Connecting the Dots is about exchange, collaboration and coming together: you get acquainted with other music disciplines, and you benefit from studying in an environment with performers and makers who, like you, are working on shaping their practice. Guest curator of the 2020/2021 project week is the organization Sounds of Change, that uses the power of music to stimulate people to change their circumstances in a positive way.

Also part of Connecting the Dots is drawing up a personal study plan and the module called Poetics in year 1, in which you will write your own artistic manifesto.
Master of Music: three pathways
The Master's course Jazz & Pop is available in Zwolle, where the accent is on performing and curating. There are also master's courses in music available in Arnhem: Jazz & Pop and Music Theatre. In Arnhem the focus is more on the development of an interdisciplinary practice through performing and making. The music master's course in Enschede, The Sound of Innovation, lays extra emphasis on innovation. Whichever pathway you choose, we encourage you to make use of the knowledge and classes within all three cities, developing your own unique graduation profile within the ArtEZ Conservatory.