Designers have the opportunity to be agents of action and change. Where the impact of those terms is not predefined and to be shaped - the GDA curriculum is the space to do so.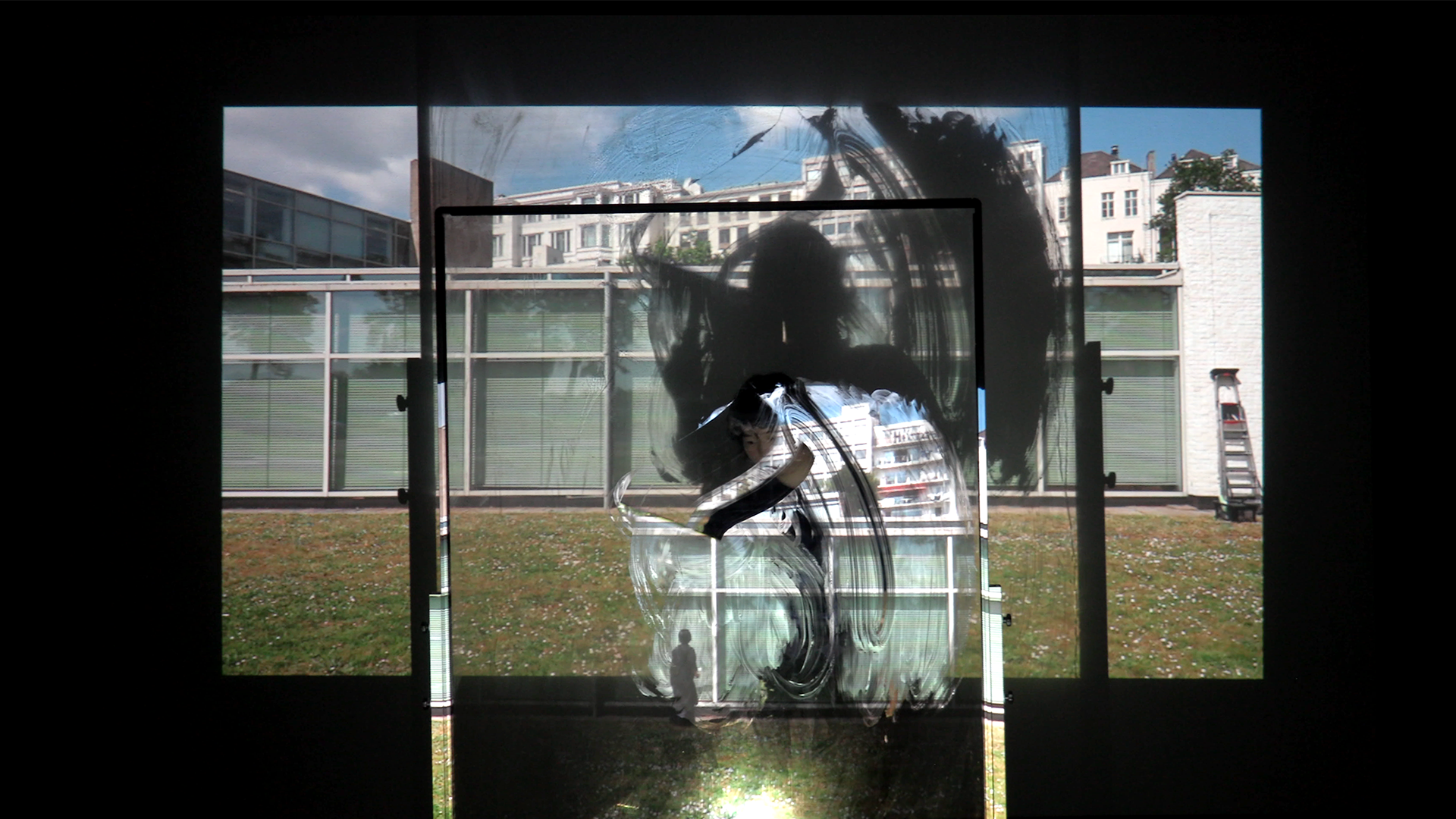 The GDA student community is ambitious, critical and curious. The cohort aims to not only work with- but create new thoughts, new information and new systems. Data holds no meaning. It's only through interpretation it can become information and subsequently knowledge. GDA students are at the forefront of human-centred design practices where technology can both facilitate and be facilitated.
We can consider the challenges and opportunities for the (GDA) graphic designer and citizen practitioner in (pro) future settings. What can happen in the future as the result of certain actions and decisions the graphic designer might make in the present? Where lies an urgency and determination? How can we anticipate future good and future goods?
To be a Proponent of (or for) the Future can come in many guises. Graphic Design is a practice, a theory and field in continuous flux; audiences, nascent technologies and distribution methods blur its boundaries and reset its cultural positions and social perspectives – often at an exhilarating speed. This is what makes studying the subject of graphic design so exciting: 'newness' in Graphic Design is transitory.
The experience of the students' learning is central to all decision-making within the department. Cohesion, fluidity, parity and unity amongst the various classes, students and tutors is key. This does not mean we aim for dilution, simplification or generalisation of the curriculum. There is much space for specialism, contradiction and complexity. We seek alternative patterns for learning.
Programme structure
The Bachelor Graphic Design is a four-year programme in graphic design at higher vocational (HBO) level. The GDA Curriculum introduces students to shared research practices and essential design skills across the spectrum. Research allows for the initiation and investigation into – as well as the study of – existing materials and emergent spaces. (New) relationships and (new) conclusions are in the driving seat.
GDA disciplines come with a rich history and the involvement of esteemed tutors with established practices - both present and past. Their wealth of experiences in both design and education are of direct impact on learning and teaching.
In Year 1, GDA students will be introduced to key graphic design principles as well as the research and design process. Through creative and explorative classes and assignments, they will focus on key methodologies, technologies and processes aiding the acquisition of relevant knowledge and skills. Examples of classes are Type & Typography, Spaces & Systems, Materiality & Play and Visual Grammar.

Students will be empowered to develop visual literacy as well as an identity as a designer as graphic design fundamentals are introduced. In addition students will be introduced to tools to develop an intellectual, theoretical and critical awareness of the subject, both located within the practice and in a broader context.

In Year 2, we focus on developing and building on the skills from year 1, students will be encouraged to challenge the status quo and question not what graphic design is but what it could be - and how. Assignments are expanded and get more complex and in-depth including the classes Design Research and Media & Design Theory.

The programme of year 2 creates new learning environments for design authorship whilst building and engaging skills learnt in the previous year. This resonates in classes such as Experiment & Motion and Image & Authorship. A professional focus on Portfolio and its application and meaning outside GDA begins.

In Year 3, students again advance in their practice continuing the Interactive Media and Open Lab programmes – to name a few – but are also introduced to the class 'Curiosity & Method' in anticipation of the Major Research Project in Year 4. A focus on the ability to initiate self-guided design processes develops pace. The unit 'Portfolio' aids preparation and planning for the finding of an internship or exchange.

Year 4 (!!!!) is the big (trumpet-blowing) final year with a project-based programme allowing graduating candidates to focus on bespoke areas of interest in both practical and theoretical frameworks. They are in the position to apply knowledge, skills and contexts acquired and developed in the previous three years, to create work of the highest standard showcasing both technical skill and critical ideation.

In addition you will do an internship or exchange (in the Netherlands or abroad) further contextualising your developing design practice. The ArtEZ Finals is the concluding moment of the GDA Programme as well as the start of being a GDA–alumni where creative and professional opportunities will present themselves as well as confidently initiated.
Workshops and Trips
Every semester, GDA invites guest educators to give a one week workshop called 'Sprint' for all year 1–3 students. The regular frequency of these workshops functions as a sound way for the department to keep up-to-date with current developments in design, as well as maintaining and investing into our professional networks.

Guest tutors are invited to introduce new ideas, visions, skills and experiences that the department and students can learn from. Recent workshops were hosted by design researcher Ruben Pater, information designers Piero Zagami and Tizianna Alocci as well as typeface designer Jungmyung Lee.

Across the programme excursions are regularly organised by tutors to compliment and contextualise the opportunities of projects. These can include museum visits, conference talks and studio drop-ins. There is also an annual international educational trip. In the past we have visited New York and Seoul to name a few. In autumn 2022, we visited Porto.
Facilities
At ArtEZ you will have access to state-of-the-art workshops and facilities.
Through active participation and curriculum-driven opportunities you will learn more on how emerging technologies are transforming the graphic design landscape, and your role within this. You will also be able to invest time in traditional production methods informed by new and experimental perspectives.
With facilities that cover woodworking, metalworking, ceramics, vacuum plastic, printing, screen printing, textiles and leather, the opportunities are infinite with plenty of support and advice from our knowledgeable instructors.
Students from other departments also make use of the workshops making it a space where creative exchange of thought and collaboration happens naturally.
Study support
Within the department we offer study support alongside the curriculum. You can reach out to the GDA Study Coach who is there to help you become a more effective and independent learner. We aim for learning difficulties or disabilities to not be barriers in your studies, and are committed to creating an inclusive environment for all. The Study Coach is able to share information on various matters relating to study progression and can also assist with personal challenges of mental and emotional health.
Postgraduate Study and preparing for professional practice
As part of the curriculum you will develop a keen understanding of the international professional graphic design working field and how this may inform your own future ambitions. To familiarise yourself, special guest practitioners will be regularly invited to talk about their practice – many of them successful alumni. Studio visits, portfolio surgeries and workshops are also organised. In addition, there are ArtEZ wide entrepreneurial programmes that will equip you with the relevant employability skills and attributes.
Graduates leave ArtEZ equipped with knowledge and skills in creative and artistic practices but also with experience of team working, interdisciplinary and cross-department collaboration opportunities, and the creative skills that are necessary to survive and thrive in the design field. GDA graduates are strong subject specialists but are also adaptable, empathetic to other perspectives and open to learning from these approaches.
GDA alumni excel in their professional careers through outstanding conceptual, analytical and visual abilities and solid knowledge of the graphic design field. They are able to make their practices resilient and responsive to ever changing circumstances.
Many alumni continue their studies and enrol into Master Programmes both at ArEZ and many other international institutions.
Studying in Arnhem
You can find more information about studying in Arnhem here.