In the four-year Music Theatre course at the ArtEZ Academy of Music in Arnhem, 'making for yourself', 'experiencing for yourself', 'performing', 'directing' and 'teaching' music theatre are core concepts.
Propedeuse and second year:
mastering your basic techniques
During the first two years, you will be primarily making mileage in mastering your basic techniques of theatrical performing and playing music. In addition to interdisciplinary thinking and operating, much attention will be dedicated to theoretical subjects. You are encouraged to contemplate and relate to the latest artistic developments in the profession of the music theatre performer.
The ArtEZ Academy of Music pays a great deal of attention to health as part of its music courses.
In the first year, you will also have the opportunity to apply for admission to the Honours Programme, which is supplementary to the regular programmes of your own Bachelor's course.
You will also see students from other art disciplines at the ArtEZ studium generale. During this day programme full of debate, workshops, performances and lectures you will meet relevant speakers from the art, science and society. You are going with them in discussion and sharpens that way your opinion and thoughts.
Third and fourth year:
customisation based on your interests and competences
In the third and fourth year, you will create your own individual curriculum as a music theatre peformer. You will choose your subjects and each student will complete an internship in the fourth study year. The internship you choose will depend on interests and competences. This makes the internships very diverse: from the renowned music theatre company Orkater to theatre group Wildeman on location.
A great deal of attention will be given to the creation and performance of your own work. In that you will regularly work with students from other ArtEZ Bachelor's courses. The interdisciplinary environment at ArtEZ in Arnhem offers a great many opportunities. Your learning path and chosen internship will partly determine your graduation project.
You can study abroad for several months in your third or fourth year.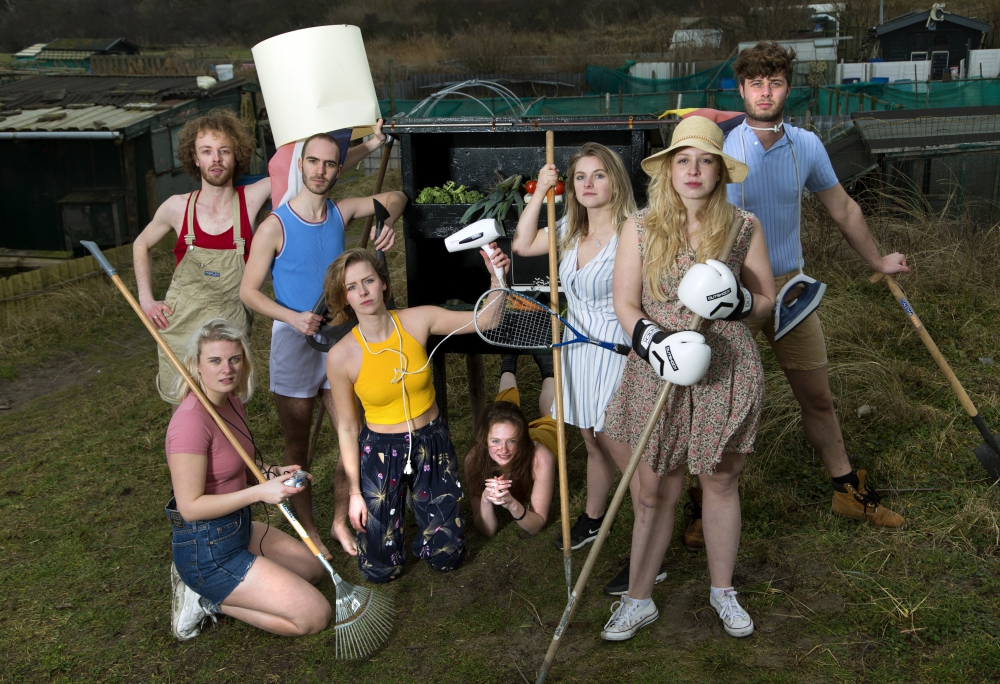 Every year the fourth-year students Music Theatre of ArtEZ make a graduation performance on location. This in close cooperation with theatre festival Karavaan in North Holland. Working on location offers students a different perspective on performance, sound, audience formation and distance to public.
ArtEZ finals
All graduation students of the MediaMusic course will present their graduation work during the ArtEZ finals. A visit to this graduation exhibition is a must if you are thinking about taking the MediaMusic course.
Projects
Projects add color to your studies. They offer you new insights, inspiration and an energy boost!
Click titles for a short impression.
Together with the makers of the BOT music theatre group, first year students produce a show on location.They let themselves be inspired by the sounds and the noises that the chosen venue evokes.

Third-year students perform as the opening act for the international puppetry/visual arts theatre festival, PopArts, in Amsterdam.

Each year, second and third year students produce a performance at an external venue. Thus, they were previous years guest in Diepenheim, the Amsterdam's Orgelpark (Organ Park) and with the PeerGrouP in Drenthe.

Music Theatre students spend a week working with Jazz & Pop students and other art disciplines from ArtEZ Arnhem, such as Fine Art, Dance, Theatre and Creative Writing. This project encourages interdisciplinary thinking and working in students.

Each year, both the first-year, second-year as the fourth-year students act out (usually in Theater Aan de Rijn) ) with a theatre performance under a renowned director, composer, performer. So in recent years were, among others, tgECHO, Urland, Siebrand van der Werf, PeerGrouP, Carina Molier, Kiki Jaski and Jan Groenteman, Arie de Mol, Hanneke de Jong, Aike Dirkzwager, Maison The Faux, Arend Niks and Ingrid Askvik involved in these performances.