The Role of Animals in Theatre
Max Bouwmeester and Judith van de Pol are second-year students of the bachelor course Theatre in Education in Arnhem. Together with their classmates, they are working on a special project which focuses on the question 'How can we represent the voices of animals in theatre?'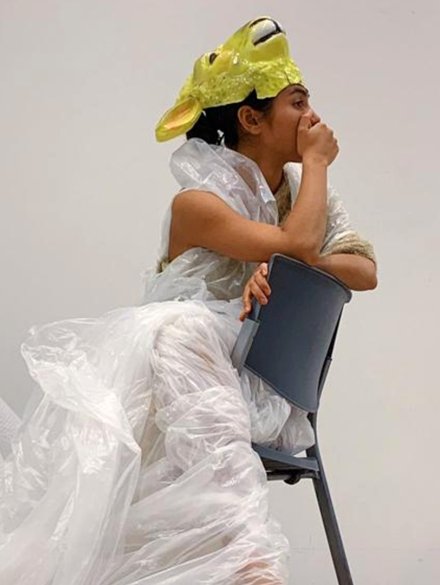 Contemporary Aesthetics of the Other
Theatre in Education in Arnhem is a project-based course. In the first quarter of the second year, you will work on the project 'Contemporary Aesthetics of the Other'. The project's questions are explored in different collectives. All thoughts, perspectives and observations eventually lead to two performances. The road towards it is a great adventure!
Real-life experts
Collaborating with 'real-life experts' is an essential component of the Contemporary Aesthetics of the Other project. Max and Judith explain: "Real-life experts are untrained actors, people who live and breathe the theme of the performance. In this project, the real-life experts are animals."
"By imagining the reality of 'the other' and investigating this, we can focus ourselves on who we (want to) be."
"We focus on the following questions: Can we make a performance with animals as 'real-life experts'? How can we represent animals on stage and give them a voice in a theatrical context?"
Exciting for students and teachers
"This is the first project using animals as the theme," says Max. "The project has been done before, but always with people. Choosing animals as the target group requires a completely different approach. Therefore, it feels like a new project for the teachers as well as for us, which is really exciting." Judith continues: "Our teachers have read up on the subject and are very knowledgeable, but approaching the theme in this fashion is new to them."
Artistic research
During the programme, you will do a lot of artistic research and connect theory to practice while making. Judith: "Fortunately, we didn't have to start from scratch. We read an essay by Eva Meijer entitled 'De soldaat was een dolfijn' (The Soldier was a Dolphin), which develops a theory of political animal voices. It talks about how we can ensure animals are included in our democracy and why this is important."
"The project included various field trips," says Max. "We went to Burgers' Zoo, Stadsboerderij Presikhaaf and De Hoge Veluwe National Park to watch deer during mating season. We also attended seminars by Laura Cull, professor at AHK and head of DAS Graduate School, who combines science with performance art and has done a lot of research on animals and performances."
"Many people in the art world have investigated this theme, so we knew what adventures had been done which was helpful."
Non-human
At the start of our research, we stumbled upon an important realisation. Humans are animals too. Judith: "In our culture, we have the assumption and mindset that humans are superior to non-human animals. Whereas in other cultures, humans and animals are more equal. We therefore refined our question to 'What would it take for us to consider non-human animals as our equals?"
This also influenced our research method and our method of making theatre. We started looking for ways to create a relationship with animals based on equality. How do we want to treat animals? Because when we make theatre, you have a human perspective. How do we portray the reality of the other, for a human audience? Do we want to imitate animals? How can we put up a representation for the animal?"
Necessity
Personally, I am changing my perspective. I have a dog at home. I haven't seen her since the project started. I think I start looking at her very differently. I am also changing as a theatre maker and I see that there is a necessity in this project. "I see that we need to treat our environment, including animals, in a different way. The way the world is put together now it's breaking down. Art can really mean something in that, in this case seeing animals as equals."
"With our theatre performances, we try to give different perspectives."
Theatre in Education Arnhem
Are you curious about the world around you? Do you consider it important to connect people with one another? Does the idea of being able to make art – theatre – with your own creativity, through imagination, motivate you? If so, discover the Theatre in Education bachelor course in Arnhem. Because on this course, you will immerse yourself in theatre and what theatre can mean for others.