One student's contribution to diversity and inclusivity through interior design
Design

Architecture and...
Erik Niesing achieved self-realisation through his work in the AD (Associate Degree) HBO-course Interior Designer at the ArtEZ Academy of Art & Design in Zwolle. "We had to develop and put together an exhibition," he recalls on the eve of completion of the course. "Throughout this process, I discovered that I wanted to become an interior designer who supports and contributes to diversity and inclusivity. Through the course, I have discovered what I find to be most important in my work as designer."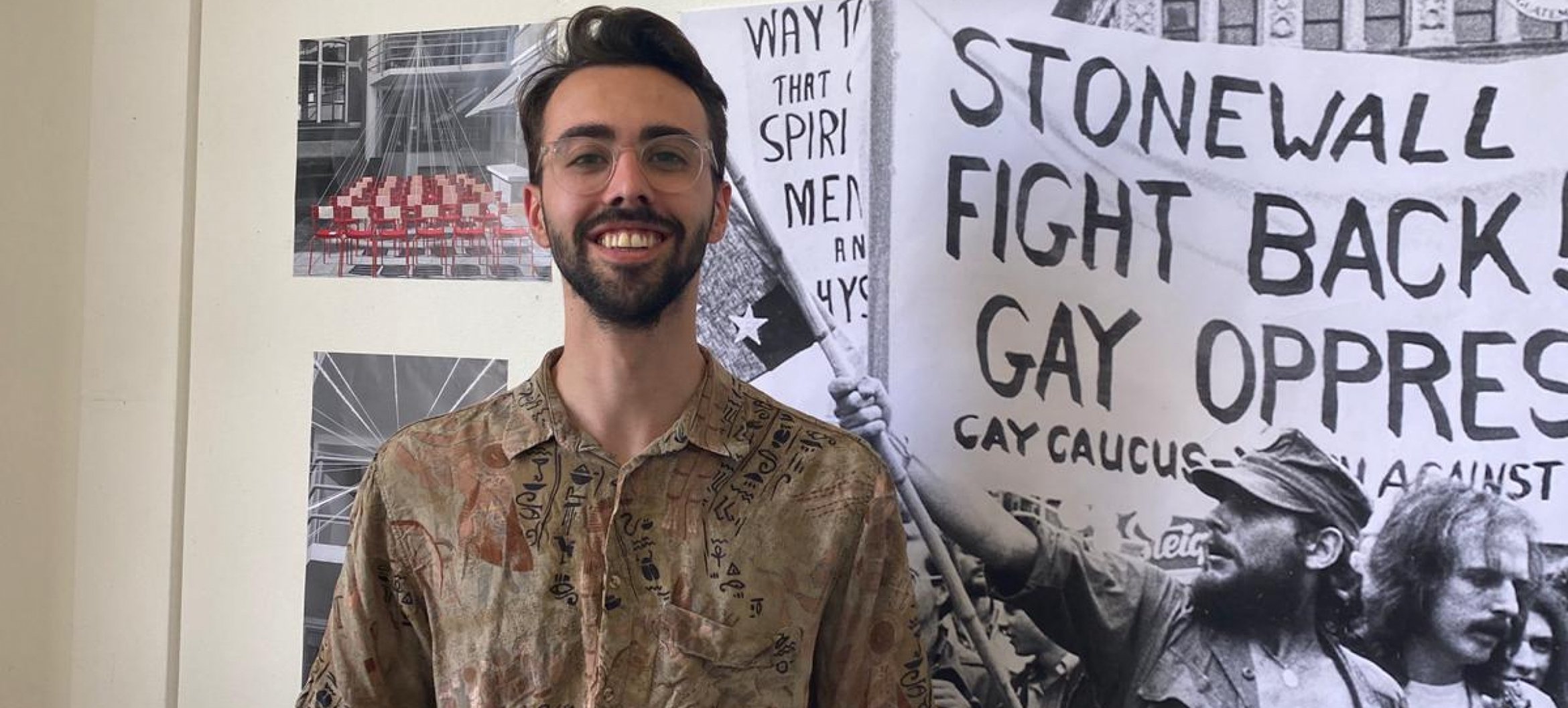 "All of the classes I took helped me in my development," Erik continues. "In the beginning, we started with the basics, like form study and drawing. These subjects really help you discover who you are personally as a designer, especially in terms of where your strengths lie. And from there, you can develop further."
Inclusive architecture
This development guides students to becoming designers specialised in the atmosphere of interiors and the way people experience them. "My specialty is developing interiors that bring people together. In my opinion, inclusivity doesn't stop with gender-neutral bathrooms, wheelchair accessibility, and accessibility for visually impaired people. At its core, architecture has to be there for everyone and get people to talk about issues, even if people have differing opinions, cultural norms, and values. Inequality in diversity and inclusivity stems from a system, for example by teaching specific gender roles from a young age. As a result, you can see that members of the LGBTQI+ community are often left out because they are seen as different. How nice would it be then if architecture could ensure that there is a place that brings people together and doesn't play into that system?"
It is so important that people have a place where they will be accepted for who they are and get the space, care, and attention that they deserve.
This characteristic attribute of Erik's work is naturally evident in his finals project. For the former city archives on Molenstraat in Kampen, he has designed rooms where people can claim their space and express themselves. Erik: "I could connect my designs to Kampen well; for instance, a secondary school here made the news in 2020 because parents had to sign an anti-gay declaration for their child to be admitted to the school. My project is primarily intended to spark dialogue with the municipality of Kampen about why it is crucial that people who differ from the accepted norm deserve equal attention."

LGBTQI+ community
Erik's own background, he is a queer, cis man, is why he focussed his finals project on the LGBTQI+ community. "In my design, the building is divided into the four stages of acceptance: denial, resistance, emotion, and acceptance. In the last phase, you can claim your place in the world and demand the stage," he explains. "On the first floor, there is also a temporary living area for people who, after having claimed their place, realise that their own environment is not an accepting or appropriate one for them. This living area can also function as a crisis shelter. I discovered through my research that the most important thing for a crisis centre for someone in the LGBTQI+ community is to have a place where they can safely be themselves. That is something that is often missing from their environment."

Vogueing
Besides his plans for the former archive building, Erik has also designed five stages located outside the building. "There are five stages spread throughout this district of Kampen where people can perform. These five podiums are based on the characteristics of vogueing: a dance style that began in the gay black community in New York in the late seventies. Vogueing is something that characterises the gay community well, its extravagance. The goal here too is to give people a platform – literally – to express themselves, and in that way to facilitate dialogue with the municipality about inclusivity."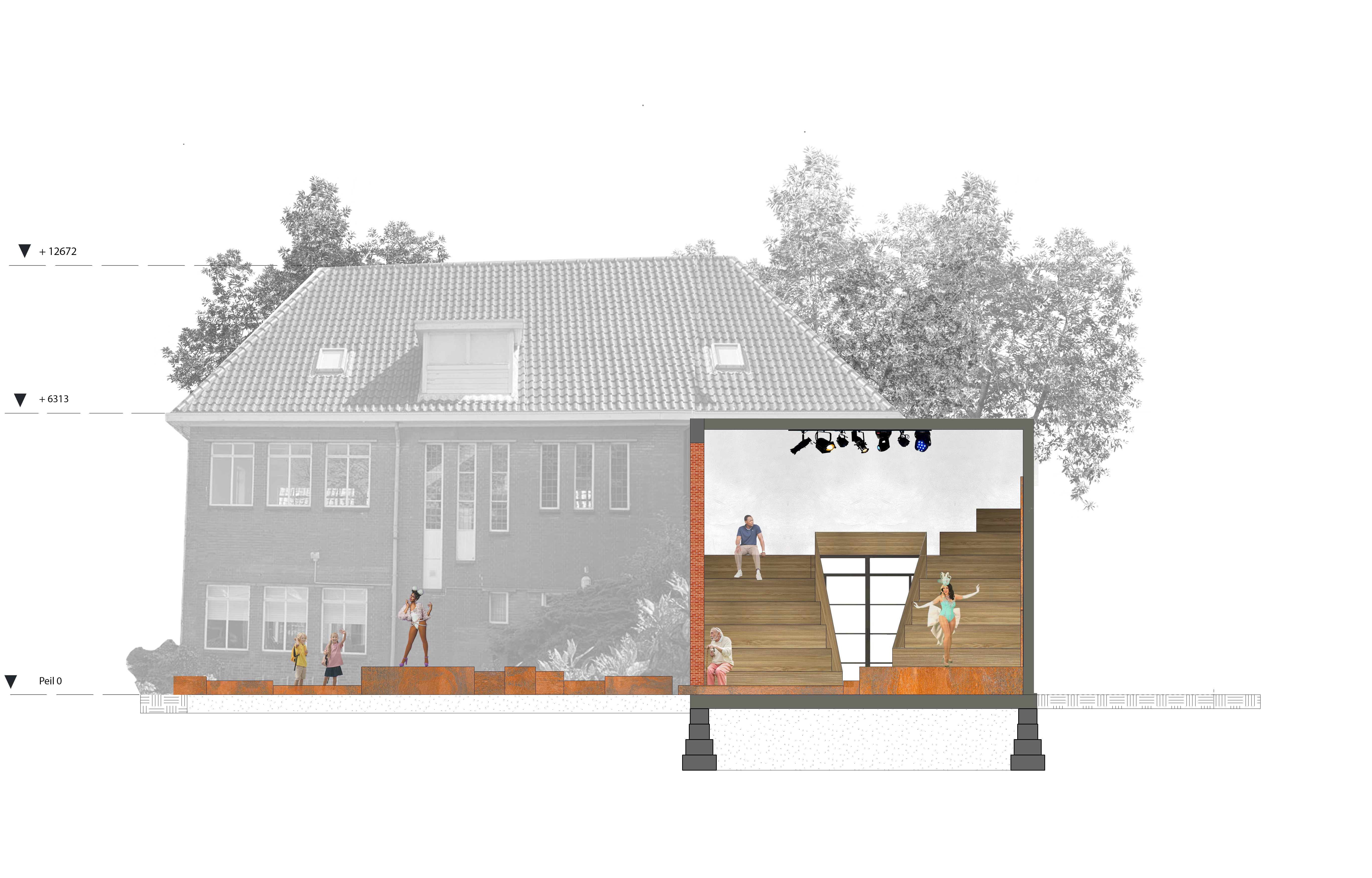 It's hard to say how likely it is that his designs will eventually be realised, Erik says. "During the course, I learned to have a practical attitude toward my designs. It would be great if my designs were picked up, for example by a visitor to the finals exhibition. We could also send it to the municipality, but for now its main purpose is to serve as my graduation project."
A place of acceptance
After all, Erik is not done with his existence as a student just yet; he is transferring into the third year of the Bachelor of Interior Architecture at ArtEZ Academy of Art & Design in Zwolle. His ultimate goal? "That I can contribute something positive to inclusivity and diversity through my work. People are still not as fully accepted as we like to think. And it is so incredibly important that these people have a place where they can be accepted for who they are and get the space, care, and attention they deserve."
Check out Erik's work at artez.nl/finals
More information about the Associate Degree Interior Designer
Follow Erik