'I was two years old when I grabbed a cookie jar and started drumming on it really hard with two pencils. To my mother's great annoyance who then sent me to drumming classes at the local brass band at the age of four. I always knew I had to do something with music,' says Gijs van Lieshout – stage name: WinWel. In June 2021 he will graduate from the MediaMusic course in Enschede.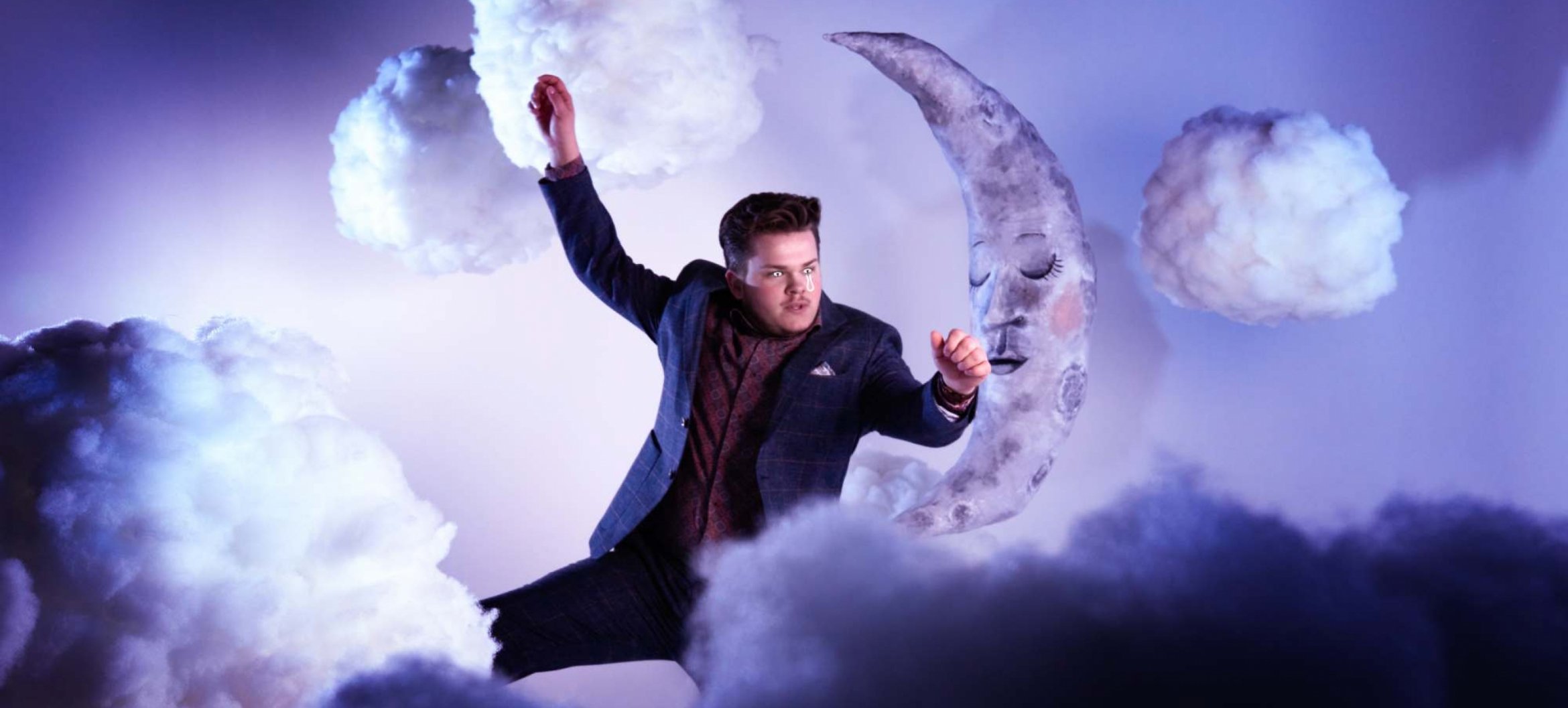 At the age of seven Gijs started to teach himself to play the piano. At the same time he discovered electronic music. 'And then I wanted to master that as well. I started saving for a synthesiser and then started making some music on it. That grew and developed, I got better and better.' When he was ten, he stopped playing the drums and continued with the piano. Without classes. Gijs taught himself everything, until he applied to the Enschede Academy of Music.
In the first year you get to know every nook and cranny of the industry, so that by the end of that year you are sure what you want."
First the preparatory course
A friend tipped me off about the MediaMusic course at ArtEZ. 'I applied and was allowed to come in for an interview. They liked me, but also noticed that I wasn't very well educated in theory. That's why I did the preparatory course first and took external piano classes at the same time, after which I moved on to the actual course.' And he immediately felt at home there. MediaMusic is a very wide-ranging course. For someone who wants take up producing – from a singer-songwriter who wants to produce their own music, to someone who wants to produce bands or someone who wants to make advertising music – this is the place to be. 'In the first year you get to know every nook and cranny of the industry, so that by the end of that year you are sure what you want. As the course progresses, you focus more and more on your goal.'
Internship at Cloud 9 Music
In the final year of MediaMusic you do an internship. At that time Gijs was content marketeer at Cloud 9 Music in Amsterdam. 'That was an extraordinary move, but not without reason. I have also been a professional videographer and photographer since I was fifteen. I'd like to form a hybrid professional practice until I can make a full living from music. This means that part of my income comes from music, and another part from videography, photography and image. That's why I chose an internship where I would work on my image portfolio. At Cloud 9 I worked as a visual designer, photographing artists and shooting videos with them. But I wasn't solely concerned with image: I also met several music professionals from Cloud 9 at least once a week, who gave feedback on my music. I also wanted to learn more about marketing from a top company in music. I succeeded, and I currently apply that knowledge to my own work as an artist.'
Graduation work: Sweet dreams en Lucid dreams
The internship was followed by the final project: an EP with a major show. The Sweet dreams EP tells the story of a mother who sits on her child's bed and plays it to sleep with a music box (a music box that Gijs made himself). 'There's a dreamy melody underneath through which I've been mixing more and more electronic sounds. That's the intro. This is followed by three songs set in Dreamland, suggesting that the child is falling deeper and deeper asleep, until at the end of the EP the start melody returns and the child is awakened by his familiar lullaby.' The EP is one of his best works to date, says Gijs. 'I'm really proud of it. It will be released on London's Circus Records.'


WinWel - Until I Go To Sleep (feat. Lua Lua) [LIVE] - YouTube

Gekoppeld aan de EP is een liveshow: Lucid Dreams. Die gaat over controle nemen Linked to the EP is a live show: Lucid Dreams. It is about taking control of your dreams and knowing you can do whatever you want. 'That's the live version of the EP, supplemented by a lot of other tracks I've already released. The show will be held in the Metaalkathedraal in Utrecht, which will be completely transformed into a Dreamland for the occasion. Together with the live visuals and all the other visual effects, it will be a show that brings the world of the EP to life.'
Belangrijke ontdekkingen
Very important on the EP are the organic sounds that Gijs recorded himself. Funny, because he never used to use anything he had recorded himself: 'I used ready-made samples and preferred to do as little to them as possible. Until I got an assignment during the course to make a song that consisted only of self-recorded sounds. I then recorded over 1400 samples and started working with them. And I loved doing that so much that it has become something I do for every track I make. It was a great discovery.
Deep music theory at academy of music level that makes my music so much more beautiful. I

'

m very glad I

'

ve learned that."
But Gijs' most important discovery was the music theory he learned during his training. 'As a matter of fact, my knowledge was not that extensive before I started this course. During the preparatory course I already noticed that my productions sounded much better when I applied the theory I had learned. And I dug even deeper into that. For example, I incorporated a Moll-Dur or Dur-Moll chord into every song on the upcoming EP, giving the whole track a very classical feel. That is deep music theory at academy of music level that makes my music so much more beautiful. I'm very glad I've learned that.'
Follow WinWel