ArtEZ students bury a time capsule in Museum Arnhem for a thousand years
Students from the bachelor BEAR Fine Art bury a time capsule in the garden of Museum Arnhem, which is not to be opened until after a thousand years' time.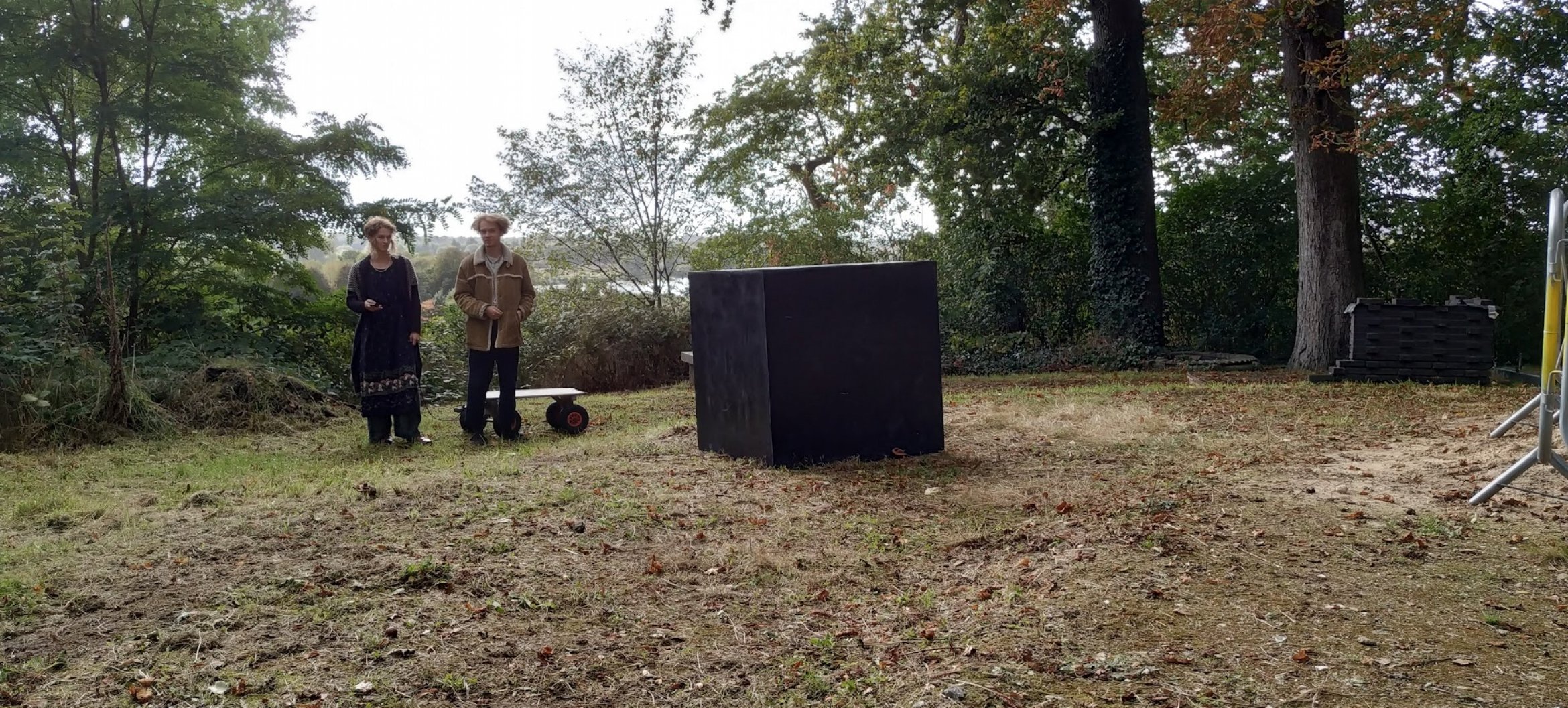 On 12 October 2021, a time capsule will be buried in the future sculpture garden of Museum Arnhem. The capsule consists of a one-cubic meter black cube, whose contents will not be unlocked for another thousand years. These contents consist of a collection of art objects compiled by sixteen students from BEAR Fine Art in Arnhem. Led by artist duo Iratxe Jaio and Klaas van Gorkum, they examined the issues involved in preserving art for such a long period of time.
What will the landscape in which the capsule is excavated look like in a thousand years? Does the human race still exist? And if so, do people still speak the same language? How will they view this legacy? Will art be able to bridge the wide gap between us and the distant future?
Museum Arnhem is itself on the threshold of a key moment in its own history, which adds a topical dimension to the time capsule. It will reopen soon, after a major renovation which includes a new side wing and a depot that will house both the museum's collection and the municipality of Arnhem's archaeology.
Under the supervision of city archaeologist Martijn Defilet, the students are digging a deep hole. They learn to analyse and date the different soil layers they find. The history of the lateral moraine on which the museum is built, from its formation during the Ice Age until the Second World War, unfolds during the excavation.
On Tuesday 12 October, all preparations will be done, and the students will slowly lower the black cube into the hole. Everyone with an interest in art, history and the Arnhem landscape is expressly invited to attend this event.
Martijn Defilet will receive the documentation of the time capsule on behalf of the Department of Archaeology of the municipality of Arnhem. Then the hole will be covered, and the capsule will remain untouched in the ground for a thousand years until the archaeologists of the distant future dig it up again.
The BEAR project Reverse Archaeology is led by Iratxe Jaio and Klaas van Gorkum, and consists of: Jamell Saman, Thijs Bronts, Beau Toebes, Ietje Hermans, Yip Stals, Liam Siepel, Ajna Lőrincz, Paloma Jet Plantenga, Sterre Fermin, Hebe Diepenmaat, Paty Berendsen, Milan van der Stouw, Marieke Vermij, Margarita Villuveit, Ster Borgman, Josquin van Elburg.