Isan Vos: "I notice that after four years, I really have something to say."
"Hello, I exist. I look like a Viking in Crocs, and this is what I can do. Can we chat sometime?" The way Isan Vos approached theater company Vis à Vis earned him a prominent role in the summer production Poppy. This allowed the Music Theater student to secure both his internship and graduation position. "I get to play the saxophone while flying in a crane."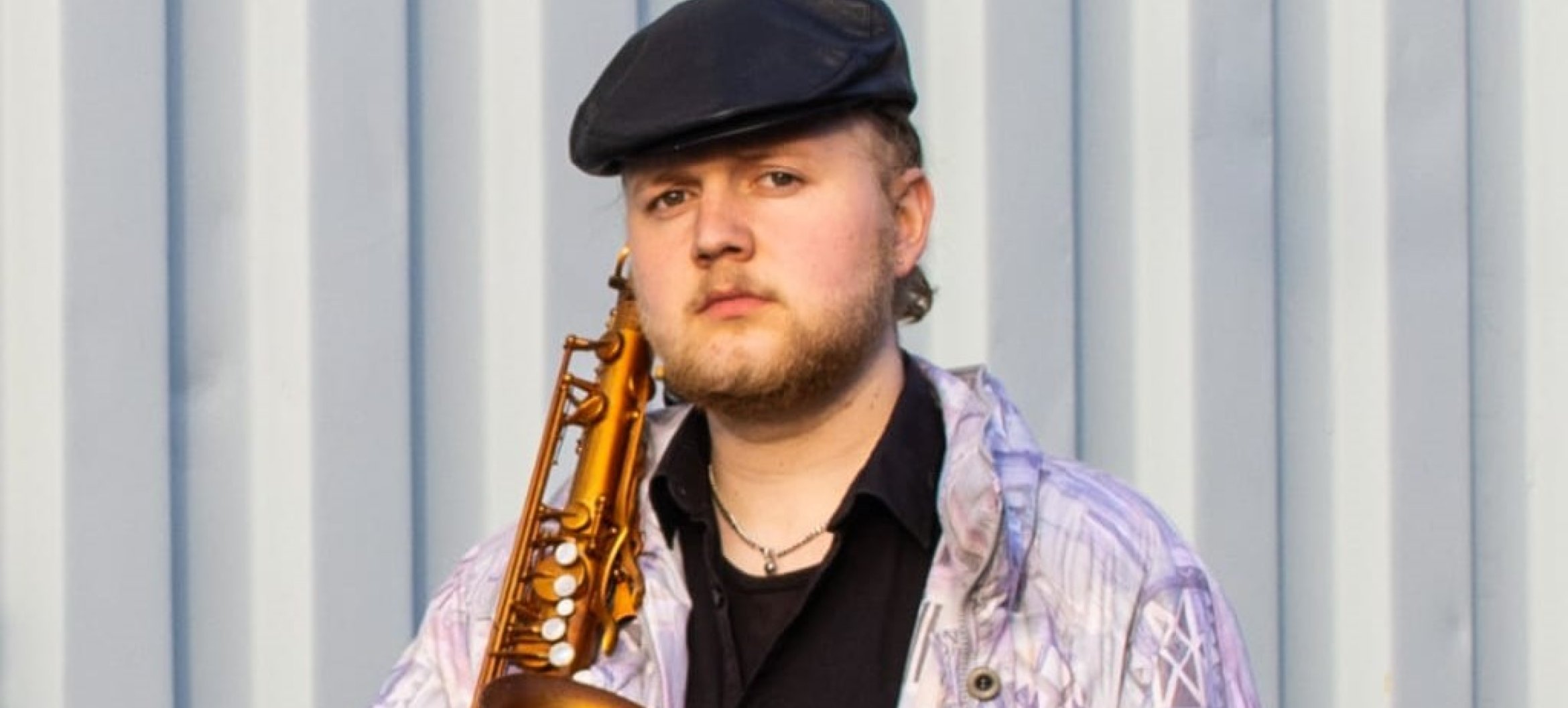 He is the only one in his class who is not creating his own graduation performance. As a Music Theater student at ArtEZ Conservatory in Arnhem, this is often expected. "Now, I'm graduating externally at Vis à Vis as an actor, musician, and composer for the show Poppy," explains Isan. "It was initially my internship position and later became my graduation project. This was such a great opportunity and, in consultation with the school, it was allowed in this way as long as I had a creative role."
I definitely have something to contribute
"And he has a performing role. Isan composed nine musical pieces for Poppy and also created the accompanying tracks himself. He also plays a forest boa, one of the villains in the play. Poppy will be performed 66 times in the summer. In short, it's an immense project. 'I'm still relatively new in the field and I'm performing alongside very experienced actors. That's exciting. But I also notice that they appreciate my fresh perspective, which alleviated a lot of my nerves. Now I think: after four years of studying, I definitely have something to contribute when it comes to the music-theatrical aspect of a production and its musical dramaturgy.'"
Stepping stone towards auditions
Before starting his bachelor's degree, Isan first attended the one-year preparatory program in Music Theatre at ArtEZ. He wasn't sure if a career in the arts was right for him, and after high school, he hadn't even considered the possibility of making it his profession. Isan says, "I gained a lot from that preparatory program. It allowed me to get to know the school well, and it also served as a great stepping stone towards auditions. I knew what I needed to showcase about myself in order to be accepted."
Isan discovered his artistic talents at the conservatory in Arnhem. Being able to create and perform, standing vulnerably on stage, his musical development—according to him, the student owes a lot to the education. "Everything you learn is focused with one foot in the theater field," says Isan. "It's beautiful. Often, you see that actors struggle with music, and musicians, on the other hand, don't have much affinity for theater. I find that I can be a connecting factor because I speak both artistic languages." One of the most enjoyable things he did during his education was creating the performance "Tot hier" (Up to Here). Alongside fellow students and the theater company BOT, he performed at the Karavaan Festival in Alkmaar.
Flying in a crane
Isan sometimes finds it challenging to grasp the fact that he is only 22 years old at the time of his graduation. "Occasionally, I still feel like such a baby, haha. I'll soon be working professionally. But on the other hand, I'm also eager to start because I now realize how much fun it is to be involved in such a large-scale production." Now that he can put his skills into practice, Isan is gradually developing his own artistic signature. "To be honest, I can't wait for the next big project. I mean, I'll be playing the saxophone while flying in a crane. How awesome is that?" He is an artist who prefers to work from a musical standpoint. "Music speaks to the soul, which is something you don't experience as much with other disciplines." Therefore, he tries to approach almost everything he creates from a musical perspective.
Showing potential
Isan has one crucial lesson he wants to impart to future music theatre students. "If you're at the beginning of your education, you don't have to know what you want to become in the future. The most important thing during auditions is to demonstrate your potential and show that you are coachable. You still have four years ahead of you to discover your style and find your niche." Isan emphasizes the importance of remaining open to exploration and growth throughout the educational journey, allowing oneself the time and space to develop a personal artistic identity.
Follow Isan