'You can also audition with a rap by Tupac'
Saron Tesfahuney is following the Theatre in Education course in Arnhem. In the ten years she has been in the Netherlands, she has acquired a huge amount of knowledge and qualities which she uses as an artisteducator to help young people with a story similar to hers. Now all her interests, qualities and talents are coming together on the course, where Saron felt immediately at home.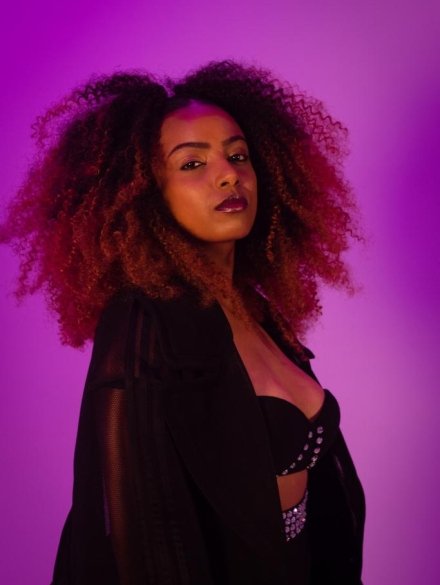 Saron came to the Netherlands as a refugee at the age of 15; there, she gained her upper general secondary education (havo) diploma in two years at an adult education institution. At the age of 18, she started a course in Social Work at Utrecht University of Applied Sciences. Alongside that, at the weekends she was an ambassador at the IMC Weekendschool, where she had previously taken classes herself. "Based on my own experiences, I started my own project at the IMC Weekendschool: showing newcomers what you can achieve after two years of hard work. Explaining what is possible and showing them they do have prospects. Because that's what they really need", says Saron.
Into the world of art education
As well as the world of education, Saron also came into contact with the theatre world. She was told about a vacancy for a role as an Eritrean woman in a play by Herman van Veen. The performance was about cultural differences but it took a humorous approach, helping people to learn in a light-hearted way and generating understanding. The experience of performing in that production inspired Saron to do something with theatre and education. Bart Bleijerveld, a lecturer at ArtEZ who she had previously worked with told her about the Theatre in Education course.
A world opened up for me."
"Whereas for me a new world had opened up, my father was not very enthusiastic to begin with. He had been a director himself in Eritrea, but he didn't regard it as a serious profession or a serious course for a woman. In Eritrea, it really is a men's world. When we visited the ArtEZ open day, where first-year students showed their work, my father and I were sold. For him, the career prospects were very important and they are excellent on this course, because you also come away with a teaching qualification."
You are coaching an entire audience in one go."
Saron auditioned for Theatre in Education in Arnhem, was accepted and broke off her Social Work course. "In Social Work, you learn to coach one person, but at Theatre in Education in Arnhem I am coaching an entire audience in one go. That means I am now able to coach on a much bigger scale. And I'm learning all about theatre and theatre-making. To start with, I simply followed instructions, but at ArtEZ I am learning about using space and time in the performance. You also share everything with your fellow students, so we see each other grow."
Anyone can audition
"Many of the young people who were in my class as a new arrival in the Netherlands would also love this course. It wasn't long before I was thinking, "How can we convince them they can audition too?" For many, the barrier still seems too high, as if you had to perform a Shakespeare play during the audition. But you really don't. You can also do a rap by Tupac, it doesn't matter."
"Plus, those young people would really add something to the course. We often look at things from a particular perspective, because we are so used to that. But by putting lots of people from diverse backgrounds together, we also learn to look at things from different perspectives. Then we are speaking each other's language", explains Saron.
And being Saron, she's not content with just having the idea. Since her second year at ArtEZ, she had been part of a group who are challenging each other and the course to look at diversity from an ever broader perspective.
Ride or die family
"Equality is very important at ArtEZ and you feel that. For instance, the door of our head of course is always open. You can walk right in with questions or ideas and you are always listened to. When I was pregnant and said I wanted to carry on with the course, they helped me then too. They said: "We believe in your artistry and we will help you adapt the programme to suit you". At that moment I truly felt that I could say whatever I needed to say here. ArtEZ is a ride or die family".
Shaping your own academic year
In the third and fourth years, you can shape the course yourself by making your own choices. Saron opted to do an internship at the Afrika Museum and to follow the Bonding By the Beat module. "As long as you give proper reasons why you want to do something, almost anything is possible. It's about learning to discover your own makership. It's not just us who are learning, our lecturers do too. For example, there was one module where lecturers created a play and the students got to coach. That tells me that the lecturers are serious about lifelong learning and really are open to things.
Our lecturers don't give us criticism, they give us guidance."
Enjoying ArtEZ
Saron still has 1001 plans for the future. Making lots of theatre, but also opening theatre schools where no one feels alienated. And helping people in asylum seekers' centres through theatre and by having fun with them. Saron is even considering a role with the Ministry of Education. "But right now I am making sure I enjoy ArtEZ, because your time here goes much too fast."