MIKA can be found at festivals, pop stages and in the pub
Was it coincidence or was it the universe at work when fourth-year students Mika Bisschop and Mika de Pee became classmates at the School of Acting in Arnhem? They don't know. The fact is that a friendship was formed that forms a solid basis for their collaboration as theatre duo MIKA, with an EP release already during their training and a theatre show that they prefer to play outside the theatre. "We like to stretch the boundaries of what people call a performance or concert."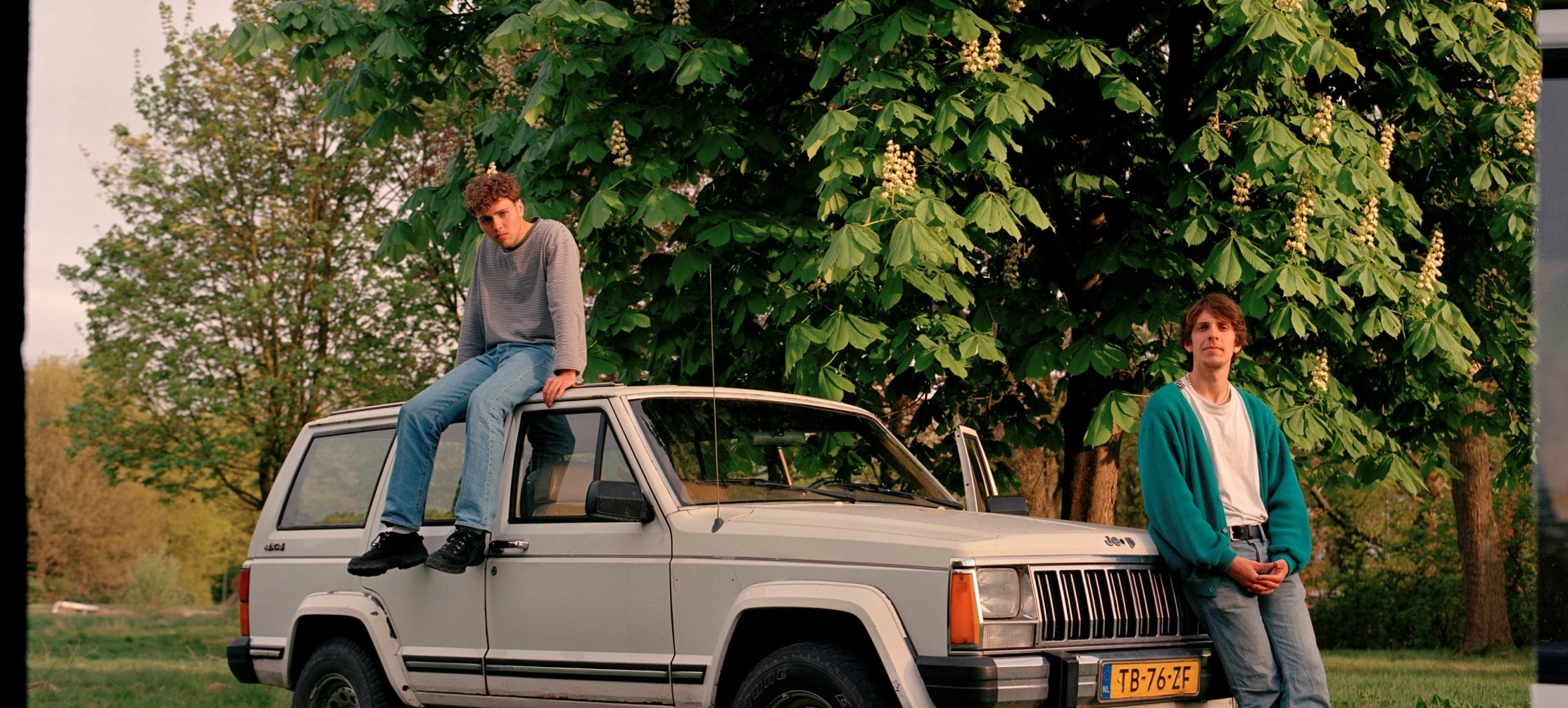 "This week, we're playing the performance we made in the third year, in a café", says Mika Bisschop. "We bring the story of the journey on our EP Nooit Meer Terug (Never go Back) in a performance in which music, story and acting alternate." Mika de Pee: "It's our own form of theatre, which we prefer to bring to places other than the theatre." Listen to the EP here:
Music as a basis
"After a short ego battle, because 'hello, I was Mika after all', we quickly became friends when we started talking about our favourite music," says Mika de P. We both like hip hop and listen to the same artists. You can hear that style in our work." "Music is always the common thread in our work," adds Mika B. That's where it starts. During the creative process, a musical narrative takes shape.
Exciting graduation year at the School of Acting
The entire curriculum of the School of Acting is focused on growing towards independence, so that students can shape the professional field together with others. You conclude the course with a graduation performance, internship and dissertation, so Mika and Mika are in the middle of a busy final year. Mika B.: "As an actor, you want to be practical. The theory takes more energy. But I'm confident that it will greatly benefit me. For our graduation performance, we've been collecting inspiration and music around the theme of death since the summer. The subjects we like to work with are additional to the theoretical research into the way in which we shape theatre and explore the boundaries between a performance and a show."
"Our search is also the result."
Artistic research
"Just as our search process was the journey on our EP, we use this process in all of our work. The search therefore also becomes the result. That's why death is an interesting theme for us, it tells everything about life." Mika de P: "Not knowing and the unrest you can experience because of it, what it means to die an ego death and finally find acceptance with the realisation that the process starts all over again… That inspires us."
Writer's Camp Residence
This month, the duo is organising a two-week writer's camp as a residence and preparatory work for their graduation performance. Mika de P.: "We take the collected inspiration with us and invite everyone to come and make music, brainstorm or just drop by. After the music is created, we get to work on the dramaturgy during rehearsals in the spring. Nick Livramento Silva of theatre collective DIEHELEDING (and School of Acting alumnus) is in charge of the performance."
Final internships
After the writer's camp, the process comes to a halt for a while, because then it's time to do the final internship. Mika B. will do an internship with the performance Coriolanus directed by Nina Spijkers at Het Nationale Theater. Mika de P. exchanged his summer holiday for an internship with a Norwegian theatre collective, but is also back working on an interdisciplinary performance at Grand Theatre Groningen. "It's nice to travel from Oslo to Groningen to rehearse and work on a performance that will continue after the course."
Continuing the collaboration
The School of Acting considers itself part of the professional field, which makes it easier for students to find their place in the professional field after graduation. As far as MIKA is concerned, their graduation is not an end point, but a transition to a more serious collaboration. "We're checking out places that offer opportunities for us and invite those production houses to our performance. For example, Stichting Orkater takes on cool newcomers and we also find the Productiehuis of Theater Rotterdam very interesting. Of course, we're also looking into other ways to finance, but we think it would be nice to find a place under whose wings we can make our start in the field. In addition, you will certainly find us at festivals, pop stages or in the café!"
School of Acting
At the School of Acting, you will be trained to become an independent actor. The focus is on the craft of acting and creating. There is also a strong focus on reflection, and on research into your own artistry. Even while on the course, you will be at the heart of professional practice.