The exhumation of the corpse of home and its mending
Every year, magazine Metropolis M releases a Graduation Special, featuring work by several finals students who graduate as visual artists. Geri Fako is one of the alumni featured in the special. Metropolis M asked Geri the question, "What is the story behind your work?"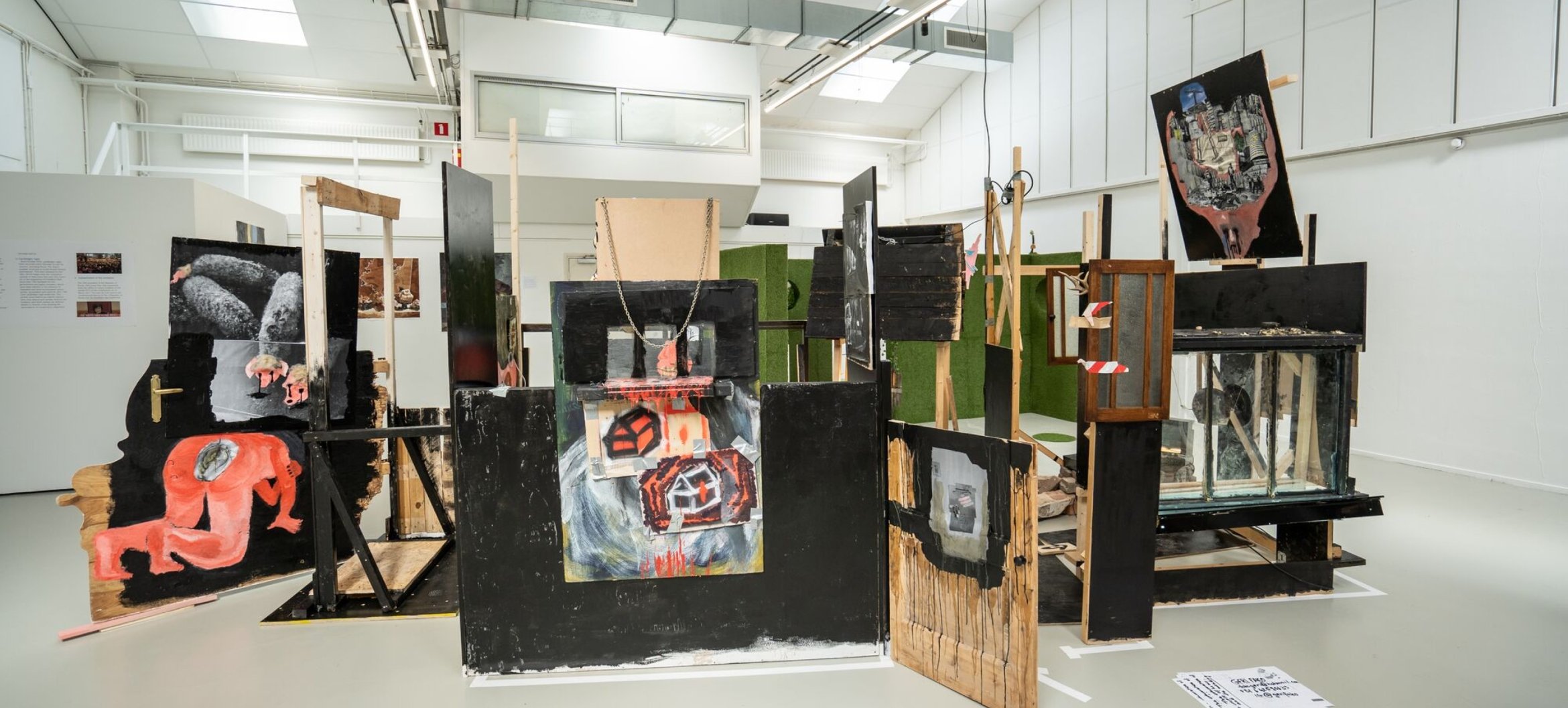 Geri Fako (1997) sees his body as a canvas for stories: from his tattoos to his scars. He regards his installation The exhumation of the corpse of home and its mending… as a version of his own body. During the graduation presentations, he is exhibiting the third iteration of the piece. The work has since taken on spatial form, in contrast to the virtually flat initial version. Because this time, Fako wanted to give the viewer the feeling of entering a house. The body and the house/home are closely linked for Hungarian-Dutch artist Fako, partly because he has always had the feeling of being between two worlds. Besides, isn't your body what remains when all other forms of home fall away?
The rib cage provides the entrance to the installation; the anus is the exit. As you walk, you are therefore mirroring the human digestive process. Fako regards the structure as the skeleton for the flesh and blood, which is to say the paintings he presents inside it. He considers photography to be his primary medium, but during the various lockdowns of recent years there was little opportunity to capture the world on camera. So he started painting, although always using a number of archive photos and collage elements. He points to a photo clipping of a burning Fiat, from which painted flames are erupting. Amidst the flames is a very young Fako, with his teddy bear beside him. He regards the collage painting as an allusion to the five-week study trip to Biella, a town in northern Italy. Whilst there, he felt that for the first time he had built up something of a home of his own, just before having to depart again. In this way, Fako uses photos from his family archive to say something about his life now. After the graduation presentation, the installation will be disassembled and the separate parts will go into storage. There the bones will wait, until Fako 'digs them up' again in order to once more build a body, including his most recent paintings, that will tell new stories.
Author: Maarten Buser, poet and art critic