An expression of who I want to be
Every year, magazine Metropolis M releases a Graduation Special, featuring work by several finals students who graduate as visual artists. Rojin Tavassolli (Fine Art Enschede) is one of the alumni featured in the special. Metropolis M asked Rojin the question, "What is the story behind your work?"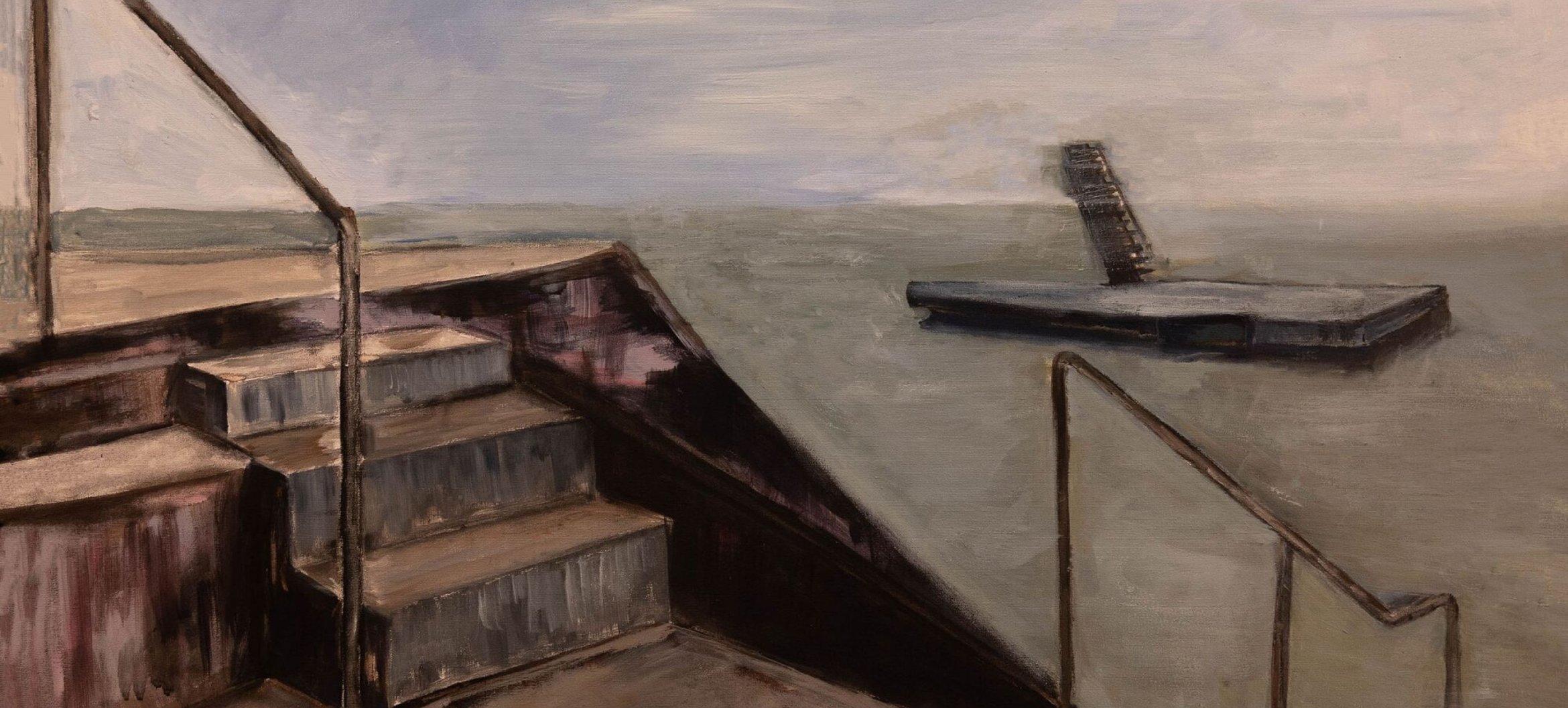 There is a moment of confusion when Rojin Tavassoli (1987) asks me if I have seen her paintings of empty drawers. In her presentation, she points to a number of works which I had thought depicted steamed up windows. That makes her laugh and she actually thinks it's quite an interesting idea. A drawer that is also window: only in art, we conclude together.
That association is not so strange, because Tavassoli often paints buildings and architectural elements. Her paintings make a filmic impression, with their deserted environments in which something feels like it could happen at any moment. She is consciously searching for that moment when tension arises. As a source of inspiration, she cites a theory from sociology, about liminal space. This is a nonphysical space that exists only in your head and is often activated by events or situations in the outside world. Often it is associated with a vague sense of tension or even danger. Tavassoli remembers that feeling well from her childhood. She describes herself as a 'rebellious Iranian girl' whose life was heavily circumscribed in her country of birth. After emigrating to the Netherlands, she was often overwhelmed by the new language and experiences. She likens it to being thrown in at the deep end when you have never learned to swim.
It is interesting that she brings up that sensory overload, because her paintings actually make a tranquil impression. Tavassoli explains that her paintings are really an expression of who she would like to be. She describes herself as a busy and sociable person. When she paints an apartment block, it is simultaneously a kind of self-portrait. With their uniform façades, her apartment blocks appear solid and monolithic, just as her extrovert character can hide her insecurities. However, there are all kinds of things going on behind the walls, and on closer inspection the concrete is not nearly so smooth and monotonous either. In this way, Tavassoli turns architecture into a metaphor for her inner world. Viewed like this, those drawers could also be a kind of self-portrait: of a personality that is divided into different compartments, which are alternately visible and invisible.
Author: Maarten Buser, poet and art critic