Every year, magazine Metropolis M releases a Graduation Special, featuring work by several finals students who graduate as visual artists. Mina Rassouli (Comic Design Zwolle) is one of the alumni featured in the special. Metropolis M asked Mina the question, "What is the story behind your work?"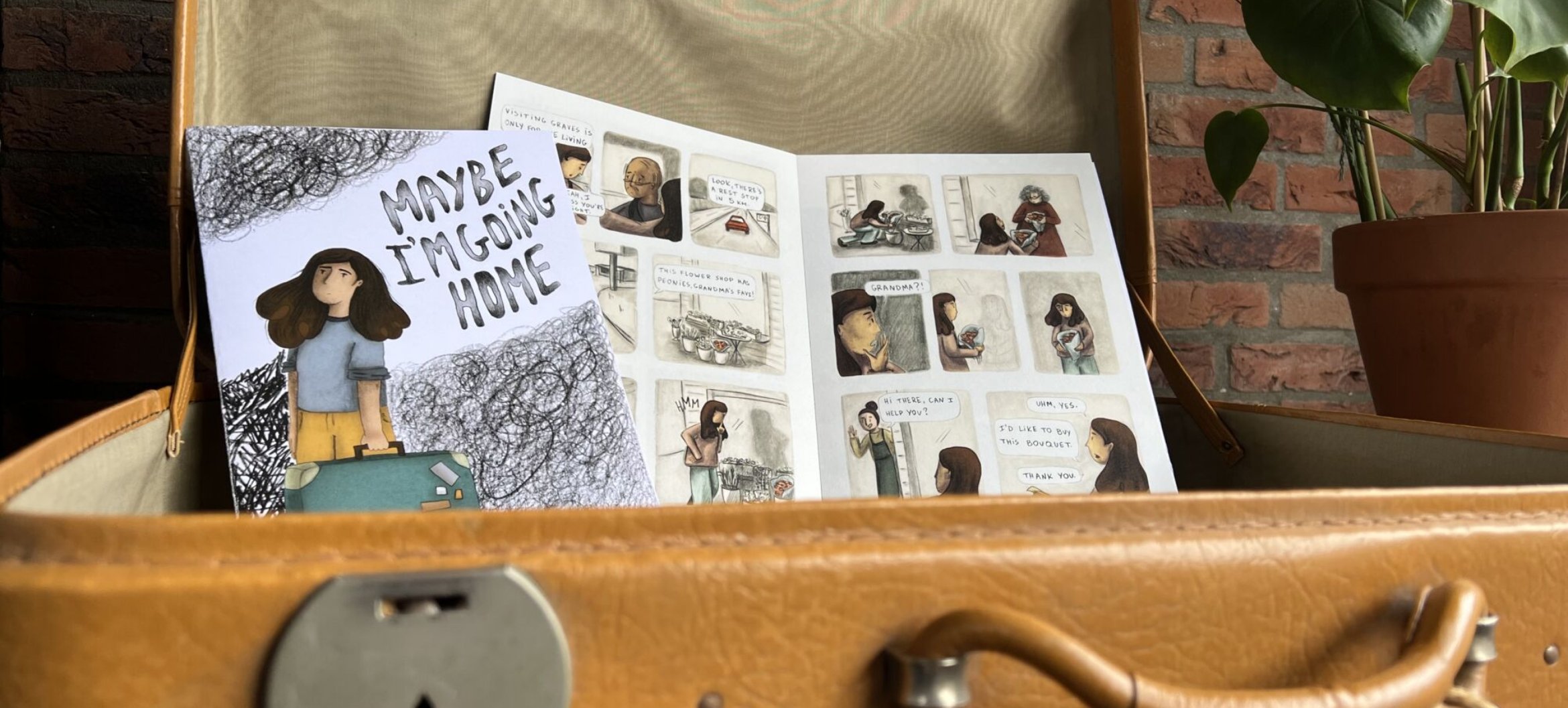 When Mina Rassouli (1993) applied for Comic Design, she faced a number of obstacles: she had completed an ICT course but had hardly any experience of drawing or writing. What's more, she didn't speak Dutch. A handful of sketches, an interesting vision and her irrepressible motivation convinced the committee. She quickly mastered the medium, as shown by her graduation work Maybe I'm Going Home, a subtle illustrated story that serves as a prelude to a graphic novel about her life and family history. It is a story about migration and life in the buffer zone between places and cultures.
In Maybe I'm Going Home, we follow Rassouli as she lands in Sofia, Bulgaria, where she is visiting her family in the house where she grew up. We meet her parents, her two brothers and her grandfather. They eat, after which she drives with her grandfather to her grandmother's grave, where she lays a bouquet of flowers.
The rather everyday course of the narrative is enriched by charming illustrations that give places and characters their own personalities. Now and then, they interrupt the narrative and tell us about the dishes being served (Naan, Kabuli Palaw), or provide information about those seated around the table (Mum, 50% Turkish-Bulgarian; Dad, 100% Pashtun-Afghan). In the meantime, all kinds of tensions are revealed in between the images and the sparing use of language: her father grumpily criticising Rassouli's decision to study, Rassouli then silently conforming to her role and her brothers leaving the table. Sometimes her grandmother appears as if in daydreams, and Rassouli speaks frankly to her.
As the graphic novel progresses, Rassouli's own life alternates with that of her grandmother, who she knew well. Her grandmother was an independent woman who left communist Bulgaria to become a university lecturer in Kabul, capital of the free Afghanistan of before the coup of 1978. She saw the country changing and in 1992 returned to Bulgaria. Her grandmother's memoirs end at the moment that Rassouli is born in Bulgaria. Rassouli's grandmother died shortly before she came to ArtEZ. They hadn't seen as much of each other in recent years as before, but Rassouli sees her reflected in her own desire to look beyond the horizon.
Author: Floor van Luijk