finals MediaMusic: from first-year student to polymath composer
Composing. Editing. Mixing. Producing. Pepijn Peeters does it all. Pepijn did the course MediaMusic and in the video, he tells us about his growth from student to professional during the past four years. "The mindset here is that you're no longer a student at the end of this course. You're encouraged to continuously be busy with projects. This makes the line between studying and working almost invisible."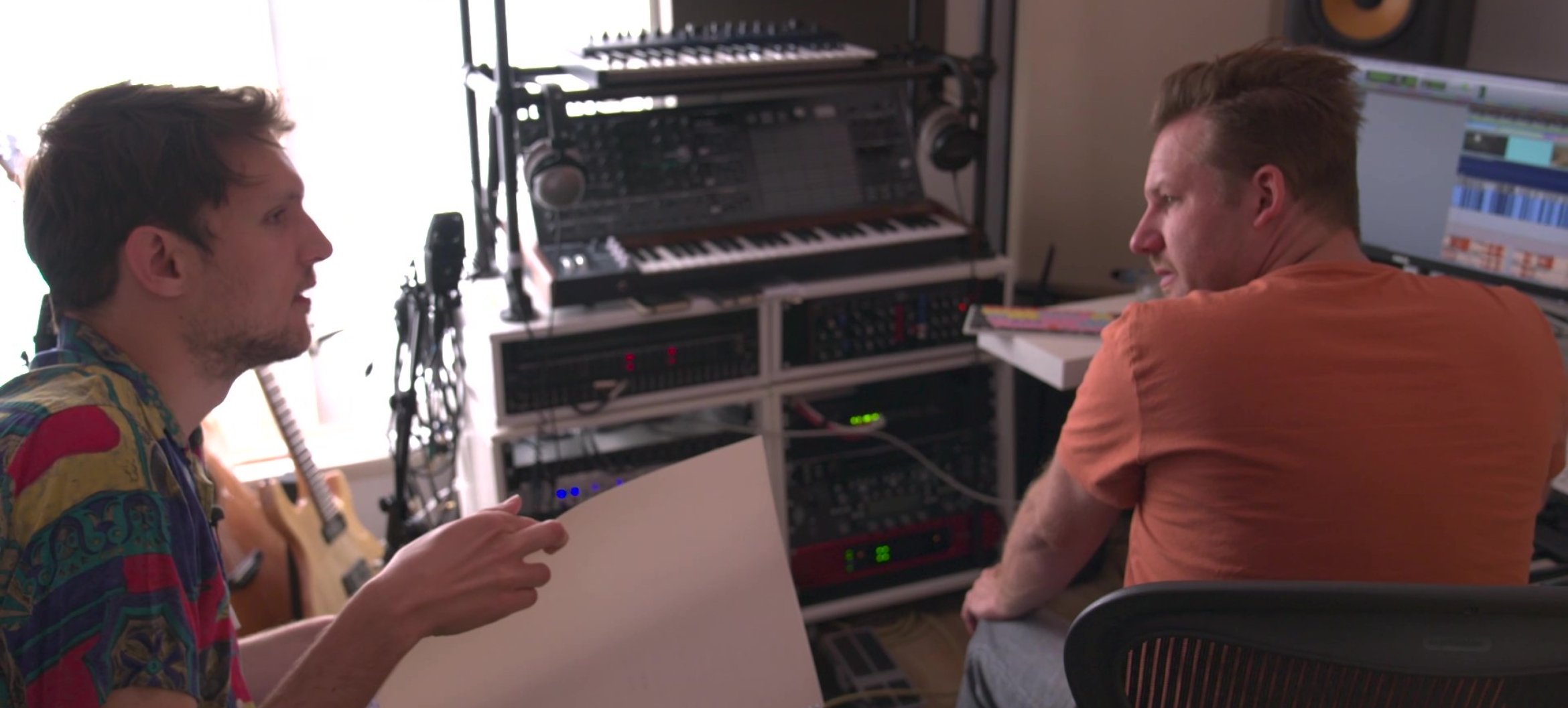 For his finals, he used different projects he worked on during this course. He wants to show himself as a composer and a producer. "I'm always busy doing different things. Composing for a movie, recording, producing, working with musicians. I was searching for a way to show it all for my finals," says Pepijn. His final work shows who he is and what he does.
Find your own niche
In the video, we see the Lunette Saxophone Quartet. Pepijn asked them if they'd be willing to record a composition he wrote. "I love working on a variety of things. It's why I wrote this myself, and I'm planning to edit and mix it myself as well," we hear Pepijn speak. He explains that the course offers a variety of options. And you're surrounded by students that have different backgrounds. At the beginning of the course, you learn everything concerning music production, sound design, and composing. "Because of each other, we expand our world. But at the same time, we each find our own niche and expertise at the end of the course. You find your own identity as a student and as a professional," he says.
Working with a award-winning composer
The course also offers a lot of teachers and external coaches that you can approach for help or feedback. Pepijn asked Matthijs Kieboom if he could do his internship with him. Matthijs is a known film composer and has written music for more than seventy movies and television shows. He's also a teacher at ArtEZ. During this internship, they formed a collaboration. Matthijs is no longer only Pepijn's teacher, he is also becoming his client and providing him with projects. Pepijn will continue to work with him after his graduation. Furthermore, Pepijn scored a unique spot in the Master of Film Composition at the Conservatory of Amsterdam. He was among the top 5 candidates. We will be hearing more from Pepijn!
About Matthijs Kieboom
Matthijs Kieboom is a known Dutch composer who, despite his relatively young age, has been a fulltime composer for more than a decade. He's written music for more than seventy movies and television shows, one of them being the famous documentary called Wild. This documentary captivates Dutch nature and wildlife and had 1,5 million views on TV. It got him his first soundtrack that was released on CD as well as multiple nominations, including the one for International Film Music Critics Association Award ("Best Original Score For a Documentary"). Matthijs is also known for his collaborations with renowned DJ Armin van Buuren and well-known Spanish composer Diego Navarro. On top of that, he's also a teacher Composition/Film at ArtEZ.
About the MediaMusic course
During the course MediaMusic, you learn how to become a musician, composer, sound designer or audio engineer. You can choose one of the following four profiles: Composer for Film, Games & Media, Producer for Bands, Artists & Media, Electronic Artist & Producer, or Songwriter & Producer. Within each profile, you get the same number of subjects about music production. You'll be taught by respected music professionals and you have access to numerous facilities, including audio studios, concert halls, a live room, and podcast studios. You'll also participate in (international) internships and projects which prepare you for the real work. After you graduate, you can get started as a producer, composer, studio engineer, or sound designer.
More information about the MediaMusic course
Follow Pepijn