Ference, music teacher, wants to help people avoid hearing damage
Ference Hulshof takes his role as music teacher further than merely teaching students about music skills. He wants to teach them about the consequences of hearing damage. In the video, we hear Ference, graduated from Music in Education, talk about this: "I have tinnitus. It happened because I forgot my earplugs during a performance. So, I'm trying to teach my students what you can do to avoid this. My goal is to help people avoid this situation."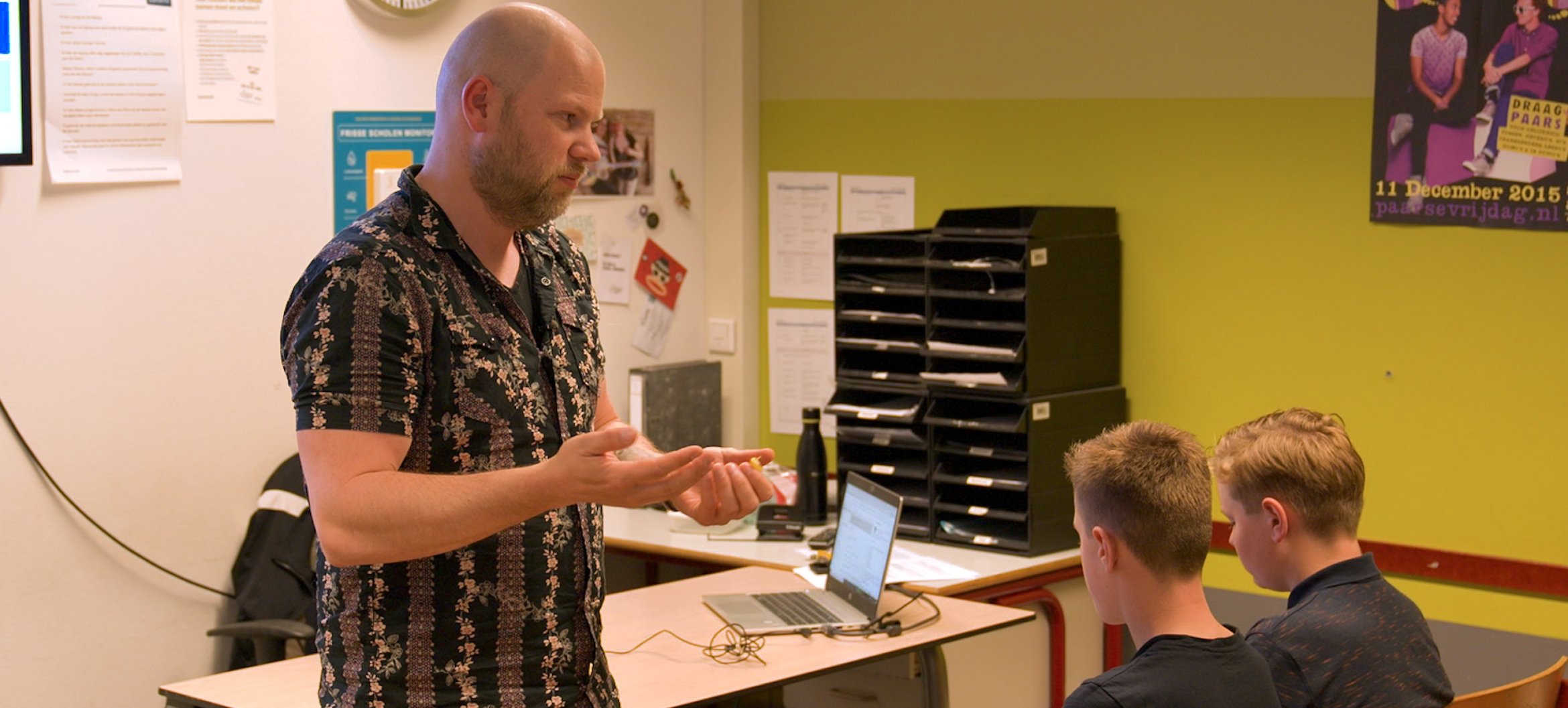 Ference's final work consists of multiple elements: a poster with information about how you can prevent hearing damage during music lessons, a guideline for music teachers so they can prepare their classrooms in the safest way, a PowerPoint presentation for students with information about hearing damage, and a quiz that they can take afterwards to test their knowledge.
Not just a teacher
Ference started off his journey as a student at ArtEZ in 2003. He was doing the course Music in Education but decided to quit after a couple years. He eventually decided to go to the Academy of Pop Music and got his diploma in 2013. Ever since, he's been working as a guitar teacher as well as a guitar player in a band. During the covid-19 pandemic, he decided to go back to ArtEZ and finish the course Music in Education. Ference thinks it's important to not only be a music teacher, but also a musician. He thinks it's important that you bring the experience of being a musician in the classroom as a music teacher. This is why he's not only a teacher, but he also still has his own music teaching practice.
Start of something new
During this course, Ference says that he got the opportunity to learn multiple instruments and work on his skills in group lessons as well as in ensemble lessons. "You have to learn other instruments here, in addition to your main instrument. Think of the piano or percussion. You get all of that," he says. He sees his finals as both an ending point as well as the beginning of something new: "When it comes to studying, this is an ending point. But at the same time, it's a starting point because so many new, great things are happening. During this course, I got to work in multiple places. After I graduate, I'll be working in a high school in Apeldoorn."
About the Music in Education course
The course Music in Education in Enschede trains you to be an inspiring teacher with a first-level teaching qualification. It's a practice-oriented study with a lot of internships and unique projects. You get a broad basis with focus on jazz and pop music, and the room to specialize. Important accents in this course curriculum are the development and use of music technology and the remedial education music teacher specialisation. After you graduate, you'll be qualified to teach Music as well as the subjects Culture and Arts and General Art.
More information about the Music in Education course
Follow Ference