"I was really able to tell my own story through singing"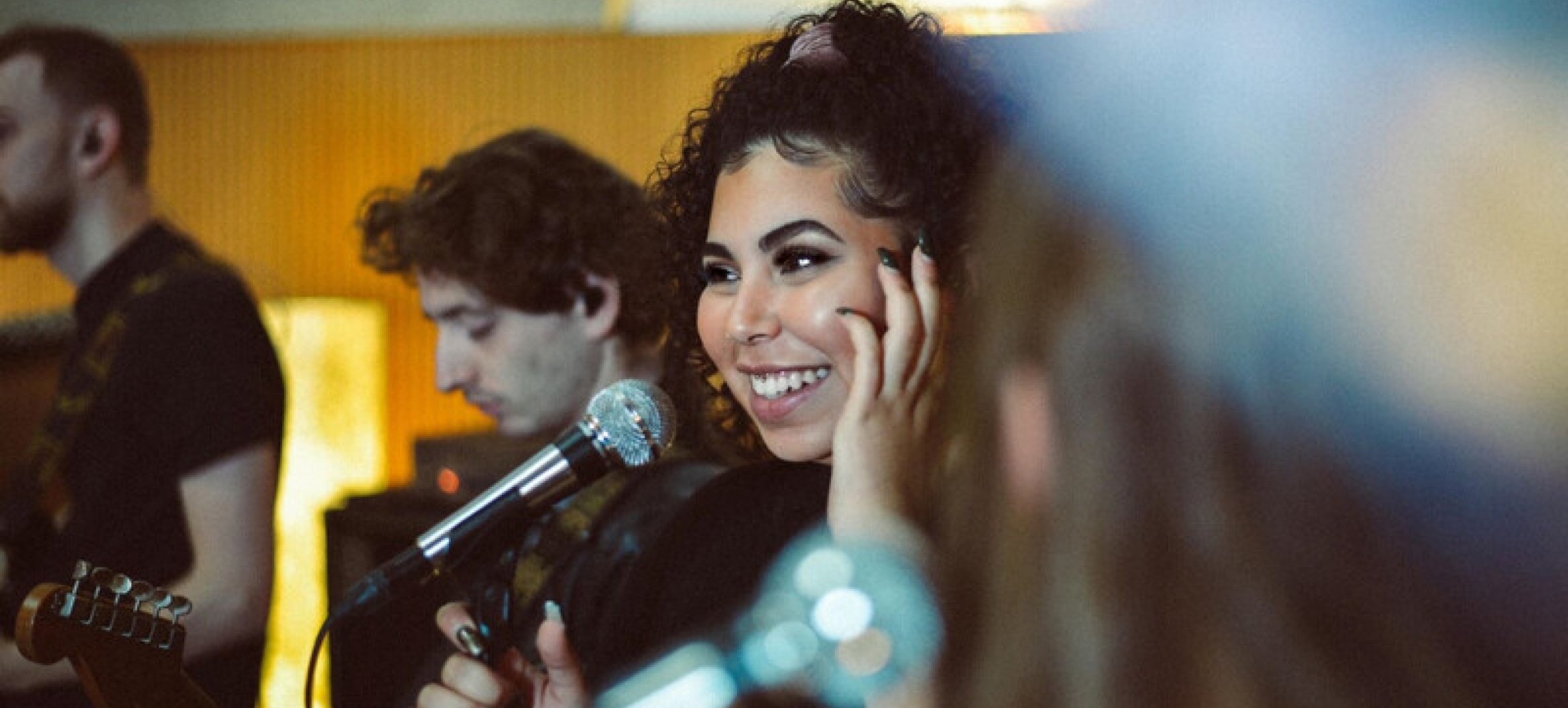 Even before she graduated, Oumnia Guigui was known throughout the Netherlands. She was a contestant on The Voice of Holland and she went a long way. But she did have to put her course at the Enschede Pop Academy on hold for it. Fortunately, she managed to complete it this year.
"I'm secretly already living my dream."
"When I was kid, there was always a guitar in the living room. It belonged to my mother. I was keen to play it, but I didn't really know how to. So that didn't happen. After that, I wanted to play saxophone or violin. But my mother was a single mum with two children, so that wasn't possible financially. I had to let that dream go. But I was always very theatrical. Putting on small musicals, things like that. I took drama lessons for a while, and I remember thinking: this is what I want to do.
Singing was close to my heart
My first secondary school was an arts school. Dance, music, theatre, art. I spent all my time playing. I discovered by accident that I could sing and what it was like to stand in front of an audience. After two years, I transferred to a fully-fledged theatre school, where I spent an average of 16 hours per week on those disciplines, and from there I went on to drama school in Tilburg, which was where I got specific singing lessons for the first time. I loved that and it was more me. I still love theatre, but I find it mentally draining because you are constantly having to step into different characters. Singing was a real release, it allowed me to tell my story and I didn't have to play an alter ego. That's when I knew for sure that I would choose music. Which is why I went to the Academy of Music after completing that course.
First year
It took me a while to settle at the Academy of Music. I arrived with the 'fake it till you make it' mentality of the drama school. But that doesn't work in music; it really has to come from your heart. It's great that I was given that space. Everything was new to me. Coming in as someone who knew nothing was a shock, but it spurred me on to work hard. That year was a year of discovery, when I learned what it's all about and got to know who I, Oumnia, really am.
The Voice: springboard
In my second year, I got a call from The Voice of Holland. That came at a really good time and I stepped on board that rollercoaster. I went into it with the aim of networking, and it worked out really well. I got to know a lot of people behind the scenes. I got quite a lot of work that way, especially doing backing vocals. I was barely spending any time at the Academy and instead plunged headlong into the professional field. I played all sorts of places, from North Sea Jazz Club to Melkweg and Ahoy and big festivals. But I still went back to my course and focused on backing vocals and song writing. During the course, I have discovered that music management and the area of music rights and contracts in particular really interests me. That's the next subject I want to go into in more depth.
What do you dream about?
I always say I don't have a dream; you need to set yourself goals instead. Otherwise they remain just dreams. The goal is to continue doing what I'm doing now. I'm secretly already living my dream: being on stage and earning a living from music. My goal is to sell out concert venues with my own work and get booked for big events and festivals. I'd be perfectly happy to grow old doing backing vocals. It's an honour if an artist trusts you and your voice to make his or her masterpiece that little bit better. Apart from that, I also write for other artists and people. I hope one day I'll get a call from Beyoncé to say my song has been chosen. That really is the ultimate dream.
At the Pop Academy, don't be afraid…
... to meet confrontations and challenges head-on and to let go of your expectations. Let them go and replace them with new ones. Let it all wash over you. That's what I had to do. It might be that you start the course with a certain idea of how it's going to be, but that doesn't mean it will turn out that way. It's almost never the case that things go the way you want them to beforehand, especially not in music. If you hold on to one thing, you are holding yourself back. Keep taking on challenges, motivating yourself by going out and looking for them. That way you'll achieve the best result. If you find yourself at a loss, that's OK. We all have our moments of doubt. If you don't let yourself be defeated, you'll find you have taken a step forwards. Keep believing that everything is happening the way it's supposed to happen."
Follow Oumnia Guigui