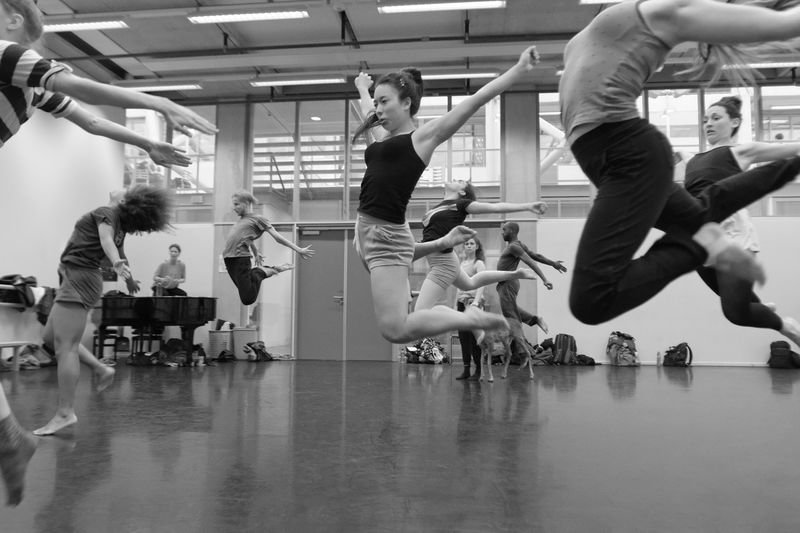 Dancer as well as choreographer
We educate every student to become a dancer as well as a choreographer. Improvisation and composition are part of the course from the very first year. Students who wish to specialise in choreography are offered the special modules Artistic Research.
The Bachelor of Dance encourages individual development and creativity. We combine insights from sports research with everything we feel is important to develop your artistic talent.
Phased education
At the core of the Bachelor of Dance lies phased education, a careful combination of training, rehearsals and performances, which helps you to learn and develop artistically. During class, you warm up with conditioning training and then work on your technique. You receive training in supporting techniques (kinaesthetic awareness, anatomy, pilates) to develop a deeper understanding of your body and abilities. You will also have quieter periods so that you are able to 'peak' in others. The monthly, or even weekly, schedule can differ.
Subjects
The subjects in the course complement each other. There are four main groupings under which the subjects fall: Dance techniques, Songlines, Conditioning, Mapping & Theory.
Inquisitive mind
Context and perspective are the crucial pillars in our theory education. We look for students who have open and inquisitive minds. We expect you to keep up to date with literature, read articles, attend lectures and see many performances. Reflection is needed for all of this, both spoken and written. There will be no shortage of theory subjects such as music, dramaturgy, history of dance, anatomy and conditioning theory. In short, we try to enrich you in many areas and encourage you to develop a broad understanding of dance.
Special programme for boys
The ArtEZ School of Dance has a special programme for boys, for which it works closely with the foundation Boys Action. This programme is offered not only in the Dance Bachelor's course, but also in the preparatory programme.
Network
The Bachelor of Dance has a big international network and introduces students into this network. We will visit festivals together (Nederlandse Dansdagen in Maastricht, Spring in Utrecht or Julidans in Amsterdam) and present student productions in The Netherlands (in, for example, Arnhem, Amsterdam, Nijmegen, Zwolle, Rotterdam or The Hague). The course also works with guest choreographers, who make productions especially for the course, such as Ann van den Broek, Maurice Causey, Nicole Beutler, Jasper van Luijk, Cecilia Moisio, Georg Reischl and Caroline Finn. Furthermore, a big part of our teaching staff is also employed as professional dancer or choreographer. Thanks to the continuing dialogue with the work field, the course is able to offer its students a relevant education.