During the four-year Dance course in Arnhem, you will learn techniques and work on your artistic personality. You combine practice and training with theory. Within the course, we distinguish four phases: preparation, crafting (skill development), integration and transition. This subdivision also applies to the different training years.
To find that position, you learn different classical, modern and contemporary dance techniques and work on (body) awareness by using various methods. We also spend a lot of time on study and reflection and the development of creativity and makership is a key priority.

As a dancer or maker, you are the focus of the course. We monitor your individual and artistic development but also what you need to fulfil your potential as a dancer or maker. In designing the study programme, we therefore also try to establish the right balance between intensity and rest.
What do you learn in the higher professional Dance course in Arnhem?
To fulfil your potential as a dance artist and develop your artistic identity, we attach great importance to technical, reflective and creative ability:
The power of technique is that it offers a basic structure for further development.
At the dance academy, you learn various dance and maker techniques for your technical development as a dancer and maker. From classical, modern and contemporary dance techniques to composition and the basic techniques of theatre and physical theatre. You choose where you wish to place the emphasis: on your development as a dancer or as a maker.

We focus on the development of creative ability. From improvisation classes and creating solos, duets and group work to working with choreographers to develop your own methods and/or dance language.

You receive lots of feedback from teachers. We expect you to reflect on this and absorb it, so that you can give your own direction to your further development.

To discover your potential and to continue developing, it is vital that you take ownership of yourself and your body and find a balance between intensity and rest.
Insights from (sports) research provide the basis for this. We ensure that intensive periods in which you 'peak' alternate with quieter periods. You warm up with fitness training, after which you can work on your technique in class. We carefully coordinate training, repetition and execution. The timetable can therefore vary monthly or even weekly. It is also important to obtain deeper understanding of your body. We offer methods like kinaesthetic awareness, process inquiry© and inner movement evolution©.
To develop more connection between mind and body, you also receive support at somatic level, for example through yoga and meditation.



To see dance and the meaning of dance in a broader perspective, you learn to place the developments in your course in a context and perspective. You do this by studying literature, reading articles, attending performances and lectures and through reflection. You also enhance your mind with theoretical subjects like dramaturgy, music, dance history, philosophy, anatomy and fitness.

The dance academy is situated in the multidisciplinary environment of ArtEZ. Because the dance world is becoming increasingly diffuse, the curriculum offers interdisciplinary subjects and projects, including:

Pleasure Island: an interdisciplinary week in which first year students from different art courses at ArtEZ are given the freedom to create together. This results in a performance which is open to the public.
Physical Theatre: to develop creativity, self-expression, execution and group dynamics, you use improvisation based on physical theatre practice.
Dance & Camera: a collaboration with Cinedans which focuses on the connection between dance and camera. Over the course of a week, you work in small groups, choosing different roles: script writer, cameraman/woman, director, maker, dancer, sound man/woman.
Choco: In Choco, third year makers work together on various projects with composers from the Academy of Music. They are accompanied live by musicians from the Orkest de Ereprijs orchestra. The dancers are second and third-year students who - besides being involved in a creative process - can also assume the role of production assistant in the co-production role.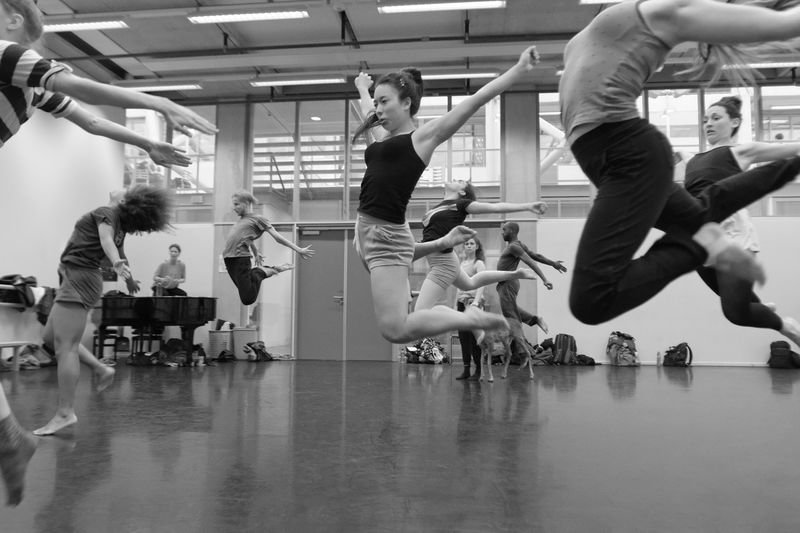 Structure of the course
In the first year of the dance course in Arnhem, you prepare your body for technical training. You also receive support in developing an open, flexible, strong mind and awareness of your body. You work on:

Dance techniques: classical, modern (Graham & Graham today) and contemporary (Counter-technique, Floorwork)
Techniques and methods for physical awareness kinaesthetic awareness and anatomical awareness
Supporting techniques: Pilates and fitness
Your personal profile: in class, you work on improvisation, composition, creation of solos and duets and repertoire. You also work on artistic projects like the Pleasure Island module, in which you work with students from other departments at ArtEZ or learn to integrate other disciplines.
Theory: anatomy, music, dance history and dance analysis.
In the first year, you can also apply for admission to the

to supplement the theory of your own Bachelor programme.

The second year of the dance course at ArtEZ focuses on developing skills and technical ability. You also study body awareness to help you in your development as a dance artist and performer. Content of the second year:

Classical, modern (including Limon), contemporary Floorwork, Release and partnering techniques.
Techniques and methods for more physical awareness at a deeper level. kinaesthetic awareness, anatomical awareness, process inquiry (essence work)©.
As in the first year, you do Pilates and fitness for support.
You work on your personal profile through classes in improvisation and physical theatre, composition duet, repertoire and dance dramaturgy. You also explore the work field, create your own work and work on artistic projects like Choco, which bring together composition, choreography and execution.
You attend anatomy-focused lectures by medical professionals. You also study the theory of music and dance analysis and start philosophy classes.

From the third year of the dance academy, you increasingly focus on developing your own artistic identity as a dancer or maker and you learn to integrate the skills you have acquired in a presentation. You are also given extra coaching and peer review sessions from an external dancer or maker. With a personal development plan, you prepare for the transition to the work field. Your academic year is filled with:

Continuing to work on techniques: classical, modern and contemporary
Supporting techniques and methods: kinaesthetic awareness, Pilates and fitness
Working on your personal profile through classes in improvisation, release, inner movement evolution, repertoire and process inquiry©. You also work on an artistic project in which - within the repertoire of a choreographer and under their guidance - you study theory and methods and dance.
Artistic Research (individual) Modules if you wish to specialise in performance or choreography.
Depending on your ambitions and plans, there is also time to work on other projects and do audition workshops.

The fourth year of the higher professional dance course in Arnhem involves an internship and/or projects in the Netherlands or abroad. With support from a mentor, you plan your own graduation programme. You might do an internship with a company, develop your own method, set up a project or create your own dance production. In this graduation year, you therefore have one foot in the dance academy and the other in the work field. In consultation with your mentor, an alternative programme is also possible. This might be a programme in the dance academy or a series of workshops outside school. Our students participated in projects in among others Milan, Porto, Vienna, Brussels, Mainz, Aachen, Copenhagen, Lisbon, Reykjavik, Tel Aviv, Jersey, Linz, Sienna, New York and Bern. They did internships or projects at:

Club Guy & Roni
Ann van den Broek
Introdans
De Stilte
David Middendorp
NB Projects
Keren Levi
Scapino Ballet
Generale Oost
Dansateliers
Jan Martens
Cullberg Ballet
Nordans
National Dance Company Wales
Tanz Mainz
Study support
During the dancer or maker course, you receive intensive support form mentors, teachers and a transition supervisor (who helps you rehabilitate after an injury). In the fourth year, from the Circle of Guides, you receive individual supervision from a professional in the work field.

There is therefore plenty of time and opportunity for individual support. We support you in your physical and technical dance development, as well as in your personal artistic development. We do not impose a vision or image of the future on you. We invite you to discover for yourself what role you wish to play in dance and how you can embody this.
Facilities
Our dance course has several modern, spacious studios, theatres, classrooms and a media library. As a student, you can book studios yourself.
Independent entrepreneur?
In the third year, experts give workshops about various aspects of entrepreneurship. Dancers and choreographers from the world of dance also come and talk about their experiences.
Lecturers and staff
ArtEZ Bachelor of Dance is proud to present her international team of teachers and staff:
Guest lecturers, choreographers and guides participating in the Circle of Guides:
Amos Ben Tal, Ana Ladas, Andrea Bozic, Ann van den Broek, Annelies Oosterloo, Bára Sigfúsdóttir, Birgit Gunzl, Bruno Listopad, Caroline Finn, Cecilia Moisio, Dario Tortorelli, Diane Elshout, Edan Gorlicki, Eilit Marom, Emilie Gallier, Estefania Miranda, Ezequiel Sanucci, George Reischl, Hendrik Aerts, Idan Sharabi, Jack Gallagher, Jasper van Luijk, Julio Iglesias, Keren Levi, Keren Rosenberg, Konstantina Georgelou, Liat Magnezy, Louis Rombeaud, Malgven Gerbes, Marta Reig Torres, Maurice Causey, Michael Getman, Monique van Hinte, Mor Shani, Nicole Beutler, Piet Rogie, Reut Shemesh, Ron Amit, Roser Lopez Espinoza, Shai Faran, Thomas Kortvelyessy & Ty Boomershine
Regular staff:
Aurélie Lever: Head of Bachelor of Dance
Giséla Binkhorst: Management assistant
Eva Tremel: Mentor first year, Kinaesthetic Awareness
Jochem Naafs: Mentor second year, theory (Dance Dramaturgy, Coaching Artistic Research)
Sjoerd Vreugdenhil: Mentor third year, Classical
Reut Aviran: Mentor fourth year, Work Field Orientation third year, Partnering, Contemporary
Marta Nejm: Classical & Floor Management
Aryeh Weiner: Classical & Limon & Rehearsal director
Philip Taylor: Graham & Graham Today & Classical & Boys Class & Artistic advisor
Hanneke Koolen: Theory (Reading/Writing & Work Field Orientation)
Ruth Collier: Work Field Orientation first and second year
Silvia Borzelli: Musical Insights
Tony Vezich: Contemporary
Ime Essien: Contemporary, InnerMovementEvolution Work, Process Inquiry
Cristina Leitao: Contemporary
Eva Karczag: Kinesthetic Awareness
Hillary Blake: Firestone Improvisation/Composition, Preparation Solo, Guidance Choco & Bingo Project
Angus Balbernie: Coordinator Choco Week (combination of choreography & composition)
Joao Da Silva: Improvisation (third year)
Sara Wiktorowicz: Contact Improvisation
Irma Nijenhuis: Basic Theatre
Inge van Amerongen: Coordinator Health & Health Tests
Luciola Dumont: Transition Trainer
Brendon Koolen: Mental Training
Inge van Amerongen: Anatomical Awareness
Derrick Brown: Nutrition
Rocío Laura Olazabal: Pilates
Patricia van Deutekom: Dance Condition