Webinar Crisis Education Critical Education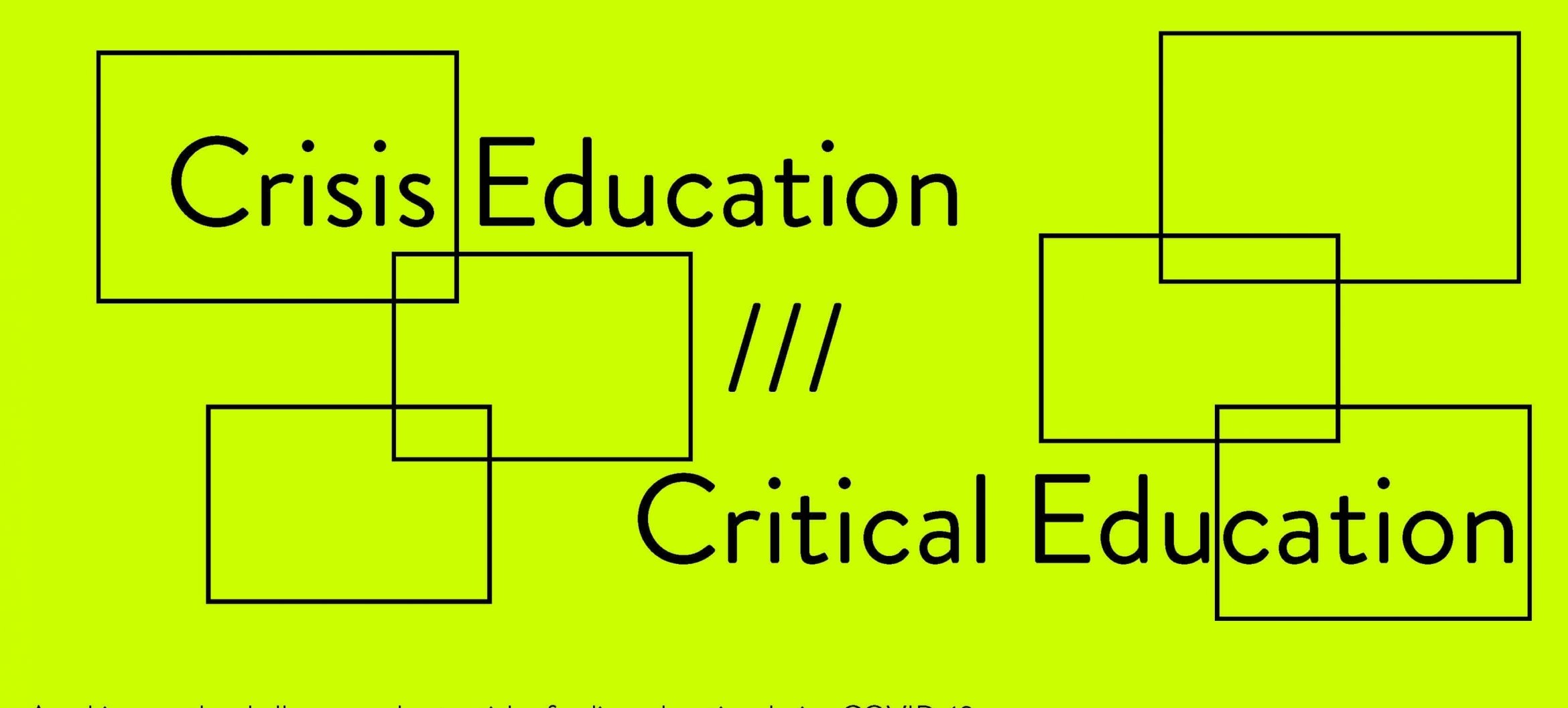 What is at stake when we move our education online? Is technology a solution or a means towards a solution? What do we need to change when we enter connected learning environments? How do we hack digital infrastructure to create meaningful learning environments? Are there best practices that we can learn from? How do we build communities in times of distanced interaction? What happens to learning in digital environments that prefer individuation over collectivity?
Crisis Education//Critical Education is a webinar hosted by ArtEZ University of the Arts, to reframe the focus and move the story of dealing with the digital shift in our education and learning practices. It invites experts, educators, makers, and artists to raise the stakes and shift the narrative from education in crisis to the need for critical education in the online spaces.
The conversation lab consists of 9 asynchronous interactive digital input sessions and live synthesis events to kick-start a conversation beyond logistics, operations, and mechanics of digitization in connected learning.
Featuring: Florian Cramer, Seda Gürses, Soo Ryon Yoon, Sarah Allen, Kat Braybrooke, Winnie Soon, Jeroen Lutters, Fabiola Camutti, Thieu Besselink
Facilitated and Curated by: Sissel Marie Tonn, Jonathan Reus & Nishant Shah
Created by: Professorship Aesthetics and Cultures of Technology, ArtEZ University of the Arts
How to participate
Join the free, asynchronous, digital, and distributed Webinar in 3 easy steps:
Go to the module of your choice. Watch the expert videos at your own time and rhythm. Leave comments on the expert videos – questions, suggestions, critique, ideas.
Join us for the Live Event and see the experts in a real-time conversation. See selected questions being picked up and discussed. Click here for the schedule of the Live Event:
Leave feedback on the Live Event and sign up to contribute to our final tool-kit and co-create it with us. Please send an email to s.ton (at) artez.nl if you are interested in becoming a co-creator.
Modules and dates of the webinar
Module #1: Mapping the Field and Current State of Affairs: Needs and Necessities
Expert Inputs:
Florian Cramer

- Lecture in 3 parts in Dutch -

with English subtitles (press the CC button in the YouTube window)

Seda Gürses

- Lecture in 4 parts in English
Braodcast was live on: 13th of May 16-17h CEST. Moderated by Sissel Marie Tonn
Module #2: Approaches: Arts Practice Otherwise
Expert Inputs
Live event: 26th of May 13-14h CEST. Moderated by Jonathan Reus
Module #3: Connecting People, Platforms and Policy
Expert Input:
Jeroen Lutters + Fabiola Camutti (No School Project - ArtEZ)

Thieu Besselink (

The Learning Lab

)
Live Event: 3rd of June 16-17h CEST. Moderated by Nishant Shah
Detailed Brief
The current global pandemic which has suspended in-person interactions through physical distancing measures has given renewed urgency to discussions that education is in a state of crisis. However, calls that the 'university is in ruins' and 'education is under attack' are not new. Identifying education in a state of crisis: Crisis Education, has in fact often been used as a catalyst to subvert the radical impulses of education or to orient education institutions in specific directions that serve to maintain the status quo. This Webinar series proposes that instead of Crisis Education, we take this opportunity to consider this a moment to consider the critical potential of education to address the global humanitarian crisis that we are dealing with: Critical Education.
If we focus on Critical Education over Crisis Education, we can turn the notion of education in crisis inside out: We might then recognize that within our education practices is the power to create transformative shifts and change. This is especially true for education in the Creative Arts, these fields which have always simultaneously shaped and been shaped by the cultural contexts that they occupy. Therefore it is particularly important to be grounded in a framework of Critical Education that builds upon the alternatives already embedded in our practices.
Moreover, because online learning is currently the preferred solution to the need for social distancing, it is crucial to question how this move to dependence on technology and distributed presence effects different aspects of arts education. Instead of focusing on the medium: digital, online, or 'e-learning', we need to pay attention to the affordances of these media: decentralized, connected, common.
This Webinar Crisis Education/Critical Education, is a 9 part webinar for connected arts learning, built through replacing the C of Crisis with the C of Critical. Inviting expert educators, practitioners, and makers working with distributed and digital modes of learning and education, it offers both a theoretical insight into how we understand 'Education in Crisis' and begins an important open discussion on best practices and foundational questions that we need to address in a future now of arts learning that is both distributed and connected.
Featuring: Florian Kramer, Seda Gürses, Soo Ryon Yoon, Sarah Allen, Kat Braybrooke, Winnie Soon, Jeroen Lutters, Fabiola Camutti, Thieu Besselink
Facilitated and Curated by: Sissel Marie Tonn, Jonathan Reus & Nishant Shah
Created by: Professorship Aesthetics and Cultures of Technology, ArtEZ University of the Arts

Quote from the ArtEZ Executive Board Member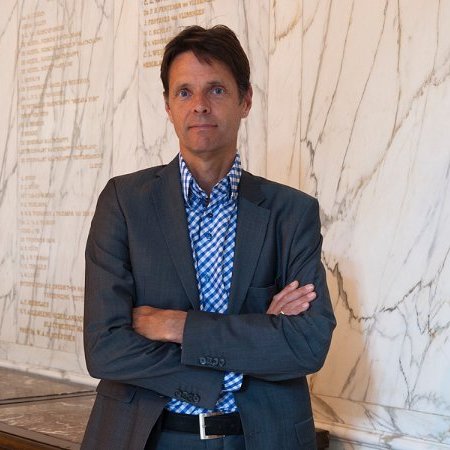 Nog geen drie maanden geleden stapten we noodgedwongen de online wereld binnen met ons onderwijs. Dat deden we verbazingwekkend snel, met veel energie en hard werk en daardoor is bijna al ons onderwijs dat online kan, nu online.
Inmiddels is duidelijk dat die online wereld nog lang onze nieuwe wereld gaat blijven, geheel en straks gedeeltelijk. We leren nu met vallen en opstaan wat er werkt en wat niet in deze wereld.
Deze reeks van webinars is bedoeld om ons te inspireren, te helpen reflecteren op ons online onderwijs en te experimenteren. Ik hoop dat de webinars ons uitnodigen om onze didactiek te vernieuwen, zodat die nog beter past in die online onderwijs-wereld.
Ik wens iedereen veel online leer-plezier toe.
English
Less than three months ago we entered -not by choice- into the world of digital education. We did so in with stunning speed, loads of energy and hard work; hence almost all of our education that is possible online, is online.
We now know that the world of digital education is here to stay, fully and later on partly. We all are learning by trial and error what works and what doesn't, in this new world.
This series of webinars is meant to inspire us, to help us reflect on our digital educational practice and to experiment. I hope these webinars invite us to innovate our pedagogy, to make it more suitable in the online education world.
I hope you will enjoy this online learning experience.
Maarten Bremer
CvB lid ArtEZ University of the Arts