Partnership Master Music Theatre and Via Berlin
Today, the Over het IJ Festival begins: ten days of topical location theatre by new and established theatre makers at extraordinary indoor and outdoor locations at the NDSM shipyard, on the banks of the IJ and at various locations deeper within Amsterdam North (source: overhetij.nl). The 2021 edition marks the start of a long-term partnership between the Music Theatre master course and the Via Berlin company. That partnership will see ArtEZ students being introduced to the 'Via Berlin method' in a masterclass and then working towards a performance at the Over het IJ Festival.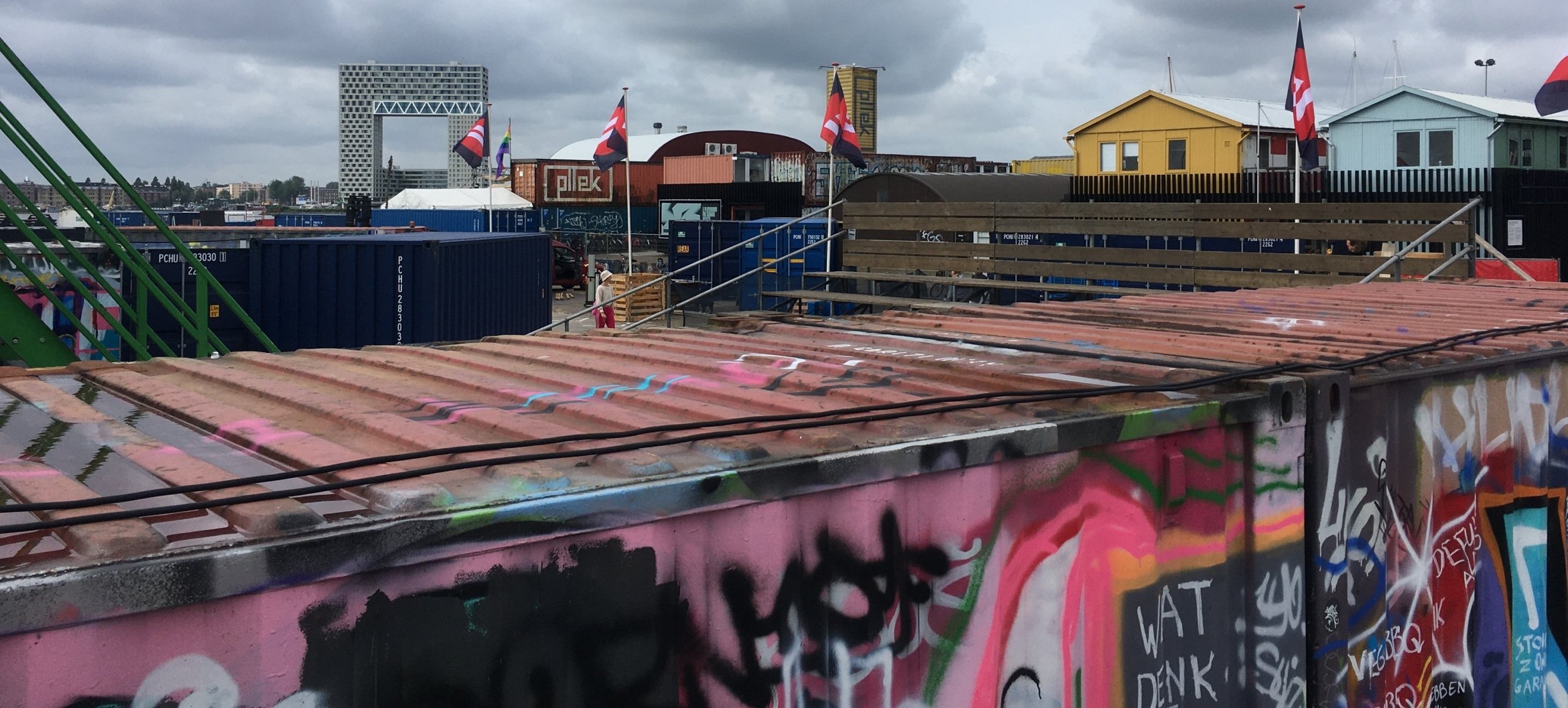 Growing as a theatre maker in practice
Earlier this year, the Music Theatre master degree announced partnerships with De Ereprijs orchestra, Theater Sonnevanck and Orkater, with the goal of promoting the interaction between Music Theatre students and the professional field. This is now being augmented by the long-term partnership with the Via Berlin music theatre company. The partnership involves Music Theatre master students gaining unique practical experience under the supervision of the artistic director of Via Berlin, Dagmar Slagmolen. That process begins with a masterclass in which students explore the essence of contemporary music theatre; they experiment with equivalence between music and text. Through practical assignments, the young theatre makers learn how they can translate their interests into a music theatre performance: how they can make music tell a story and how they can make music with text. Eventually, the master students will create their own performance, which they will present as part of the Over het IJ festival's 'shipping container programme'.
ArtEZ Music Theatre students at the Over het IJ Festival
This year, two ArtEZ Music Theatre students will be performing at the Over het IJ Festival, which is being held between 9 and 18 July 2021. Marnix Vinkenborg and Anne Reitsma will be presenting their own performances: the result of the development pathway they completed under the supervision of Via Berlin.
Anne Reitsma is putting on ECHO KAMER: "An ultra short and semi-engaged punk chaos in which everything and everyone is heard!" Marnix Vinkenborg will be presenting PENTHOUSE PITCH: "a psychological seminar, with all mod cons laid on, to help you discover Amsterdam North – welcome to your new life!"
Via Berlin itself will also be on stage during the festival, with INSTANT LONELINESS: a musical 'concert of life' by eight cellists, a dancer and an actress. "A total experience that takes us from loneliness to connection."
Art, science and society
The partnership with Via Berlin offers master students a unique opportunity to experiment and to learn in practice – in order to further their development as theatre makers. But Via Berlin also benefits from the partnership: the input of art students at ArtEZ enriches the dynamic between the triangle of art, science and society – the ground on which Via Berlin provokes dialogue and highlights social issues. Art, science and society reinforce one another and come together in subjects that affect us all.
About Via Berlin
With a completely individual form of music theatre, Via Berlin tells personal, recognisable stories that symbolise universal and social themes that occupy us. War, illegality, age, consumer society… developments in the world focus our minds. Via Berlin tells these stories with classical music as the primary narrator and with original lyrics. Because music can convey something that cannot be captured in words.
Over het IJ presents adventurous art productions all year round, always in relation to civic themes and at exciting locations throughout Amsterdam. Over het IJ makes you see the city with new eyes. Be inspired, enriched and amazed, discover new places, people and their stories. For everyone who believes that art, connection and interactions make for a better and more beautiful world.
More information
You can find more information about Via Berlin on the music theatre company's website. And you'll find complete information about the festival taking place over the coming days on the Over het IJ website.
Earlier this year, the Music Theatre master degree announced partnerships with De Ereprijs orchestra, Theater Sonnevanck and Orkater – you can read the news item here. The Music Theatre master degree at ArtEZ is focused on contemporary and experimental music theatre. It keeps its finger on the pulse of society and seeks to connect with other domains such as science and technology. Thanks to partnerships with leading music theatre professionals, the course is at the heart of the professional field. You can find more information about how the partnership with Via Berlin is reflected in the course curriculum on the course page.