On Sunday 17 September, at the end of the Dutch Theatre Festival, the main theatre prizes were awarded during the Dutch Theatre Gala at Stadsschouwburg Amsterdam. Two major prizes were won by alumni of the ArtEZ School of Acting. The Theo d'Or (best female leading role) went to Romana Vrede and the Colombina (best female supporting role) went to Lotte Dunselman. The Louis d'Or went to Hans Croiset and the Arlecchino to Maarten Heijmans.
From the jury report:
ROMANA VREDE for her role in RACE, Het Nationale Theater
Romana Vrede had a strong season. Alongside her role in Guess who's back by The Young Gangsters and her solo performance about her son, Who's afraid of Charlie Stevens, in RACE she creates a superior role as Susan. She has complete mastery over the American setting, a law firm as conceived by writer Mamet. It is impressive to watch her secure a central position as an intern and create tangible discomfort on the stage and in the auditorium. In her precisely delivered lines and strong physical presence, she exudes the sense that she has a big story to tell. In RACE, director Eric de Vroedt, Romana Vrede and the entire NT team have created a show that doesn't end at the curtain call but reveals an unsettling reality and asks questions of us all. Our society faces a major challenge. And whether we find out through confrontation or over coffee; we cannot continue to close our eyes to everyday racism.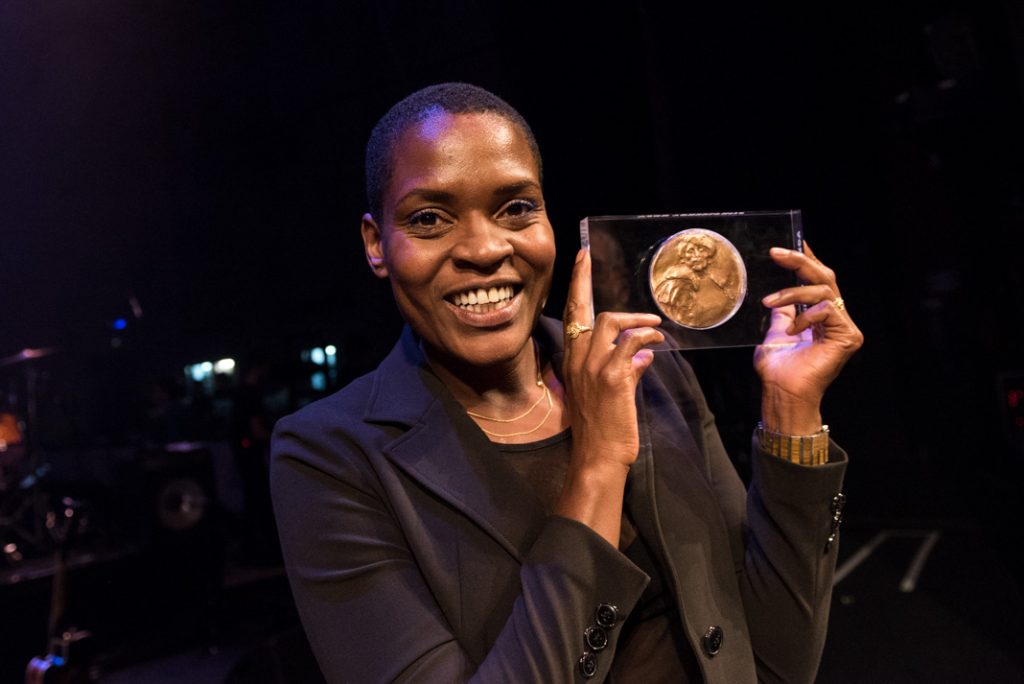 Romana Vrede, photo: Anna van Kooij
LOTTE DUNSELMAN for her role in VOLPONE, Dood Paard:
Lotte Dunselman is a mimetic all-rounder. We know her best as the drily comic actress in her own company TgEcho, but in the context of Dood Paard, Dunselman soars to new heights. Dunselman is a giggly (or even grinning) fairy who animates her fellow players, sprinkling fairy dust on them and making them glitter. As an outsider, with her over-the-top physical style, Dunselman provokes the other players to different behaviour while remaining her brilliant, physical self in the heart of the Dood Paard tradition. Throwing convention and self-restraint to the wind, Dunselman nevertheless creates balance in the piece; she knows what's going on, in that sense she is like glue. She also deals well with the dash of madness that Jorn Heijdenrijk brings to the piece. She is perhaps the most reliable player of the two. Like an ideal midfielder, she keeps the game moving, with her sensibility she brings about a chemical reaction and shows herself to be the magic driving force in this play.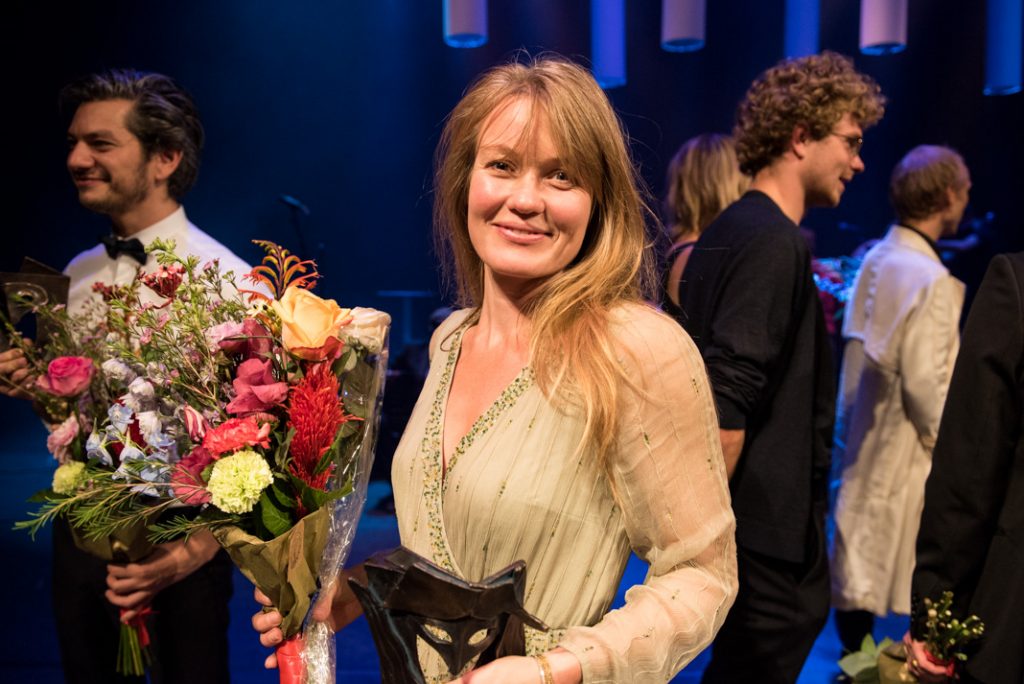 Lotte Dunselman, photo: Anna van Kooij
Gala for Dutch Theatre
On this Oscar night of the Dutch stage, many different prizes are awarded. On behalf of the Vereniging van Schouwburg- en Concertgebouwdirecties (Association of Theatre and Concert Hall Management, VSCD), the Dutch theatre jury awards the Theo d'Or, Louis d'Or, Colombina, Arlecchino and Proscenium. This jury also awards the Director's prize to one of the performances selected for the Dutch Theatre Festival. Also awarded on behalf of the VSCD are the Mimeprijs and Gouden Krekels award. And the ACT Award is presented on behalf of the Belangenvereniging voor Acteurs (Actor's Association, ACT). For more information, go to www.tf.nl