The decor for their final performance is nearly finished, yet the four graduation students of the ArtEZ Arnhem School of Acting don't yet know what their performance will be about. What are they thinking?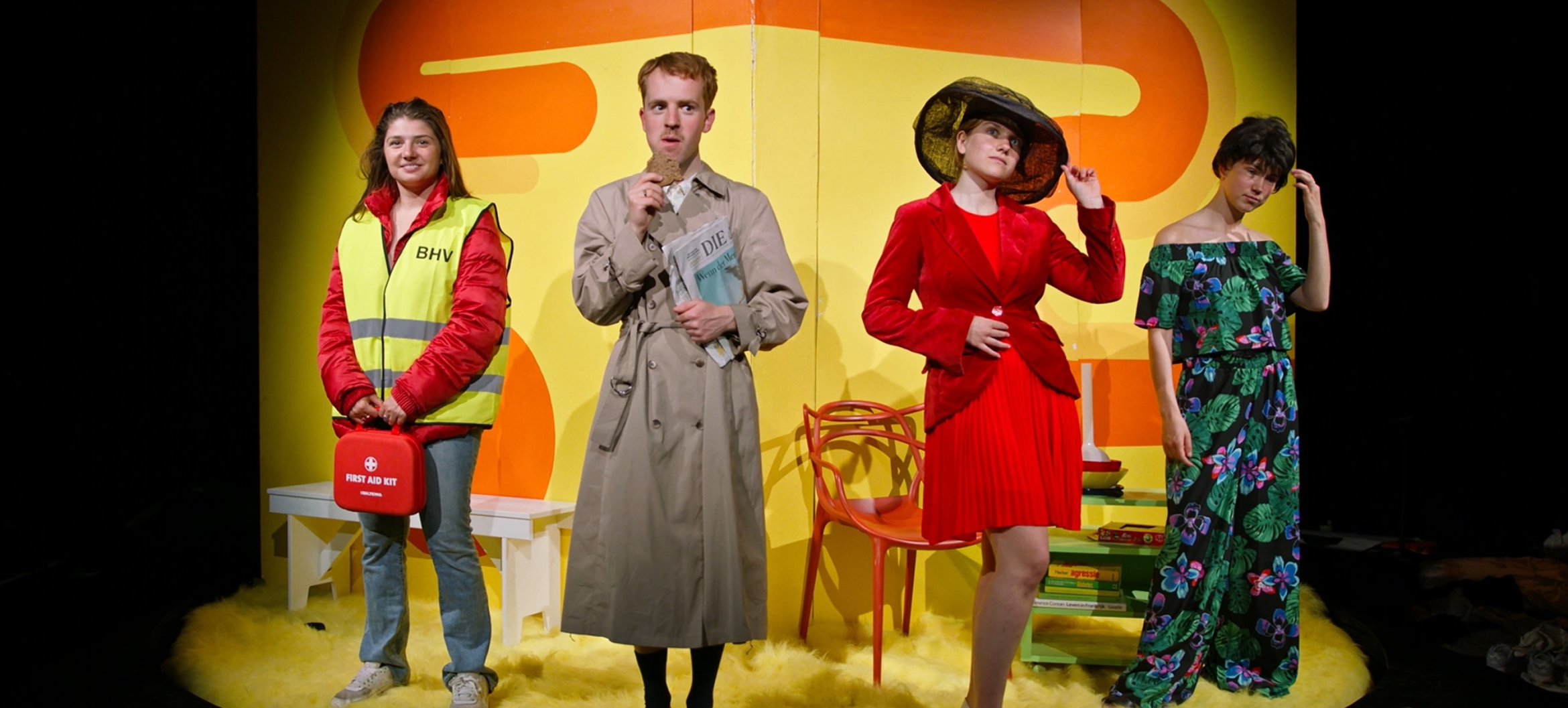 There's no cause for alarm – it turns out that working based on form is a deliberate choice for Roos Bottinga, Eefje Paddenburg, Gina van Os and Sam van Hulst, all finals students at the School of Acting. Gina: "We have previously worked based on form, so a collaboration to explore that further felt logical. Sam: "We complement each other really well. We use a different way of working to develop content. Besides a narrative, image, music and lighting relate important elements of a story. The decor is a very important element for us this time."
Stimulating the imagination
According to Gina, the performance will be a brain exercise in association. "Essential for a healthy mind", says Roos. Gina: "We want to stimulate the audience's imagination." For Roos, doing what you enjoy is just as important as the philosophical reasoning behind the performance. "Sam and I had the idea of shutting ourselves away in a warehouse to paint backdrops some time ago. We are literally makers; we are at our happiest wandering around all day with a glue gun. Our piece feels like an anarchist form of theatre. That appeals to me. It treads a fine line between not understanding what is going on but still keeping the audience engaged until the end. If we don't manage that, we've gone too far."
For advice on content and concept, the four called on the aid of director Mart van Berckel and Simon Boer. Roos: "In Mart we immediately sensed a shared love of images. We are learning a lot from him about the conceptual world behind them." Simon is innovative and inspires the company to think differently. Eefje: "Changing how you think results in surprises and innovation, both towards the audience and in our own way of working." Sam: "We hope to inspire other makers to create stories in an innovative way."
"The stage is a place where you can transcend all the rules."
Theatre feels like an 'escape from reality' for the actors. Sam: "There is already a lot of realism around. So why would we simulate a realistic living room on the stage? It is a different reality that appeals to the imagination." Eefje: The theatre is a place where you can transcend all the rules. A kind of children's game in which you agree a code that anything goes – pretend it's a lovely escape from reality, it's very liberating."
The fact that the foursome are making this work doesn't mean they have all the answers. Roos: "Even though it's our graduation performance, it could still go wrong. This experiment and research are hugely instructive for our graduation." Gina: "We invite the audience to enter with an open mind and to think just as freely as we do." Sam: "Of course we do hope the audience like our work. If you make everything yourself, it's your work of art."
We caught up with the foursome again during their rehearsals for the performance, which eventually acquired the name Passe-Partout. Take a look behind the scenes: