Oumnia Guigui - Guest blogger ArtEZ Business Centre
My name is Oumnia Guigui. I'm a songwriter and backing vocalist and live of and for music. Born and raised in Zeeland, I started at the ArtEZ Academy of Music in Enschede five years ago and here I am – the end of my new beginning is approaching. More than ever now, I ask myself the questions: "Am I doing everything right? Should I have approached it differently? Did I make the right choices? Am I happy with where I stand?"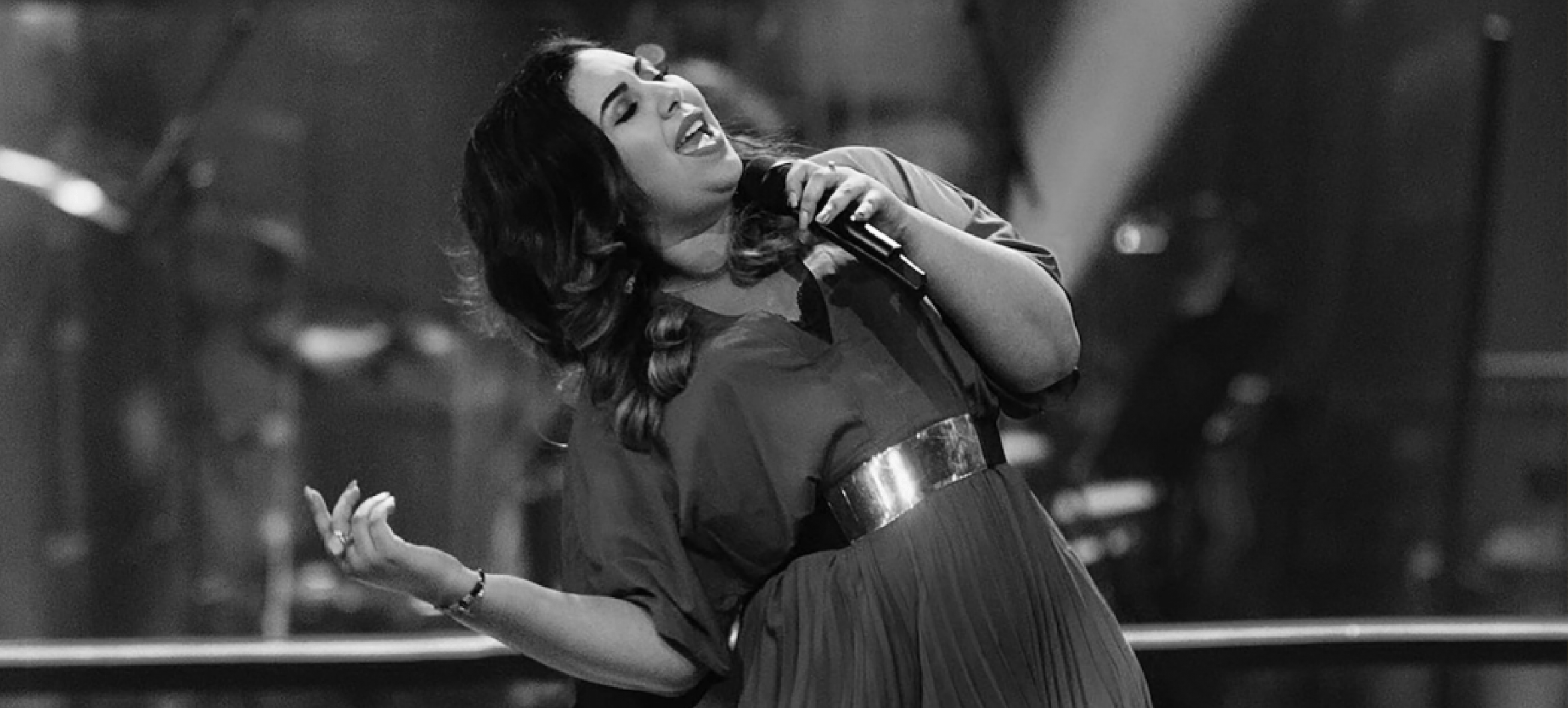 In 2015 I graduated as performing artist/actress in Tilburg. My tutor and singing coach in that program was teaching at the time at the ArtEZ Conservatory in Enschede. He was the one who convinced me to continue my studies there. Before I started at the conservatory, I had no idea what to expect. I knew I wanted to make music and learn everything about the profession. But I had to make a difficult choice between the Vocals program and the Songwriter program at the Academy of Pop Music. Writing has always been one of my passions, but professional songwriting is really a whole different ballgame and I had only just taken my first steps in that direction. For that reason, I finally opted for the Vocals direction while taking extra writing classes and a songwriter minor in my final year.
A new beginning is always a little scary. That's how I remember my first encounter with ArtEZ, too. All of us in a beautiful concert hall, Music Therapy, Music in Education, Media Music and Academy of Pop Music, all mixed together. My love for my discipline was also the source of my greatest fear. What if I wasn't good enough?
While the red Academy of Pop Music key cord around my neck distinguished me from my students in other programs, our love of music was what tied us all together. Being in this space, with all these people, relaxed me. Everyone was feeling the same anxiety that day, or rather, the entire introduction week, but everyone shared the same passion, too. The same drive, the same perseverance. This was my place, this was my language, these were my people.
Ready to fly the nest, I stare at a blank sheet of paper. A white sheet, ready to be filled with my own story. Just like I always do when I start writing a new song. Words fill my head, I pour them out of my brain like a jigsaw puzzle and lay them out on my sheet of paper, to decide their proper place and context.
I experienced the study itself as quite the challenge. When I walked into ArtEZ, I came from a background where fake it till you make it is just about tattooed on your forehead, and the 'free exploration' of art education in general is something that my brain, which really needs structure and regularity, finds difficult to process. I had only just finished four years of that and here I went again. Off the deep end, where all that freedom should result in finding the message you want to express to the rest of the world. To deal with all this irregularity, I had to return frequently to my awareness of who I am, what drives me and what message I want to express with my work.
Growing up as a Moroccan girl in a country where freedom is central, with a love for humanity and not necessarily a specific sex or gender, and working in a profession that isn't generally met with acceptance in my cultural background, notions like 'freedom', 'female empowerment' and 'acceptance' have been a common thread in my life. As I've aged, I've become more mature in my profession. And as I've felt increasingly compelled to take a stand, themes like (gender) discrimination, religion, freedom, female empowerment and acceptance have become more prominent in my work. I use my music as a means of connecting and communicating with people. My work emerges from a personal quest for my place in the world and my own emotions surrounding that. That which I write reflects a part of me, and anyone else who feels represented by the experiences and circumstances I describe. I have literally been gifted a voice that allows me to express a message; and if you ask me, the work that is concerned with the issues above is the best I've done. I'm not trying to win a do-gooder award but maybe I can educate, inspire or challenge others to make the most of their lives.
The Voice
In my second year (2016) I decided to participate in a commercial TV show named The Voice of Holland. Something you wouldn't necessarily expect from me, if you heard or knew my work with its soulful urban sound. I went primarily to get to know as many people as possible, especially back-stage, so that I'd have a network of people to tap into whenever and wherever I needed them.

The first question I always get is: "did you really get anything out of that?" My goal was to stay in until the knock-outs and absorb everything and everyone like a sponge. At that, I succeeded. Going for next rounds in the competition is fun, but even for the winner, that journey ends at some point. So to be straight – did I reach my goal? Yeah. At the same time, I could also say 'no', because I've rarely had to use the network I built through it. Everything seems to be running quite smoothly from my own initiatives. Slow but steady. The way it feels right for me.
During this TVOH period, I was spotted by a girl who had booked me in my student days in Tilburg for a living room concert she had organized. Coincidentally, five years later she was working for a management office with a portfolio of big names. The concert for which she booked me back then was the first show I filled entirely with my own work. Thanks to this opportunity, I was approached for a writing camp for one of her big artists.
A writing camp comes in many different shapes, but in principle it means you get together with a group of songwriters and producers to write new songs for other artists in a short time frame (usually three to a maximum of five days). This camp took three days, and each day I wrote two songs in two different teams. I'd be ready to go at 9:00 in the morning in a studio in Amsterdam and worked until 14:00, then had lunch and then got back to work with a new team and a new song, until it was done.
This was my first camp and many were to follow. What I didn't know then was that I had jumped straight into one of the hardcore camps. I was writing with the finest creators in the country, writers like Nicole Bus (now signed by Roc Nation, Jay-Z's label), Duncan Laurence, Niels Geusebroek and working with producers responsible for major hits by artists from Beyoncé to Tino Martin. The advantage of that was that a huge number of labels and managements were present and dropped by once in a while to check what their creators and artists were doing. That way, they also started to notice me and my talents, I shared my contact details and I'm now regularly booked for gigs and camps.
Time is money, also in this little world. Knowing what I know now, with regard to the contents and the schedules of camps, if it were up to me I wouldn't necessarily do such a big and intense one again. Fortunately, at the time I thought it was fantastic, and I knew right away: this is how I want to earn my money.
Until the end of 2019 I always worked independently. I did my own bookings and communications with other parties, I negotiated my own contracts and collected my own income at BUMA/STEMRA. Not the most fun of jobs, but I had the time and energy to do it and that way I didn't have to relinquish part of my income to other publishing parties. It also felt really good to say I did everything myself, after all I have a bit of a proud temperament :- )
The Write Girls
In 2019 there was a new publishing party on the block, named "The Write Girls", or TWG in short. TWG are an online tribe of girls who write songs for all sorts of projects and artists all over the world. Since globally more men than women are successful in this industry, the tribe wants to contribute to changing that situation, and in order to do so it's obviously important that we make that change in our own musical workplaces. The idea behind this publishing meshes really well with my convictions and I believe strongly you can create and improve your music together with everyone's shared insights. In August 2019 I decided to join the tribe with the following statement:

We're a tribe of 11 girls, from England, Australia, Gibraltar and the Netherlands. One of my fellow write girls is my good friend and colleague Rosalie Meijer. Together with her, I'm seeking out challenges and inspiration beyond my comfort zone.
In November 2019 we decided to get on the plane to Las Negras, an old fishing village on the southwestern tip of Andalusia. In the middle of a beautiful natural park, we were at a waterfront hotel with 23 other songwriters/producers from all over the world to do only one thing together: write new music.
2019 was a long year for me. I was suffering from the typical artists' ailment: being in my head too much. Sometimes good things emerge from that, but it can also result in the most stubborn blockages. The latter case applied to me; more often than not, I didn't feel happy writing music anymore. Try writing a good song in that condition!
Las Negras felt like a kind of spiritual reunion with music. I got to know people who were cut from the same cloth as me, borders and boxes didn't exist there, and even though we were all working in simple hotel rooms without decent speakers and with the worst acoustics imaginable (the polar opposite of what you'd imagine from a studio) – the place was so magical. The winning Eurovision song from 2018 was written in the hotel room where I worked the first day. It proved to me once again that it doesn't matter how nice your space is, or what kind of expensive gear you've decked out your studio with. What matters is the people you share the space with and the spirit they bring along. The three songs I wrote were received amazingly well. So well, in fact, that three months later we flew to England for another week like that, and in May we were planning to go to Norway for two more. Obviously with the COVID-19 crisis that plan is on hold now, but once it's possible and responsible to travel again, you'll be able to find us in Norway.
Jobs jobs jobs
Of course, music isn't always a world of peace and harmony. As for finances, it remains a difficult story. Despite that, I've sometimes found it more of a challenge to answer for myself to others than to actually rake in the cash. Besides working as a songwriter, I have two booking offices where I can be booked for weddings, parties and events, and my main source of income is working as a backing vocalist. I have a few colleagues for whom I sing regularly. Especially in the summer months, they have great gigs for me, but in general I work freelance for anyone who needs a backing vocalist.
As an entrepreneur there are many ways to create a steady income for yourself, also within the arts. Working from a vision, meeting the right people and having the courage to "fail" are, in my view, what makes or breaks you. You can teach, do freelance work, join competitions or, in my case, work in a clothing store. Those kinds of jobs, too, are sometimes necessary to be able to invest in your music.
I realize very well that now that the fact that my student grants are ending after my graduation will result in a different lifestyle than the one I have now. Still I have faith that after 9 years of studying, work experience and networking I should get to where I need to be. To give you an impression of how my life looks now, I often go around with my camera. The vlog attached here gives you a peek into a typical Oumnia week. Three gigs, a writing camp, business meetings and a studio job.
New beginning
As I write this, I'm quarantined because of the COVID-19 virus. Of course, the situation has huge consequences for me too. Gigs and the festival season aside, the most important thing that I'm missing out on is my graduation. I was going to graduate on the 23rd of June with a concert of 45 minutes. It would be a new beginning, I was going to release of a new single and give a preview of my upcoming EP, and it would mark the festive closure of five years of studying at the conservatory. I would have loved to give you some previews of this project, but unfortunately the Corona crisis means I don't have any of those, either. I can't get discouraged; that diploma is going to happen no matter what. How I'm going to deal with and shape the situation now? I'll tell you more about that in the interview below:
I'm often asked: would you have done things differently if you had the chance again? The answer is really very simple: no. I believe that everything goes the way it has to. Some choices I might have made differently, but then I wouldn't be where I am now. Maybe I'd have progressed a little more or less, we'll never know for sure, but what I do know is that I'm content with where I am, what I'm doing and all the things I've had the opportunity to do at twenty-four years old.
If I could share something with the next generation of students it is this: always trust your intuition and believe in yourself. You'll face headwinds. Projects won't go the way you hoped, some will unexpectedly be cancelled, and others again will suddenly accelerate while you never expected them to. It's all part of it! It's OK if something doesn't go as planned, it's OK if you're really at your wit's end, it's OK to change plans and it's also OK to doubt whether you were made for all this. (Buckle up conservatory students: in year three you're going to doubt EVERYTHING, all of a sudden. We've all been there!)
Listen to opinions and advice from outside, take them to heart, relativize them, let them go if they don't speak to you. Live from your heart.
You'll often get questions or comments with the word "successful" in them. Ask yourself: what does success mean to me? Because there is no right or wrong answer to the question "what is success?" Keep experimenting, keep exploring, keep educating yourself – also outside of ArtEZ – and your mission, vision and individuality will emerge naturally.
The end of the new beginning that started long ago is in view. My dreams, ambitions and plans for the next five years vary from moving to Rotterdam and having a studio at home to getting signed with a record company and doing a European tour. I'm a total realist, so I live primarily in the here-and-now while I enjoy the company of the talented people around me, and all that I come across on my path. A year always flies by, so the focus for now is with getting my ArtEZ diploma. I'm sure that after nine years of studying, I'll fall into a huge black hole, so I'm not really prepared to look ahead yet. I can't tell you what my next five years will look like, but who knows, we might see each other in another blog, with all the answers to that question!
Should you be curious in the meantime, you are welcome to follow me through my social media channels.
Follow Oumnia Guigui
Translation by: Witold van Ratingen