From Pop to Jazz and Beyond
Jurgen Scholtanus, Jazz & Pop Conservatory in Zwolle: "I did not know a lot about jazz before I came to the conservatory. I ended up playing nothing but jazz with my main teacher Jan Wessels. The last few years I have been looking for the progressive side of jazz. Consider the contemporary New York-scene with saxophone players like Ben Wendel and Will Vinson. These saxophonists have inspired me by their styles of both playing and composition."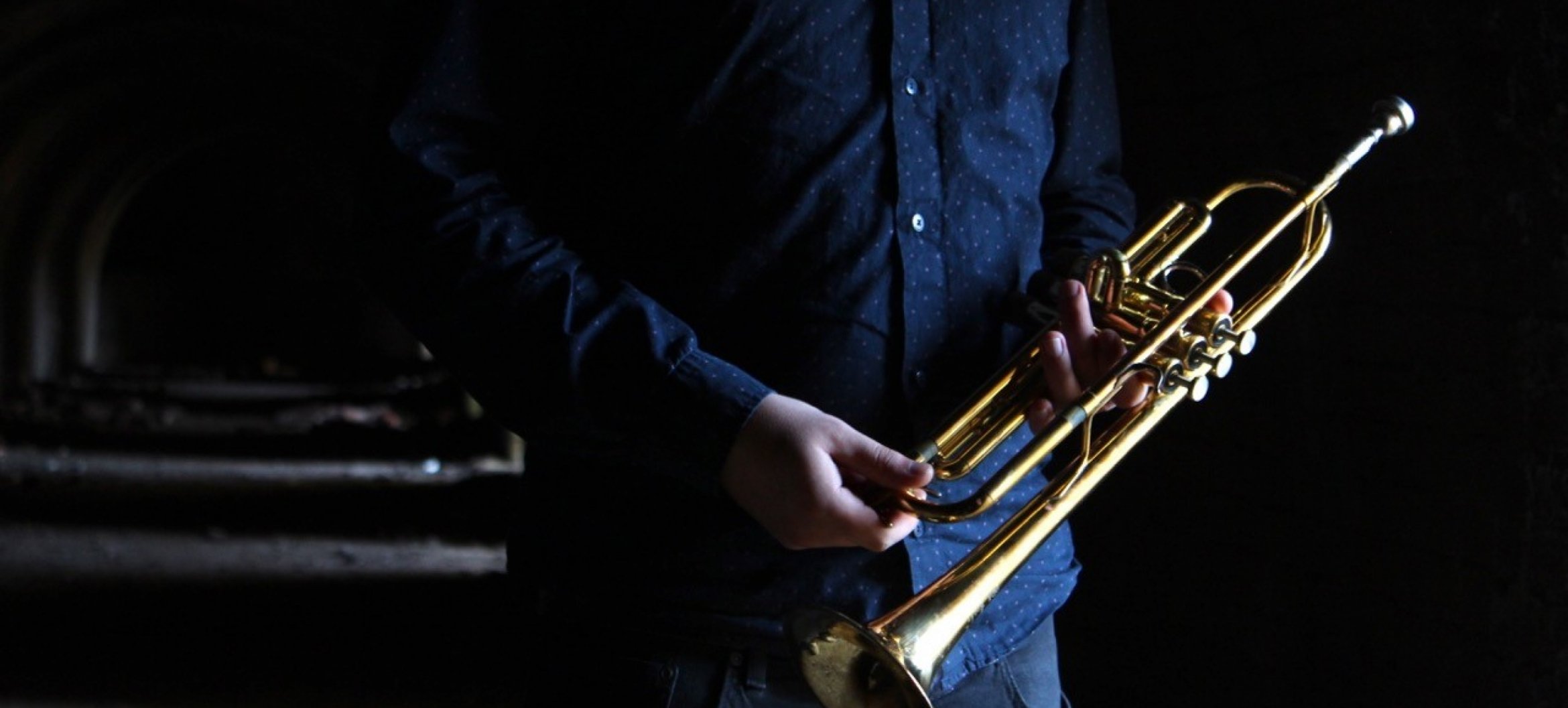 The dark side of being a trumpet player
"I played a lot with Jan Wessels,but we also talked a lot. A trumpet is an instrument you can not simply put away and then pick up again later. I also play guitar and if I do not play for a year, I am as good as before. If you put away the trumpet, you have to revalidate, as it were, for two weeks. This can dampen your spirits.
In actual fact, Maite Hontelé is far better at explaining, check her episdoe in Het Uur van Wolf. Maite Hontelé became famous in Colombia. When she reached 40, she was done with it; practising every day the same exercises in order to remain at the same level. Now she has given up. The trumpet is still in Colombia and she is back in the Netherlands. What she feels, I too feel sometimes. On the other hand, it means that you can simply keep playing, which is also cool."
"I enjoy improvising most of all and I do it most often. That is important in the study. There is almost exclusively improvisation happening. As a result, improvising has become one of my main strengths. The other side of the coin is that I never really had the time to work on the technique. Trumpet-players are often very technical because it is such a complicated instrument, which meant that in terms of theory, it was often quite a close call."
A game-changer in Cuba
"Last year I travelled to Cuba with my girlfriend. She is a percussionist and graduated two years ago, also at ArtEZ (singing). In Cuba I got took some lessons that focused exclusively on trumpet-techniques. The teacher did not speak any English. When I came back to The Netherlands, the conductor told me, 'I don´t know what, but something about you has changed'. It wasn´t until much later that I understood. On a trumpet-technical and creative level, the trip to Cuba was a game-changer.
Now I understand far better where trumpet playing comes from and that it has a lot more in common with classical music. This is why I am returning to the conservatory in The Hague. The last few years have been in the spirit of the modern. I want to catch up on my technical areas of weakness and to be able to play functionally."
From mbo to hbo to master
"During the master at the conservatory in The Hague the traditional aspect will come to the fore. Jan believes I should listen to someone else's story. I won't make my first day at school in The Hague, because that is the day of my graduation performance at ArtEZ."
This is not your first graduation performance.
"Correct. I graduated from the mbo in Leeuwarden with a Friesian Western, which was based on Once Upon A Time in the West and Misirlou – Dick Dale from Pulp Fiction. I hung "wanted"-posters of my teachers and played with my band, that initiated as a film-score band-project. My current graduation work is much more serious. Now it is playing at the municipal theatre, the schouwburg. There is perfect light and an immaculate stage. It demands a whole other level of skills."
Is there going to be a cheeky element during your graduation work?
"It depends. During my graduation concert I will improvize and play my own pieces with my own band Muti Marane. There is a theme and space for solo's. Especially during solo's you never know what will happen. It will go another direction and I enjoy that. Sometimes I get flippant on stage during improvizations. Especially if I have to play for 40 minutes, then I think there should be some shenanigans. My band is fully concentrated on action-reaction. So we will see."
Where does the name Muti Marane come from?
"I still smoked and was the only one with a light. 'Muti Marane' (in Dutch: 'then light it I suppose?). Muti Marane was in fact a pun which has eigenlijk een woordgrap en dat is uit de hand gelopen. Nu is het mijn artiestennaam."
Jurgen's graduation can be seen live on the 31st of August, at 21:00 o'clock.
Pedal Unit, own work from second year
"The oldest song I have is from the second year at ArtEZ. This is the only song to have survived up until the present date. The rest has been replaced by something else. Or cast away."
Poetje, own work from the fourth year


"Single released on the 1st of April 2, 2019, to be listened on Spotify. The meaning of Poetje can be found in van Dale Dictionary."