The fire at Oude Kraan 26 on 1 January caused a lot of damage. In particular, the amount of soot that is deposited everywhere is a serious problem. On this page we keep you updated on who to contact, consequences and possible solutions.
Update 05-02-2020
Last Monday the workshops at the Oude Kraan were festively reopened. Eef Oudbier cut the ribbon to the workshops with verve. From now on, students can start working again. Although not yet optimal and with limited options, but still.
This also closes the reporting on this page

Pictures: Wija de Boer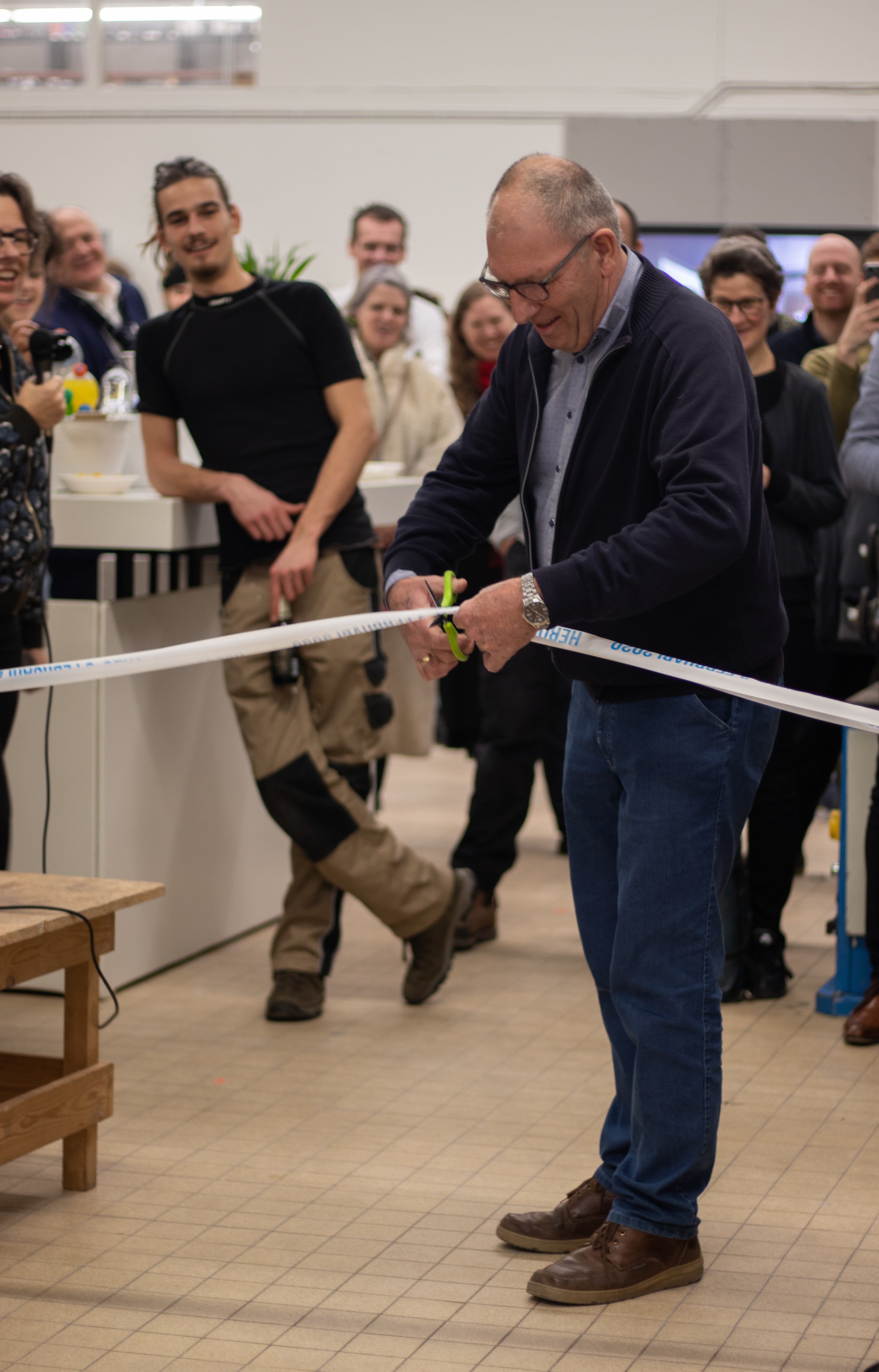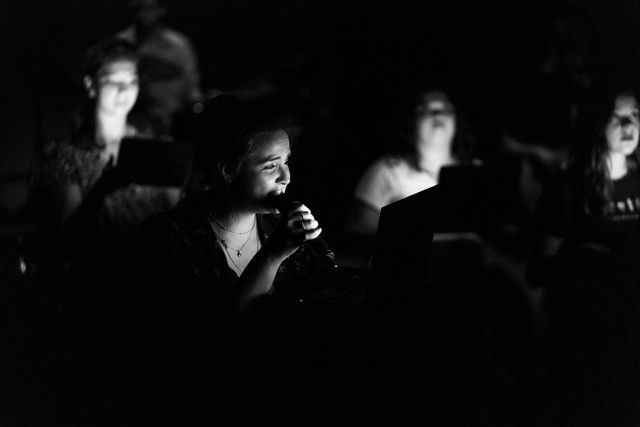 Update 24-01-2020
Workshops:
In previous reports we indicated that the workshops could be used again from Monday (27 Jan). The workshops would then be ready for use, but far from being completely rebuilt. For example, the ceilings and acoustic elements would still have to be placed at a later, study-free moment. It has since become clear, that this would cause a great deal of nuisance because the machines would have to be relocated before placing the new ceilings.
Fortunately, with the companies that rebuild the workshops, we were able to arrange it so that they can perform this work immediately in the coming week. This means that the workshops will remain "under construction" for another week. They can therefore NOT be used from January 27, but as it looks from February 3. This may mean that some adjustments still have to be made, or tools are missing, for example, but at least we can be operational again. An extra week delay is a shame, but it also means that we will not have to close the workplaces again later in the academic year for this work. Monday they will also start with the ceilings in the studios, which means that these will also be available again around 3/4 February.
Students are informed directly by their departments about the planning, classrooms and studio spaces
Update 10-01-2020, 14.28
Progress cleaning work
Although the first messages were far from positive now, a week later, a lot of hard work has been done, a lot of measurements and initial work have been done, and we can report positive about the progress of the cleaning.
On Monday 13 January it is possible to be able to house education again in the right part of OK26. The heads of the study programs are working together to make a timetable for how this can be implemented as well as possible. Students receive the planning via the heads of the study programs.
Monday, 27 January: now it seems that the workshops can be used again. Everything will be clean, stripped and safe again. The building will then not be in optimum condition, which means, for example, that the acoustic elements have not yet been constructed. In the days that there are no students, work will be done on further development.
Despite these good reports, the crisis team will remain operational for the time being. These are just the first steps in the right direction, but a lot still needs to be done and investigated.
Update 07-01-2020, 22,38
View, assess and clean works
On Thursday January 9, students can come in small groups and view their works in OK26 and possibly pick them up. They receive an invitation for this from the head of their course program.
1.
Students report at the agreed time at OK26
2.
Students can go to their works with a supervisor
3.
Photographing work
4.
Expert assessment of whether the work can be cleaned so that it can be used again for study. ArtEZ has hired a counter-expert and, through the insurance company, an expert who has experience with artworks
5.

Labeling work:

a. Work to be cleaned goes to the auditorium

Student and work are photographed together
Cleaning is done externally
Cleaned work returns to ArtEZ (timing still unknown)

b. Work that cannot be cleaned

Second opinion (unless the student does not want it)
If work cannot be completely cleaned technically or there is a good chance that the work will be (further) damaged:

Options:

Student agrees to partial cleaning with the objective that work can be used again as study material within the study program. The student can choose this option on condition that he / she indemnifies the cleaning company and ArtEZ from liability for any damage that may arise from the cleaning.
The student takes the work in the state it is currently in. The student can choose this option on condition that he / she indemnifies the cleaning company and ArtEZ from liability for not cleaning the work.
Study progress: assessment of works
The Examination Board states that students should suffer as little harm as possible from the fire when testing and assessing their work.
Of course, students whose work has been damaged or lost, must also prove that they meet the standard, but the Examination Board will assist these students by giving them more time or by giving special instructions to the examiners.
The Examination Board inspects the works in OK 26 to get an impression of the extent and nature of the problems, after which it will take appropriate action. Students are requested not to make any further requests to the Examination Board if they relate to the fire (damage), unless they are very urgent.
Update 07-01-2020, 11.54
Please note: at the moment it is not possible to receive parcels / postal packages at location OK26.
Until further notice, please have them delivered at Onderlangs 9, 6812 CE Arnhem, citing your name and department.
Update 06-01-2020, 13.24
Course specific questions, or questions that are specific to your study progress, can initially be discussed with the head of your study program. Probably not all (practical) questions can be answered, at this time. You can ask general questions via: OK26@artez.nl
Update 03-01-2020
A crisis organization has been set up within ArtEZ, that currently coordinates the first steps. The crisis organization is led by Thom Wildeboer (director Art & Design Arnhem) and Michiel Klatte (Director Service Bedrijf) and also consists of Mirjam Konink (workshops), Natascha van der Plas (FAZ) and Marieke de Boer (Communications). Naturally there is coordination with Marjolijn Brussaard (President of the board). 
We are currently working hard to see how we can continue our education as effectively as possible. In any case, during the first week, there will be no possibility of working in alternative workshops or taking classes.
Students work
Students works are an important concern; the items present in the building are often contaminated. Because the building must be emptied for the purpose of repair, the artworks must first be secured. More information will follow.
Information sessions
For the purpose of further information provision, we invite you to a meeting; in this we want to explain further what has happened, what the consequences are, what possible solutions are and we would also like to hear the questions that are present among those present.

1. Monday morning January 6: at 09.00 uur in the hall of OK 26.
Meeting for the Executive Board, the Heads of Training A&D Arnhem and Architecture and colleagues OK26

2. Monday morning January 6: at 10.00 in the canteen of the Rietveld building.
Meeting for ADA & architecture students, colleagues from ADA and colleagues from the Service Bedrijf and T&D.