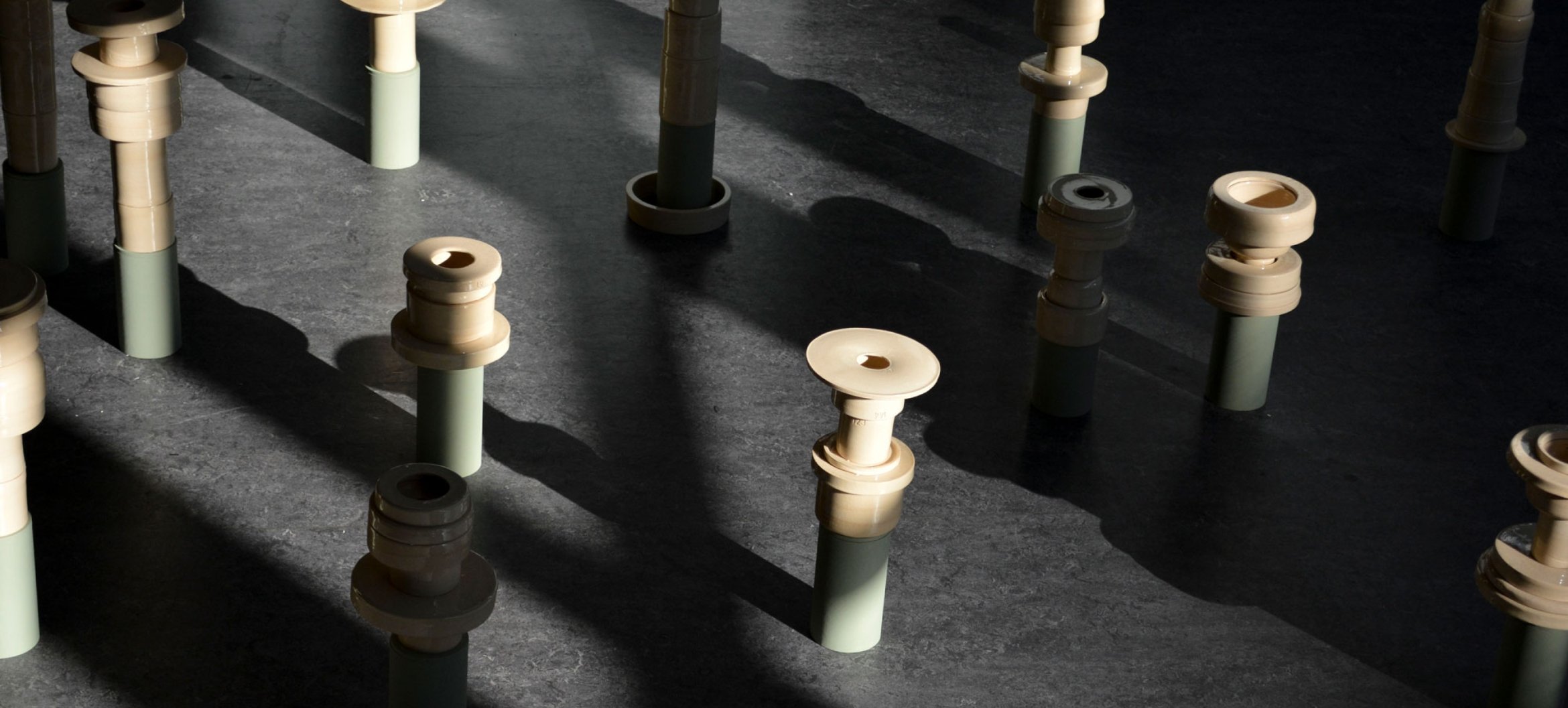 I am moving in circles, in a time that seems to circulate.
Repetition, time-based systems and the use of bodily rhythms have been central interests during my studies at ArtEZ. These interests are at the core of my graduation project Centering.
Centering is about being completely embedded in the cycles of time. Through the use of repetitive gestures, the work creates a personal space for echo and delay, for passing and spending time. The work reflects and reacts on my own bodily rhythms, and uses these as dimensions for a ceramic installation. Centering derived from a personal perspective, but ultimately reflects on the broader spectrum of the possibility of a healing body, of the human body, the body of time, and the body of the earth. The work's intention is to allow the viewer and myself to reflect upon our own bodies through the dimensions of the work's "body", which shows that just like the ceramic clay, our growth and healing shifts, is fluid, non-linear, comes in all forms and shapes, and is ever-changing.
My thesis Dots on Lines and Circles explores the terms repetition, circulation and liminality further, and specifically from the perspective of time-based art. Here I compared the circular time present in these works with contemporary, digital time. Next to throwing clay on a spinning wheel and writing sentences that circulate, I've had the chance to design the ArtEZ Architecture Catalogue which also connects to my interest in translating movement and physicality into other forms, like book design.
A focus on the body is an aspect I'd like to emphasize further in my practice as a designer/artist/writer/human being. How can the rhythms of our time correlate, reflect, or react to the rhythms of our own body? For me, this is a practice about staying grounded through a focus on being close to my own body, especially now, in a time where we have found ourselves in the midst of enforced solitude, are disembodied and connecting to others through a screen. I'd like to keep finding ways to emphasize the need to stay close to these rhythms and to create more 'bodies of work' to cultivate a sense of connectivity and interconnectedness between all that is alive.
Finals-werk: Centering
Deze pagina is voor het laatst gewijzigd op 3 november 2020
Sta jij op deze pagina? En heb je een opmerking? Mail naar de redactie.