Een professioneel musicus kan je vergelijken met een topsporter. Je moet het beste uit jezelf halen en dat kan alleen als je fysiek en mentaal in balans bent met je instrument en je omgeving. Zonder die balans kunnen klachten ontstaan, die blessures kunnen worden als je ze negeert. Klachten zijn ook een mogelijkheid om beter met je lichaam om te gaan en soepeler te gaan spelen.
Het skillslab Music & Health helpt je op al die vlakken en verder. Doel is beter, mooier, vrijer en veerkrachtiger spelen of zingen. Ook leer je via ons hoe je deze kennis kunt overdragen.
Het is vanzelfsprekend dat voor een goede uitvoering een goed instrument noodzakelijk is. Zoals bij een zanger de stem het instrument is, zo versmelt bij andere musici het lichaam met het instrument. De lichaamshouding is onderdeel van de techniek.
Music & Health helpt je je lichaam optimaal in te zetten voor je techniek en je mentaal optimaal te presteren.
Music & Health altijd bereikbaar
Music & Health is onderdeel van het curriculum bij alle conservatoriumopleidingen. Er zijn keuzevakken of workshops te volgen binnen de drie gebieden van Music & Health: body, mind en communication. Denk daarbij aan Mensendieck, Alexandertechniek, Dispokinesis, Yoga, Pilates, mindfulness, mental fitness en haptotraining, logopedie en ear fitness.
Buiten het curriculum worden screenings aangeboden waar je informatie krijgt over gehoorgevoeligheid, stemomvang en zit-sta-speelhouding. Hierbij hoort ook een korting bij de aanschaf van oordoppen op maat.
Bij het loket van Music & Health kun je terecht met individuele vragen. Zo kun je een plan van aanpak laten opstellen over je arbeidsgezondheid. Je kunt je laten adviseren over een doorverwijzing naar een specialist. Je kunt ook informatie krijgen over het externe netwerk dat verbonden is aan Music & Health. Zo hebben we partners bij de hogescholen Saxion en Windesheim, Comfoor Horen en zijn we lid van de Nederlandse Vereniging voor Dans- en Muziekgeneeskunde (NVDMG). Daarnaast is ArtEZ voorzitter van de National Centre Performing Arts (NCPA).
Een pyramide van gezondheid
Music & Health werkt praktisch. Op basis van een vraag leveren wij onze hulp. We benaderen gezondheid voor de ArtEZ-studenten als een pyramide.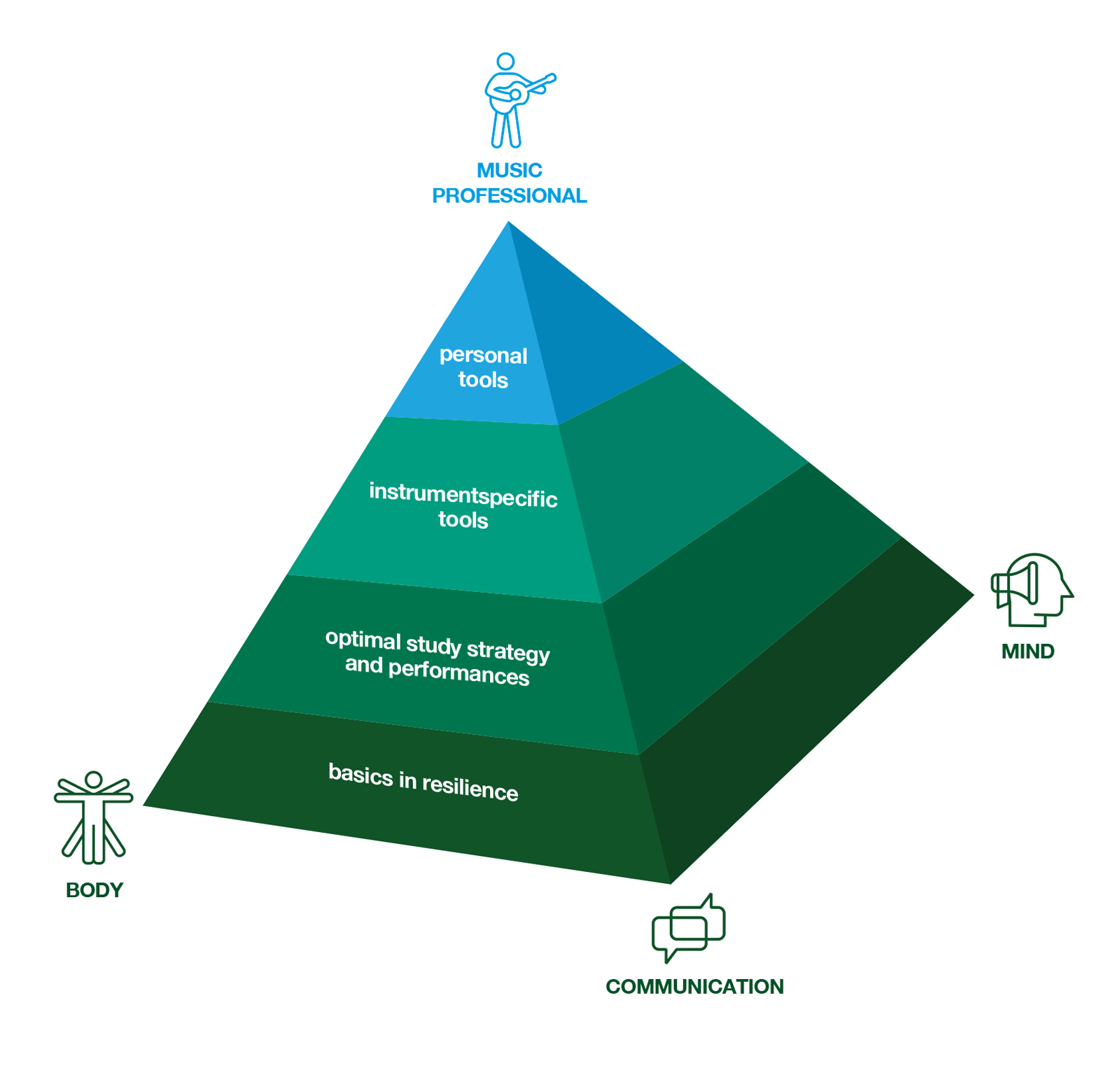 De brede basis wordt gevormd door je leefstijl. Denk daarbij aan beweging, voeding, ontspanning, rust en slaap, het signaleren van obstakels in je persoonlijke leven, de aanwezigheid van een sociaal vangnet en verstandig omgaan met social media.
Als actief musicus wordt je leven als toekomstig muziekprofessional bepaald door audities, optredens, reizen, concurrentie, teleurstellingen, successen en veel studie. Stress kan remmen, maar mits je het realistisch benadert ook helpen. Verantwoord studeren (in kwaliteit en kwantiteit) en het nemen van pauzes hoort bij een beroepsprofessional. Studeren moet je leren!
Het middendeel van de pyramide wordt bepaald door de aandachtspunten die specifiek zijn voor jouw instrument. Welke fysieke eisen komen er kijken bij zang, strijkinstrumenten of bijvoorbeeld slagwerk? Hoe kun je op dat gebied je gezondheid behouden en verbeteren?
Bovenaan de pyramide staan de zaken die spelen binnen jouw gezondheid en je persoonlijke wensen. Zit er ergens in je lijf een zwak punt, heb je een allergie of een mentale barrière? Het kan helpen er van gedachten over te wisselen en aandachtspunten te formuleren.
Kennis van je fysieke en mentale mogelijkheden helpt je om beter, mooier en vrijer te musiceren, en klachten te voorkomen.
Meer doen met Music & Health
Kennis over Music & Health is er om door te geven. Na je afstuderen krijg je in meer of mindere mate te maken met coach- of docenttaken en altijd krijg je te maken met collega's en luisteraars. Je kunt daarbij gebruik maken van je ervaring, kennis en kunde van Music&Health.
Daar stopt het niet. Je kunt je verder bekwamen, door een studieonderdeel /minor te kiezen, waarmee je je verder ontwikkelt als afgestudeerd musicus met competenties op het gebied van Music&Health. Daarbij volg je een breder aanbod aan lessen en ontwerp je een muzikale tool, die innovatief is binnen Music & Health.
Je bepaalt zelf of je Music & Health alleen functioneel voor je eigen muziekpraktijk gebruikt of dat je dieper de materie induikt en er meer mee doet. Music & Health hoort bij de basis van iedere musicus. Wie een leven lang met plezier wil musiceren kan dat alleen doen in goede gezondheid.

Wil je als passant of interne ArtEZ deelnemer meer weten over het ArtEZ Music&Health programma?

Stel je vraag aan het Loket Music & Health


Volg Music & Health op Facebook