Fashion is a fascinating, richly varied profession which provides scope for all kinds of talent. The Fashion Design course trains you to be a versatile fashion developer with a broad vision. With this good basis, after graduating you have a wide set of skills.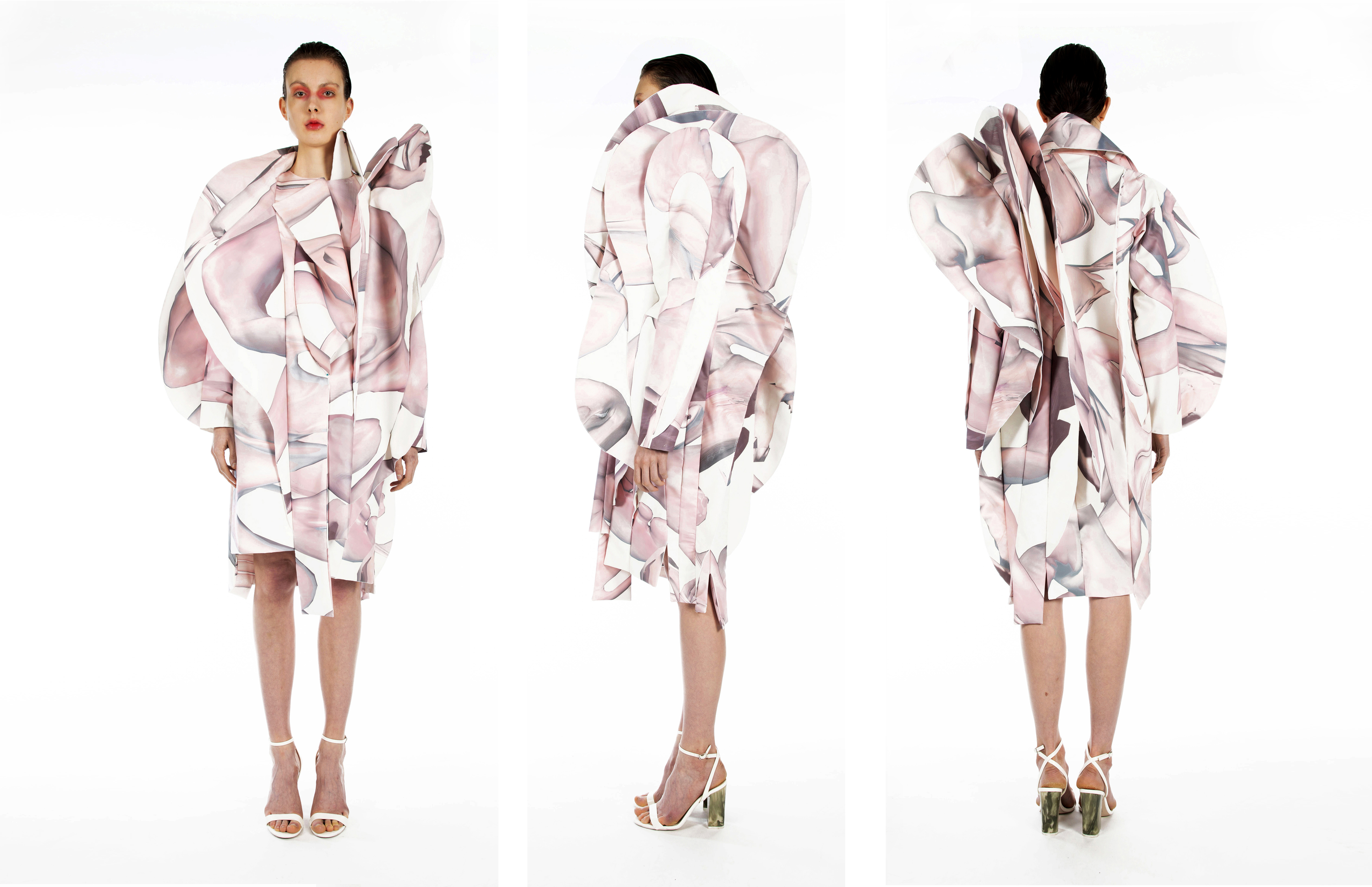 After acquiring the basics, you gradually discover which field of fashion suits your own talent and interests - whether that is 2D or 3D design - and what position you wish to take in the fashion world. Many students embark on Fashion Design with a certain ambition and then discover, sometimes to their surprise, that their interest and talents lie in other aspects of the profession. Over the years, the supervision you are given increasingly reflects this personal professional profiling.
Close community
At ArtEZ Fashion Design, you study in a close community of students and lecturers. You work intensively together and act as a sounding board for each other. You help each other with the production and assessments, at the annual open day, at the Arnhem Collection show and, of course, at the annual big fashion show. You frequently meet students from the other art courses in Arnhem and attend lectures together. Collaborations are started, for example with students from the Product Design department who specialise in shoe design.
Course structure
The first two years of the Fashion Design course provide a general introduction to the visual arts and a particular focus on fashion. You break through traditional and cliché-type ideas about fashion and learn about different design methods. You develop your own original ideas and build a foundation of professional skills. An experimental and conceptual approach is important here. This is valuable in any professional practice, from couture to ready-to-wear.

In the first two years, you do subjects like experimental design, fashion designing, fashion illustration, textile and design, computer skills, art and professional theory. These will be full working weeks with lots of contact hours.

Experimental Design, Olivia Lottersberger (FD1)

The third year of the Bachelor in Fashion Design is mainly focused on getting to know professional practice. You do this by means of the joint Collection Arnhem design project and an internship lasting between three and six months at an established fashion designer or design studio at home or abroad. Finally, in the fourth and final year, you focus on developing your own personal signature and work on your graduation collection.
Projects
Two to five weeks a year, we stop the course to work on designing in the workplace. Several teachers are involved in this.
You also take part in projects with fashion courses from New York, London, Osaka, Helsinki and Copenhagen.
Collectie Arnhem
Students jointly design a single fashion collection, which they sample, style, present, show, sell and produce.
Collectie Arnhem is a project in which third-year Bachelor's students jointly design a single fashion collection, which they sample, style, present, show, sell and produce. This project encompasses all facets that are required to design and sell a collection in professional practice.
COLLECTIE ARNHEM 2019 – UNLOCK, BECOMING from ArtEZ Fashion Design Arnhem on Vimeo.
Fashion competitions
During the course, we encourage you to take part in leading Dutch and international fashion competitions. This allows you to compare yourself with young fashion designers from renowned educational institutes at global level and to present yourself to the international press and public.
This might include fashion competitions like Lichting in Nederland, the ITS Fashion Award and the Mittelmoda Fashion Award, both in Italy, Hyères in France, the H&M Design Award in Sweden, the Apolda European Design Award in Germany, the Redress Design Award and the International Youth Design Competition (both in China) and Designblok Prague in Czech Republic.
Internships
In the third year of the Fashion Design course, you spend three to six months on an internship in Paris, London, Antwerp or New York, for example. Prior to the internship, you put together an internship portfolio and look around for designers with whom you would like to do your internship. The internship coordinator helps you prepare your internship and keeps in close touch through the period.
Course supervision
A mentor and your teachers support you in your development and provide support where necessary during the course.
Studying in Arnhem
You can find more information about studying in Arnhem here.