Update 07-08-2020 I 11:12
Introduction activities first year students
In the press conference held on 6. August the Dutch government asks for physical meetings, in context of the introduction activities voor first year students, to be restricted to being informative and held on a small scale. In order to avoid further spreading of the corona virus.
Driven by earlier corona guidelines large(r)-scaled initiatives were no longer scheduled. The introduction activities voor the academic year 2020/2021 will be hosted per course and the focus will be on information about the course, the academy and ArtEZ. Further explaining facilities, but of course also getting to know and finding ones way amongst colleague students and teachers. International students joining ArtEZ will also be informed in the so called Welcoming Days taking place in Enschede, Zwolle and Arnhem.
All of these small-scaled initiatives will be organized based upon the latest guidelines: informative of nature and with respect to the 1,5m distancing. First year students will be informed by the Head of their course regarding further planning and details.
---
Update 10-07-2020 I 16:15
Summer vacation
Dear students and colleagues,
Although students and colleagues are still at work to complete the academic year, to take exams or to complete files, it is really (almost) time. Summer vacation is about to happen. Always a moment to look forward to, but this year vacation seems more necessary than ever. On behalf of the Executive Board, I would like to thank everyone for the hard work and the incredible flexibility for the past period of time. It was not easy, but we did it together anyway. The upcoming academic year will also be different from the ones before. With all the consequences not yet completely clear, we will continue to provide the necessary flexibility with each other. We are confident we'll manage. Watch my last video message for the summer below.
I would like to invite you to the very first digital opening of the academic year. So make a note September 1st, 13.00u – 14.00u in your agenda. Location: just from your own home or personal office. Because although our doors slowly re-open after summer and there will be more opportunities to meet in person, we still cannot get together for a festive opening. The invitation link and the program will follow at the end of August.
I wish everyone, also on behalf of Maarten, a very nice summer, also for those who will work through this period.
Marjolijn Brussaard
Maarten Bremer
---
Update 02-07-2020 I 16:13
Further easing of the measures: what does that mean?

Last week, as you have probably heard, the Prime Minister announced further easing of the measures. As a university of the arts, we are happy with that. Art education comes much better into its own in physical space. In concrete terms, this means that with effect from the new academic year, universities of applied sciences will be further opened up for educational activities on location.
Since 15 June, this has already been the case for practical education, testing and counselling of vulnerable students, but after the summer holiday it will be possible to organise many more educational activities offline – obviously with due observance of the RIVM guidelines including keeping the 1.5-metre distance from each other.
We greatly appreciate this, because it gives us and our students many more opportunities to get back to work reasonably normally. It should be noted, however, that certain basic rules apply, of which there happen to be quite a few. We have tried to summarise all of them in a diagram to indicate the possibilities for ArtEZ as well. We give priority to education in relation to all measures. In concrete terms, this means that the following rule continues to apply to staff: work from home as much as possible (of course in consultation with your manager) so that we can make optimal use of the building capacity for our students.
The principal guidelines continue to apply:
Stay at home in case of complaints and get tested; staff work from home as much as possible; wash hands, keep a distance of 1.5 metres; and avoid crowds. If your family members or housemates have symptoms, you stay at home. Other hygiene recommendations, such as coughing and sneezing in the elbow, and using tissues and discarding them immediately, also continue to apply.
Travel and transport
The capacity of public transport has also increased again, which is very pleasant, but the available capacity in public transport is still only around 40%. So avoid crowds and travel outside rush hour as much as possible. A face mark is also still mandatory in public transport. Please note that for some carriers you have to make reservations.
It is good to see that the first visa applications have now been granted and our international students can prepare to study in the Netherlands. This may, however, mean that you are at risk of running into other (practical) issues in the run-up to your studies. We recommend international students to carefully follow the developments in their own country. For example, some embassies are still closed. Many students are strongly advised to self-isolate for 2 weeks. These are students who travel from or through airports on this list: EASA list. We assume that you will follow these recommendations as a matter of course in order to guarantee the health of staff and your fellow students. This also applies if you have been on holiday to one of these countries.
If you have any questions about your visa application, your stay in the Netherlands or other matters, please contact Student Affairs: studentaffairs@artez.nl.
Read all measures from 1 July.
---
Update 30-06-2020 I 16:06
What will the academic year 2020-2021 look like for prospective students?
Many of our prospective students are wondering what the coming academic year will look like. And that makes sense. With all the COVID-19 developments, many things are unclear. The coming academic year will not be an 'ordinary' year, as we are used to.
You can expect us not to make any concessions to the quality of our education. It now looks as if we will be able to teach classes in person again from 1 September, subject to the 1.5-metre-distance guidelines and other rules. Some parts of the curriculum that can be taught online will still be offered online so as to keep the space in the buildings available for practical education. For example, we will teach the theoretical subjects, which can be taught online, online for as long as necessary.
Read more. Go to FAQ prospective students.
---
FAQ are updated for (prospective) students
More information about coming to the Netherlands and information about self-isolation.
We also added an information overview of the Nuffic.
Go to FAQ/for prospective students and FAQ/for students.
---
Update 10-06-2020 l 16:40
Careful restart per June 15th
As we mentioned in our previous message, a little more space has been created in the measures to carefully restart physical, not online, education. We can again, on a restricted scale, make physical use of our facilities for exams and practical education in the workshops, studio's and such. Even though we are happy that steps are being taken in the direction of resuming education, they are really just small steps.
We are allowed to offer educational activities on location again. According to the guidelines as they were drawn up in the restart protocol Higher Education from the government, we are allowed to use a maximum of 20% of our building capacity. Even though we will be far from our 'normal' capacity, this offers us the possibility to administer exams on location, both final exams as well as transition- and admission exams. It is good that students and employees can meet again, obviously still within the rules of the 1.5 meters society, but even with the 20% rule there are options.

It still applies: online if it can be done online
Expected pressure on PT
Because of the expected increase in the number of people making use of public transportation, the whole educational system may cause no more than 20% of all the travel movement of the before Corona time. This means that, in consultation with the local parties such as municipalities, other institutes and transporters, we are trying to come to practical agreements. In general, every institute will therefore, until further notice, use the rule that we also do not make use of more than 20% of our building capacity, so as to burden PT as little as possible
Travelling
The following applies to everyone: avoid PT as much as possible. Come by foot, bike, have somebody drop you off or drive your car (although parking could then become an issue).
So:
Only travel if truly necessary.
Wearing a non-medical mouth mask is obligated in our busses and trains for travellers 13 years of age or older.
Keep a sufficient amount of distance in the vehicle and during entrancing and exiting.
Avoid busy (rush) hours.
Follow the instructions in the vehicle.
Take each other into account.
Travelling hours
It's not the intention that students travel during rush hours. This is why we are held to certain times for our educational activities: do not start before 11:00 AM and no start-/end times for educational activities in between 3:00 and 8:00 PM. Unless locally clear deviating agreements are made. ArtEZ, together with other institutes, municipalities and transporters, is in intensive consultation to see where there could possibly be room. Of course we will report to you as soon as more is possible.
Schedules and planning
Also, it is important that, during the careful restart, we do everything in good coordination. We do this together. That means that per educational department we are working hard at making a schedule that will tuned with the facilities department. This to make sure that not too many people move through the buildings all at once and that in between the rooms can be well cleaned. The heads of educational departments will contact the students about the planning and when they will be expected to be at school again.
Safety
Of course, all of the RIVM guidelines apply during this partial restart. We greatly value the health of our employees and students and are doing everything we can to create a pleasant and safe environment, within the RIVM guidelines. The Facilities department has been working hard in the previous period to apply clear routings in the properties and to provide sufficient hand gel. All ventilation systems have been converted so that external air is drawn in and inside air is drained outside. In this manner, no air circulation takes place. In places where that is not an option for air draining from machines, these will temporarily not be used.

At our request, ARBO (working condition) specialists have visited locations to answer specific questions about RIVM guidelines for, for example, workshops. They have also looked at the air installation and have complimented us in general for the precautions taken. Of course, we will keep following the developments and will make adaptations if insights change.
The most important safety rule still remains: if you have complaints, stay home, get yourself tested.
Glimpsing towards September
It will by now be clear: we are continuously working with and within the imposed protocols and guidelines and at that these protocols are always 'for as long as they apply". It cannot be predicted how the developments around the COVID-19 virus will go. For that, September is also still a little too far away. Work is being done nationally, on a protocol for September and also within ArtEZ we are engaging with several different scenarios. However, it is clear by now that 'back to the situation as it was previous to Corona" is not a realistic scenario for September 1st. We are taking into account that there will still be severe restrictions even then. How exactly it will look cannot yet be said. But just like we are continuously doing: as soon as more clarity is available, we will keep you informed.
---
Update 05-06-2020 I 17:21
Updates faq prospective students
We have just added a faq about the NT2 examination. Go to faq
---
Update 02-06-2020 I 11:59
Financial compensation for tuition also for (international) students who pay the institutional tuition
Students who suffer study delays due to the corona crisis may be eligible for the recently adopted government compensation scheme. The website of the central government now states that this scheme also applies to international students who pay the institutional tuition. DUO will carry out the scheme. You can find the exact terms and conditions on their website: https://duo.nl/particulier/measures-coronavirus/money-travel-studies-and-repayments.jsp
---
Update 20-05-2020 I 12:21
Dear students and staff,
We would like to update you on the most recent developments, initiatives and new measures. Yesterday, Prime Minister Rutte explained the new, relaxed measures. We are delighted that there now is talk of a cautious, slow start to our educational activities. If things continue to go well with controlling the outbreak of the Corona virus, then we should be able to partially start again from June 15. We can then, on a limited scale, make physical use of our facilities for exams and practical education in workshops, studios, etc.
We are expecting the document with the precise rules (Service Document) from the Ministry to be send this week, or in the course of next week. You can then expect any additional information.
Safety
Naturally, all guidelines of the RIVM apply to the slow start-up. We strongly value the health of our employees and students and are doing everything we can to create a pleasant and safe environment within the guidelines of the RIVM. During the past period, facility management has worked very hard to establish clear routes in the buildings and to provide sufficient hand gel. It will also be important that everyone registers on entry and logs out on departure. Only together can we ensure a safe learning and working environment for everyone.
Registration and planning
In addition, it is important that we do everything well-coordinated at the potential, slow start-up. We do this together. This means that a plan will have to be made for each course, which will be coordinated with facility matters. This is to ensure that not too many people move through the buildings at the same time and that the spaces can be properly cleaned in between. The heads of the courses will contact the students about the planning and when you are expected to return to school. During the slow start-up, it is still not allowed to just come to the ArtEZ buildings. Only registered students and employees can enter the buildings.
Realizing the start-up
It will not be easy to realize this start-up, because we will also have to consult with public transport companies, the municipality and other educational institutions to prevent overcrowding in public transport. This can also mean something for the hours that we can offer education. It is not inconceivable that we will be allocated specific time slots for this, to reduce the pressure on traveling by public transport during rush hour. We will consult with the local public transport companies and the municipalities to jointly agree on the travel movements of our students and employees. It is a complex puzzle, but as soon as there is more clarity about it, you will be informed via the presidents or the heads of the courses and via our Corona information page. In all considerations, our priority goes to exam students, admissions and the study options for students who cannot study at home.
Working from home stays the norm
The slow start is mainly about our education. This means that we will continue to work from home for other educational, research and support activities. We will do digitally what is possible digitally.
It all is going to take some doing, but we are very happy that we can carefully start again.
Questions about the current measures:
We get a lot of questions about what is or is not possible within the current measures. These questions often concern groups of less than 30 people. Below are the answers to the two most frequently asked questions:
Starting June 1st, can I also teach students again if the group is smaller than 30 people?
No, the guideline from June 1st (step 2) does not apply to higher education, but to catering and cultural institutions such as museums, cinemas and theaters. We are therefore not yet allowed to hold performances, exhibitions or concerts for a small audience. This is partly due to the expected pressure on public transport.
If many contact professions are allowed to start up again, can training courses such as dance and theater start again?
No, from May 11 (step 1) only hairdressers, beauticians, pedicures and physiotherapists may work by appointment again. No exception has been made for higher education.
Compensation students
Last Friday, the NOS announced that students who would graduate before the summer, but who are delayed due to the corona measures and who have to re-register after the summer holidays, will receive three months of tuition fees back. This concerns all students who obtain their MBO, HBO or university degrees between September and the end of January. This is, of course, fantastic news. We do not yet know how this will be handled, but it seems for now that this will be arranged via DUO. It is not yet clear what the consequences will be for students who pay institutional tuition fees, but we will continue to ask questions about this in the national consultations. As soon as we know more, we will inform you. For now we refer to the website of DUO.
ArtEZ Support Fund
In the meantime, 33 applications have been received by the ArtEZ Support Fund. Of these applications, 27 were approved and payment was initiated. We would like to continue supporting our students until there are enough side jobs available again.
We would like to bring this fund to your attention again. Donations are still coming in, but it is not enough yet. Many students are out of work, so without income to make a living. We would like to help them, so: do you want to contribute? Then you can make a donation or draw attention to the fund in your own network (again).
Webinar
ArtEZ hosts some very interesting webinars; Crisis Education // Critical Education is a webinar organized by ArtEZ University of the Arts to reframe how to deal with the digital shift in our teaching and learning practices. It invites experts, teachers, makers and artists to increase their commitment and shift the focus from education in crisis to the need for critical education in the online spaces.
The Conversation Lab consists of 9 asynchronous interactive digital input sessions and live events to initiate a conversation that goes beyond the logistics, organization and technical issues of digitization in connected learning.
The first webinar is already available, the 2nd and 3rd will follow. The webinars can be found here.
Module 1:
Videos available on Microsoft Stream: 8th of May
Synthesis session: 13th of May 16-17h CET
Module 2:
Videos available 20th of May
Synthesis session: 26th of May 13-14h CET
Module 3:
Videos available: 28th of May
Synthesis Session: 3rd-5th of June (TBD)
On behalf of the Executive Board,
Marjolijn Brussaard
---
Update 19-05-2020 | 20:39
Slow restart education
Good news that the government now also allows Higher Education opportunities to organize practice based education and exams on our locations, from the 15th of June. Details on our restart protocol will follow as soon as possible.
---
Update 18-05-2020 I 11:29
Compensation for students in graduation year (if delayed)
Although there is still much unclear about how and when the compensation gets to the students, we still would like to share this good news:
https://nos.nl/artikel/2334002-drie-maanden-collegegeld-terug-bij-vertraging-afstuderen.html
https://www.duo.nl/particulier/corona/geld-ov-studie-en-terugbetalen.jsp
We keep you posted!
---
Update 24-04-2020 I 18:03
How to appeal to the Student Support Fund?
Especially during these times it can be difficult for some students to make ends meet. International students are sometimes fully dependent on a side job to provide for themselves. For those students, some of whom are truly in distress, the Students Support Fund was raised. Employees, suppliers and anyone who wants and is able to do so, can make a contribution for these students, via this fund.
Are you yourself a student with financial problems due to the corona crisis, then you can, under certain requirements, appeal to this fund. Go to faq for students: financial matters for all the details.
---
Update 23-04-2020 I 16:53
Help a student in need
Dear students and staff,
In these times it is especially difficult for students to make ends meet. International students in particular have run into financial difficulties; they are completely dependent on a job on the side to provide for themselves. But the corona crisis has completely dried up these jobs. This is a major problem for non-EU students in particular. They do not have a study grant and do not have a natural home base in the Netherlands they can fall back on. And travelling home is difficult or sometimes even impossible. Are you interested in helping students in financial distress? Starting today it is possible to make a donation.
Student Support Fund
The call of this group of students has shocked ArtEZ university of the arts. In courses, individual students and staff. As a result, the institute is about to find itself in hot water, because ArtEZ wants nothing more than to support these students in one way or another, but legislation prohibits the use of education funds and tuition to support students' livelihoods. ArtEZ has therefore decided to set up a Student Support Fund for students who have run into financial problems due to the corona crisis and the (governmental) measures taken. The ArtEZ Student Support Fund is designed to donate a modest, but vital sum of money to alleviate the acute financial distress of students. Anyone who wants to help our students can make a donation. The donated money goes directly to the fund and will be used entirely to support the livelihood of our students.
How can I donate?
Click on donate,
enter an amount and choose Start payment.
ANBI
ArtEZ has ANBI status
The ArtEZ Foundation is recognised as a public benefit organisation (ANBI: Algemeen Nut Beogende Instelling). Donations from donors are welcome. Thanks to this ANBI status, there are tax and financial benefits with regard to gift and inheritance tax, corporation tax and income tax.
Additional information:
- ANBI data of ArtEZ
- List of tax benefits from donations to an ANBI.
- Tax and Customs Administration ANBI register (search for ArtEZ)
---
Update 22-04-2020 I 12:34
Updates frequently asked questions for students
We've updates our faq's. More information about Binding Study Advice (BSA) and paying tuition fees. To faq
---
Update 21-04-2020 I 19:50
Press conference Prime Minister Rutte
The Prime Minister has just announced relaxation of certain measures and the extension of most measures until May 20 for now. Events are even not allowed until September 1. For now no easing has been announced for higher education. However, tonight, tomorrow and Thursday there will be further consultations with the ministers and the Association of Universities of Applied Sciences regarding the consequences of today's confirmed measures for higher education.
Should there be any changes, we will, of course, keep you informed.
---
Update 09-04-2020 I 17:58
Video message Maarten Bremer
A video message from Maarten Bremer, member of the Executive Board ArtEZ.
---
Update 07-04-2020 I 12:24
Postponing the collection of tuition fees for individual students
Due to the corona crisis, an increasing number of students is in financial trouble. This mainly concerns foreign students, since they do not have a self-evident home base in the Netherlands that they can fall back on and that travelling is difficult or even impossible. In order to make a living, they sometimes depend entirely on a side job that now has disappeared due to government measures. The call of this group of students has a significant impact at ArtEZ, with the courses, individual students and staff. The institute is in a predicament because of this, since ArtEZ wants nothing more than to help these students one way or another, but the law forbids to use of education funds and tuition fees to support the livelihood of students. In addition, waiving tuition fees is not permitted. We are working hard at the national level to arrange more financial support for students. Unfortunately, this is a slow process that our students are not immediately helped wit
What can and will ArtEZ do?
We would like to accommodate students who are in trouble because of the consequences of the Corona measures. If you are in financial trouble, through no fault of your own and as a result of the corona crisis, for example due to the loss of income from a part-time job or the inability to receive money from your home country, you can report that to the student counsellor. This enables you, under certain conditions, to request the postponement of the collection of your tuition fees. The student counsellor's office will pass your details on to the assessment committee, which will take care of the assessment, financial settlement and registration. It goes without saying that your request, like your data, will be treated confidentially.
Do you want to know if you are eligible to postpone your tuition fees? Then go to the Frequently Asked Questions for students Page section Financial Matters
---
Update 07-04-2020 I 11:35
Video message Marjolijn Brussaard
Check out a new video message from Marjolijn Brussaard, President of the Executive Board ArtEZ.
---
Update 01-04-2020 I 13:17
Dear students and staff,
As shared with you previously, the Prime Minister announced last week that all events until June 1st were cancelled. Although it seems obvious that this would mean that physical education is also cancelled until then, the government has taken an extra week to communicate more specific measures with underlying data. The Prime Minister has now announced that the previously communicated date of April 6 has been extended to April 28. For us, this means the suspension of education, on location, until May 1 because of the May holidays. Unfortunately, the statements are not yet specific to Higher Education. We are discussing this with the Ministry of Education, Culture and Science. We will keep you informed.
Some universities and colleges had already decided beforehand on the postponement of physical education, as a result of last week's announcement. For art education, however, this is a much more complex and far-reaching decision. Postponement until April 28 leads to drastic changes to the course and examination program. Our primary concern is always to ensure that education continues as smoothly as possible in a completely different form than we are used to. This is not easy at all and demands a lot from all of us. ArtEZ has decided to adopt the government's measures and the provisional end date of the current measures has been set to April 28.
We will repeat our earlier message; until then there will be no educational activities in the ArtEZ buildings. Safety and health are the priority. Nationally, research is done to figure out, with the approval of RIVM, whether measures are possible that could enable individual study activities. Based on this national protocol, approved by RIVM, we would then be able to see whether and how ArtEZ could and will deal with this. If we decide to apply the protocol, it would be on a voluntary basis from involved, required staff, where, as said previously, safety must be guaranteed. At this point, it is still too premature to take an advance here. We will keep you informed of this process.
Today's decision is more or less in line with what was expected. Last week, everyone worked hard to come up with a clear plan of action for all courses, if this decision were to be made. We have come a long way in the analysis and development of (alternative) teaching methods in order to continue offering the development of the competences, as described in the Course and Examination Regulation, in an alternative form. This really has not solved or clearly identified all possible obstacles, but we have been able to make headway. So stay in touch with your course for further information.
We realise that these times are uneasy and full of uncertainties. Behind the scenes, many people are working really hard to guide all students through this academic year as well as possible. Not everything has a ready-made answer, but have confidence. In yourself, each other and in us.
There will, of course, come a day when everyone will study and work at ArtEZ again. I look forward to seeing and meeting you all again. Times of social isolation lead to contemplation, questions and considerations, to fundamental and existential questions about education and work. We want to have that conversation when we really see each other again, but think about it. What are the new ideas and visions that we are gaining during this time and how are we going to work with them, while we still want to finish what we started with so much passion this year. Interesting questions for now and later.
On behalf of the Executive Board,
Marjolijn Brussaard
---
Update 01-04-2020 I 11:00
Visual press conference Prime Minister Rutte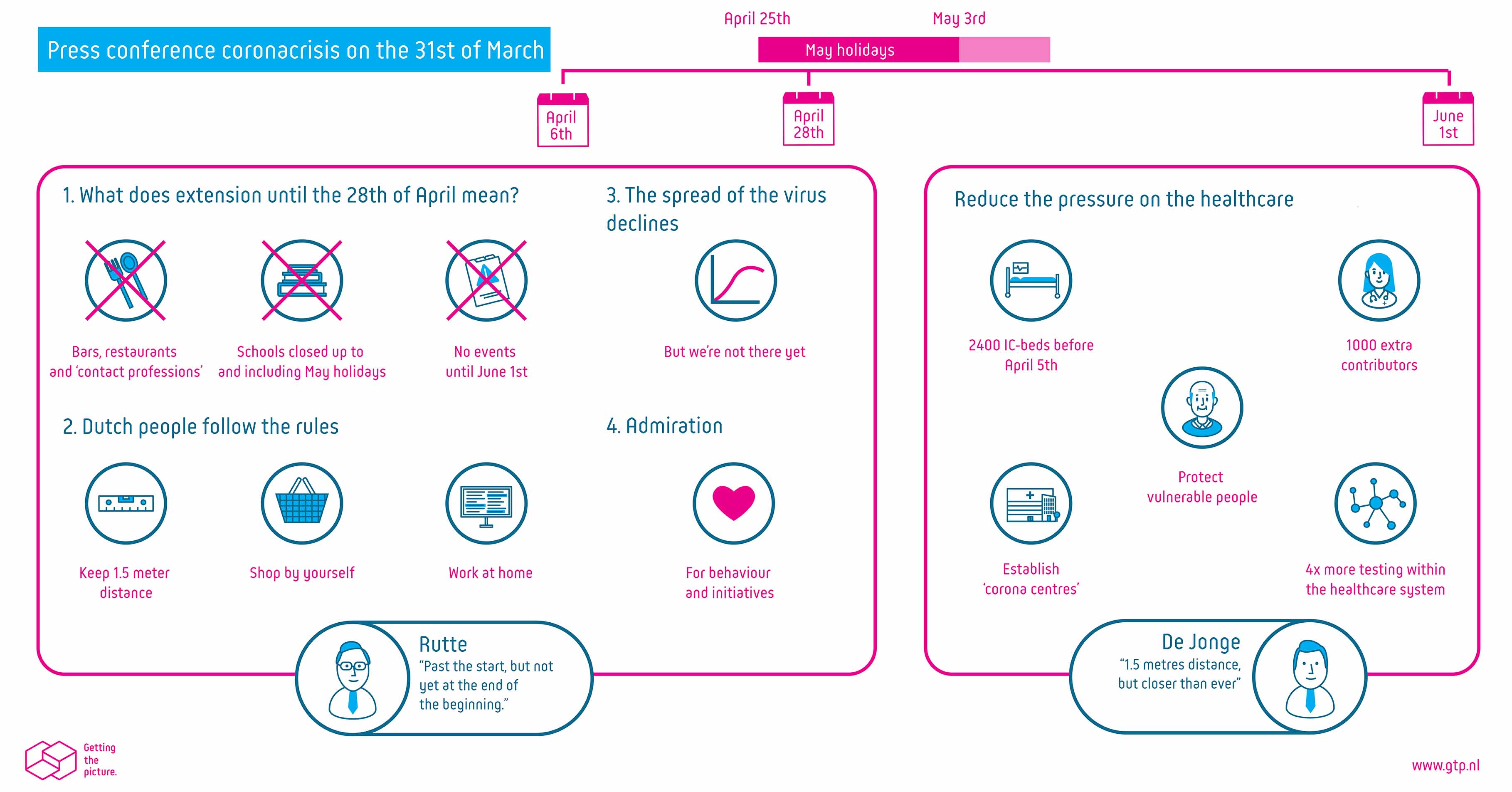 ---
Update 31-03-2020 I 13:55
ArtEZ libraries continue to offer as many services and support as possible
During the closing, our libraries continue to offer as many services and support as possible ( Read more in the tutorial for students). All materials due in this period can be returned when we're open again, WITHOUT any additional late fees. We keep you informed via email, ELO & Facebook.

If you are working on your thesis or research and need help, please let us know. We are ready to support you digitally!
We hope you all stay healthy and take care of each other!
Kind regards,
Marie-Louise Moonen
Head Librarian ArtEZ
---
Update 30-03-2020 I 17:35
Video message Marjolijn Brussaard
Check out a new video message from Marjolijn Brussaard, President of the Executive Board ArtEZ.
---
Update 23-03-2020 18.15

Dear students and staff,
These are uncertain times, in which, on the one hand, we are trying to put the interests of our students, employees and partners first and, on the other hand, are dealing with guidelines from the national government.
Last Monday, Prime Minister Mark Rutte announced that all events will be cancelled until June 1st. The obvious conclusion to this would be that this also means that physical education will be cancelled until then. The government, however, has informed the sector that a decision will not be made until Tuesday, March 31.
Some universities and colleges (in our cities too) have gone ahead and announced that they will be closed until the beginning of June and will only offer online education. This decision is not as straightforward for art schools: many of our courses cannot take place without physical or group education, in studios or workshops. Postponement until June 1st will thus lead to drastic changes in the course or exam programs. If we can restart (part of) the education sooner, it would reduce the impact. Therefore, we await the government's decision on next Tuesday.
Of course, we are all working hard to develop scenarios for each program in the meantime. All heads of courses are currently surveying where we are now, what continues and goes well and what does not (for example the lessons, but also exams, final exams, finals and admissions and auditions); What can we offer if the closure does last until June 1st? How can we limit the impact for the various student groups, what is doable, what has priority and which out-of-the-box solutions are possible? This differs greatly per program.
We work closely with the examination board and keep the participation councils well informed. The course committees are, naturally, also involved in making plans for the courses. The directors keep in touch with the district council and vice versa. We also discuss our scenarios at various levels with fellow institutions in the country, so that we can, for example, jointly submit a request to the minister to broaden regulations.
In addition, together with the other art universities (and in consultation with RIVM), we are investigating whether it is possible to open our workshops and rehearsal rooms to a limited extent, if we have to remain closed until June 1. This will concern individual visits for a short period, not group or educational activities or working in your studio. It is still far from certain whether this will be allowed, but we are working on it.
We have noticed that there is a lot of unrest, due to messages on social media, in the news and from other higher education institutions. We think it is important to choose our own path, in close coordination with the directors and participation council on the one hand and the other (art) universities in the Netherlands on the other. Autonomous and together, taking care of each other, helping each other and staying in touch is something that ArtEZ considers of paramount importance. We also try to keep you informed as much as possible: the most recent information can always be found on the website.
All kinds of questions will arise, keep asking them via the known channels. We do not always have an answer to everything immediately, as this is a force majeure situation that has never happened before. We are working day and night, also at a national level within the board of the Association of Universities of Applied Sciences and within the sector, to resolve, adjust and provide for matters. Unfortunately, we cannot provide clarity on an end date of this COVID-19 corona crisis, but we can prepare ourselves as well as possible for the scenarios. After Tuesday's decision, we will present a new communication on the follow-up as soon as possible.
Stay cool & stay safe and take care.
On behalf of the Executive Board, 
Marjolijn Brussaard 


---

Update 26-03-2020 I 16:20
Update faq's for alumni and freelancers
The consequences of the coronavirus for the cultural sector are enormous. In particular, independent artists and freelancers are affected. The Dutch government is doing its best to mitigate the effects of the coronavirus. It is also taking measures to help businesses that are affected by the crisis. You will probably have questions about these measures. We have added frequently asked questions from professionals working in the cultural sector to this website. Go to our faq
---
Update 24-03-2020 I 08:47
Yesterday our government announced new measures and the date of the 1st of June to prevent further spreading of COVID -19, the Coronavirus. We are, as we speak working with the minister of education to determine what that means for your studies. In the event we will have to stay closed this will have consequences for your studies, exams and finals for example. We will continue the talks today and will keep you posted on the outcome on this website.
Warm regards,

Marjolijn Brussaard
President of the Executive Board ArtEZ
---
Update 22-03-2020 I 18:43
Update faq's
Go to our faq's for most recently asked questions. We have answers about the 80% participation rule and the Negative Binding Advice.
---
Update 19-03-2020 I 21:21
Binding advice for students postponed when delay is caused by corona virus
Students not meeting their course's binding advice (bsa) because of the consequences of the corona virus driven measures, will receive respite. They will be given the opportunity to meet the bsa norm in the next academic year. This was agreed by minister van Engelshoven (Ministry of Educcation, Culture and Science), the Dutch Association of Universities (VSNU), the Dutch Association of Universities of Applied Sciences, the Dutch National Students Associations (ISO) and the Dutch students trade union (LSVb).
Besides the minister points out the DUO financial arrangements offering students the possibility to temporarily increase their loan. Where required DUO offers customizations.

ArtEZ will embrace these new guidelines and will be detailing the specifics as soon as possible.
---
Update 19-03-2020 I 20:38
NOS news in English
Good to know: the facebook group 'Nos in English' is hosted by Dutch students who want to provide their fellow non-Dutch speaking students with translations of news articles, specifically regarding the spread of the coronavirus in the Netherlands.
https://www.facebook.com/groups/2687346498205563/
---
Update 17-03-2020 I 11:04
Daily online consultation hours about online lessons for staff
Starting from now every day on working days we have a consultation hour about online learning.
From 13:00 – 14:00h you can ask questions about didactics for teaching.
From 14:00 – 15:00h you can ask questions about ICT and online lessons.
All questions are welcome. If we don't know the answers to the questions posed, we will search for more information to help you later on. You can join the consultation hours which we called -Ask me anything- in Teams. Frequently asked questions will be added soon in a faq.
Go to:
Ask me Anything- Didactics and ICT
---
Update 16-03-2020 I 16:24
Video message Marjolijn Brussaard
Check out a new video message from Marjolijn Brussaard, President of the Executive Board ArtEZ. In this message, you will not only find care and support, but also some practical tips.
---
Update 15-03-2020 I 20:48
Latest update for employees
The government has decided to close all educational institutions until the 7th of April. That is a week longer than originally announced, also by us. This means that all of our facilities will be closed from Monday the 16th of March and only specifically required colleagues (like e.g. security, ICT, crisis teams) will be present. So all of us should work from home, unless your manager reaches out to and asks you to be present.
Please check the faq for employees for more information.
---
Update 15-03-2020 I 18:14
Educational activities canceled until April 6 (inclusive)
The Dutch government just announced that the educational activities will be canceled until Monday April 6 (inclusive). The earlier announced date has been extended with a week.
---
Update 15-03-2020, 15.08u
Students abroad urged by ArtEZ Executive Board to come home
Because developments are happening so fast around the Covid-19 corona virus, air traffic to and from various countries is already no longer possible. That is why the Executive Board of ArtEZ has today urged its students who are abroad for their education to come home.
Please check faq for more information if you study abroad.
---
Update 13-03-2020, 15.36
This is a video message especially for ArtEZ international students from Marjolijn Brussaard, both as the President of the Executive Board ArtEZ also as a mother.
---
Update 12-03 2020, 22.00 PM
Canceling of Educational Activities
Frequently asked questions below
Dear colleagues and students,
The Executive Board has decided to cancel the educational activities from tomorrow, March 13, 2020 to March 31, 2020. This is in line with the measures that the government has taken today, as published in the letter to parliament this evening.
We understand that because of the new measures we are entering a phase that affects our education and research. We are working on solving possible bottlenecks that may arise from these measures and we are reviewing all ArtEZ activities and processes, in education, research and operational management. Naturally, the health and safety of our students and employees is paramount, which is why we also ask you to explicitly follow the guidelines of the RIVM and the cabinet.
In concrete terms, this means that we are proceeding with a so-called "soft closure"; tomorrow the buildings will only be accessible to students to pick up work they want to work on. After tomorrow, March 13, 2020 at 5:00 PM, students will be banned from all our premises.
For anyone who does not teach, the buildings remain open so that the other work does not stagnate. You can work from home in consultation with your department and your manager if your work permits this. The senior management teams will coordinate this further with you tomorrow. The heads are in close consultation with their director and we have a crisis team that meets regularly to monitor the evolving situation.
Finally, all of us are now in need of exceptional efforts and adjustments. We are convinced that together, in good cooperation, and in good consultation, we will properly manage the consequences of the coronavirus outbreak for ArtEZ.
For the time being, we will keep you informed by email and via our website. If you have any questions, you can contact your supervisors.
The Executive Board,
Marjolijn Brussaard, Maarten Bremer, Nishant Shah
---
Update 09-03-2020
New measure by the RIVM. Stop shaking hands
Wash your hands well, cough and sneeze into the inside of your elbow and use paper tissues. These general hygiene measures are important to prevent the spread of the corona virus. A new measure is now being added. Since Monday evening, 9 March 2020, there has also been a call to stop shaking hands.
More information Rijksoverheid.nl
---
Update 08-03-2020
North Brabant
Last Friday, the RIVM issued a new guideline for the province of North Brabant. The RIVM asks everyone with a cold to limit social contacts. This means: stay at home. The reason for this is that the RIVM wants to slow down the spread of the virus. It is therefore a precautionary measure that applies specifically to the province of North Brabant because there are a small number of cases there, of which the link to Italy is not entirely clear. Almost all other cases are traced back to Italian origin. ArtEZ always follows the guidelines of the RIVM and the GGD. So, if you live in the province of North Brabant, and you have a cold or cough and fever, we would like to ask you to work and study from home. It is therefore wise to now think about how you can best organize this and which creative solutions can be realized to guarantee study progress and work, as much as possible.
If you are too ill to work, the normal sick reporting procedures apply.
For the other regions, the previously issued advice applies: Only if you have been in a country with a major outbreak of the virus (like China, South Korea, Iran or Italy) or if you have been in direct contact with someone who is diagnosed with the virus, and if you have symptoms, you are asked to contact your GP by phone only.
Events and open days
The authorities have right now given no reasons or guidelines to cancel events or open days. Here too, ArtEZ follows the national policy and most of our planned events will continue as normal. In some specific cases, a course or a group may decide to postpone an event until a later date in the hope that the coronavirus will be receding by then. For example, in the case of a large international gathering where travel could be problematic for the participants and hosts at the moment could be rescheduled. This will be reviewed specifically by the host groups.
Questions
Do you have more questions? The RIVM has an information number available for all questions: 0800-1351.
And also check our website regularly for the most recent updates: https://www.artez.nl/en/coronavirus
---
Update 01-03-2020
End of the holidays in Arnhem
We have received a lot of questions of students and staff about colleagues and students that have been abroad the last week. In acting we do abide by the nation-wide protocol of the RIVM.
Changes are that who experiences a cold or has a fever is just experiencing a common cold or other type of flue. Only if you have been in a country with a major outbreak of the virus (like China, South Korea, Iran or Italy) or who has been in direct contact with someone who is diagnosed with the virus, is asked to contact your GP by phone only.
For all students and staff that have been abroad: if you have not visited one of the risk areas, when you have no symptoms of being ill and when you have not been in contact with a patient who has been diagnosed with the corona virus, there is no reason not to study or work as normal. You are welcome at ArtEZ. When in doubt do contact your GP first.
Have you visited a risk area?
Do follow all the instructions of the RIVM, in short: If you have no health issues or symptoms you are welcome at ArtEZ, it appears (to our knowledge to date) that only when the symptoms are showing it is contagious.
If you get symptoms after returning from a risk area within the first two weeks after your return, even if they are minor such as coughing, possible in combination with fever, please stay at home. Contact your GP or the GGD by phone. And do notify your course by phone or email as soon as you can.
The areas nominated as risk areas at the moment are: China (including Hong Kong and Macau), Singapore, South-Korea, Iran, the northern Italian provinces Aosta-valley, Piedmont, Lombardi, Trentino-Zuid-Tirol, Friuli-Julisch-Venice, Veneto, Emilia-Romagna and Liguria
How do you recognise the symptoms? This video will explain it to you https://nos.nl/video/2324805-hoe-gevaarlijk-is-het-coronavirus.html

More questions?
The government has a phone number open to answer questions of the Corona virus 0800 1351
---
Update 25-02-2020
Students and employees with plans to travel, are advised to follow to the Foreign Affairs travel advice. What you can find here . Those who have just returned from a country where the virus has recently been found and are concerned, are best advised to check the advice of the RIVM.
Employees and students can go to their supervisor, manager or the dean with questions, comments or for sharing concerns. They are aware of the protocol.
Please note it is important to realise that a common flue has more deadly victims than the Corona virus according to the authorities, only 2 % of those who have contracted the virus will die and those are often in poor health to begin with. So even if the virus is contracted there is no need to panic.