-
Jeroen Lutters guest curator exhibition Mieke Bal | Art out of necessity at Museum Jan Cunen
What makes art a necessity? According to Mieke Bal, it is "useful, even necessary, to look at the world from the perspective of art.". Her point of view touches on guest curator Jeroen Lutters' method Art-Based Learning, in which he advocates learning not about but from art. Art awakens your imagination and makes new possibilities conceivable. Jeroen Lutters is Professor at AeCT Professorship for Art education as Critical Tactics at ArtEZ.
Art out of necessity provides an overview of her most important video installations, combined with work from our collection by Ronald Ophuis, Martine Stig and Armando, among others. The exhibition also launches Bal's latest film, It's about time!, which is shown not as an end but a starting point, completely in line with preposterous history. Guest curator: Jeroen Lutters
You can book your ticket via the website of Museum Jan Cunen
Art Based Learning: online masterclass
In addition to this exhibition, we are pleased to present to you the first episodes of the online masterclass Art Based Learning. The online masterclass is a series of 6 masterclasses that will be released in the next two / three months. The Art-Based Learning Masterclass, is a series of short, insightful, critical,creative, playful, provocative, and practical. insights that showcase the core ideas, principles, and practices of the Professorship Art education as Critical Tactics, ArtEZ.
Publication: Art out of Necessity - Mieke Bal - Webshop ArtEZ Press
The need to learn from art: Mieke Bal's oeuvre is, at its core, a powerful plea for this. This book provides an overview of the unique video works of Mieke Bal both in words and images. In it, she enters into a critical conversation with famous masterpieces from the cultural heritage. Language: Dutch.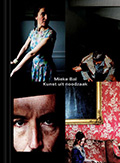 You can book your ticket for the exhibition at the website of Museum Jan Cunen

Opening hours Museum Jan Cunen:
Mon: closed
Tues: closed
Wed: 11.00 - 17.00 hrs
Thurs: 11.00 - 17.00 hrs
Fri: 11.00 - 17.00 hrs
Sat: 11.00 - 17.00 hrs
Sun: 11.00 - 17.00 hrs