The School of Dance trains students to become internationally active dancers, choreographers, performers and dance lecturers. To become individuals who stand for something. Graduates are capable of working on a multidisciplinary and interdisciplinary basis, and know how to find their niche in the rapid and constantly changing professional field.
Individually oriented
The programmes at the School of Dance are small in size. As much as possible, we aim to link the individually-oriented education to practice. Developing and enforcing your own artistry and cultural identity is a central point in all ArtEZ School of Dance study programmes. Much attention is given to injury prevention, knowledge of your own performance abilities and the development of your personal style as a dancer, choreographer and dance lecturer. Also, much emphasis is placed on building a good technical foundation: an important tool for dancers to further develop themselves as artists.
History
The roots of the ArtEZ School of Dance can be traced back to Winja Marova, who set up a private dance school in Arnhem before World War II. Audrey Hepburn was one of the pupils. The Arnhemse Dansacademie (Arnhem School of Dance) subsequently acquired official status in 1968. By the 1980s, it had become a part of the Arnhem University of the Arts, later ArtEZ. Since 2004, the School of Dance has been housed in the Theatrium, the splendid, underground building designed by the architect Hubert Jan Henket. The premises are connected to the Rietveld building.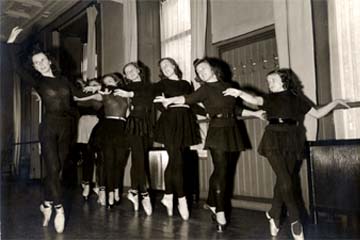 The School initially had a classical bias. When Hlíf Svavarsdóttir took over in 1991, slowly but surely it was transformed into a dance institute that specialised in the contemporary field. In 2000, the School merged with the EDDC: the European Dance Development Centre. From various viewpoints, the programme became richer, and the education developed further. With the arrival of Director Gaby Allard in 2006, the course became more focused on the demanding contemporary field with a new innovative and coherent curriculum in 2009.
Innovation in dance education
The School of Dance acts as a pioneer in the innovation of dance education. The education is offered entirely on a period basis. Education is divided into periods, which means that the curriculum takes into account the specific physical and mental development rate of the dancer's body. In addition, traditional curriculum components are linked to supplementary techniques within the programme to varying degrees. This form of dance education considerably reduces injuries, and contributes to the development of excellent dancers and lecturers with a great deal of knowledge regarding self-regulation and career extension.
ArtEZ School of Dance works closely together with Papendal Medical Sport Centre (SMCP). In addition, the School of Dance now has an Associate Professor of Health, Matthew Wyon, who conducts research and turns the research data into workable methods for providing further innovation for the dance education at ArtEZ.
---
Contact
Overview, contact information and directions for all ArtEZ institutes in Arnhem.
Director School of Theatre and Dance
Gaby Allard
g.allard@artez.nl